Welcome to Traffic, Income & Thoughts for Q3 2016. The intention of this post is to give a little peak behind the scenes of Project Meal Plan from July to September 2016. I plan to share my monthly blog traffic, income totals, and thoughts (positive and negative) on happenings with the blog as a business, which officially began in June 2016.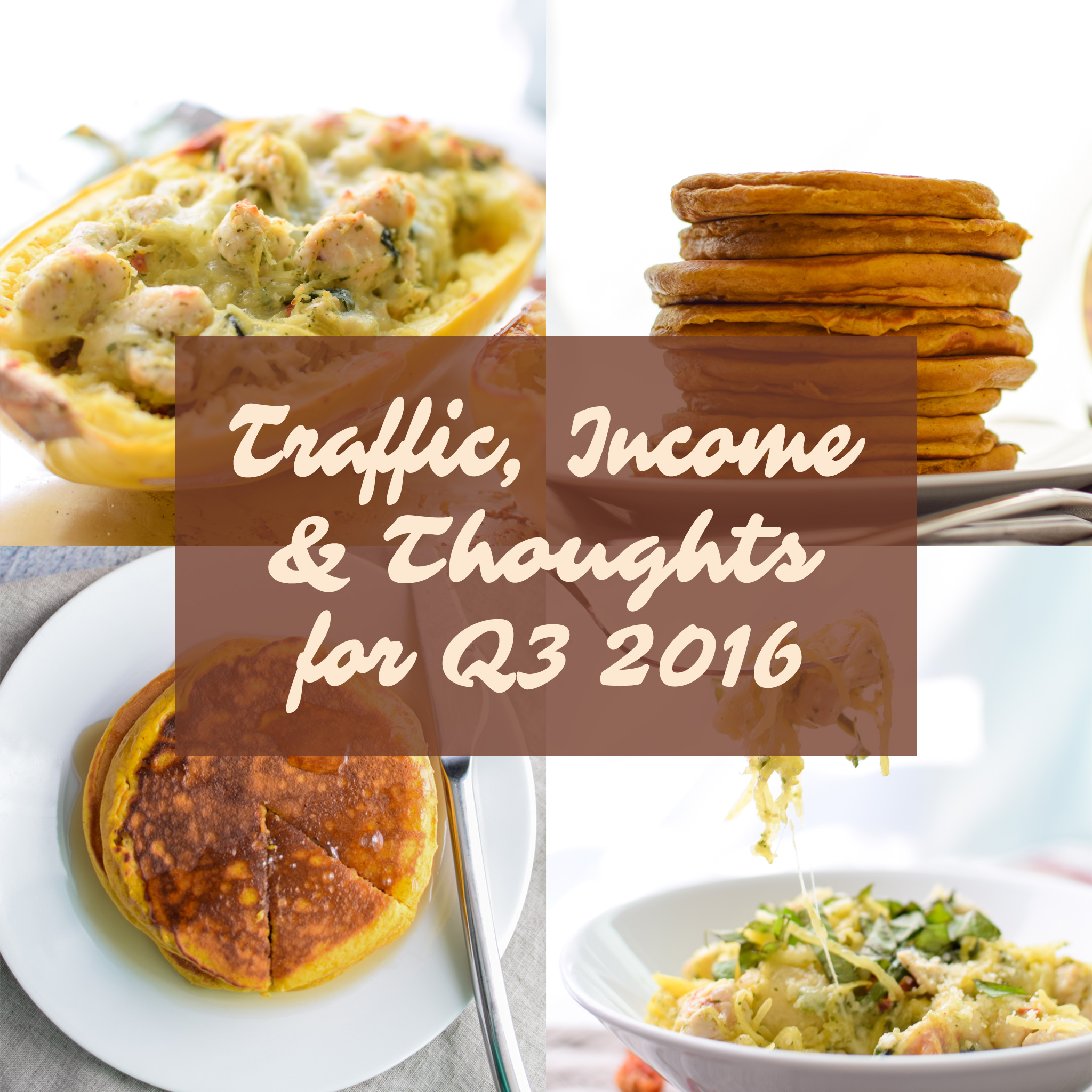 There are several reasons I decided to share this information on Project Meal Plan. First of all, the Pinch of Yum Monthly Traffic & Income Reports were one of the first inspirations that helped Project Meal Plan actually happen. This little peak into Pinch of Yum made me realize that behind an incredibly successful food blog was an experiment that began with a passionate hobby and a need to learn and grow. Turns out, food blogging is not only for super successful TV show cooks (Martha Stewart, Rachel Ray, ALTON BROWN, etc.), but totally and completely possible for an at-home cook who wants to share, grow, and turn their cooking and photography passions into a career.
Through these traffic and income reports, Lindsay and Bjork at Pinch of Yum provided an incredibly informative viewpoint of the ins and outs/ups and downs of food blogging and beyond. However cliche it sounds, I want to put my experiences out there, just in case anyone is wondering how this all works. Particularly my curious friends and family (you know who you are!). Here's the face to Project Meal Plan, and you can follow it's journey from day one. Everyone has to start somewhere.
Finally, reason number three: I LOVE charts and graphs. Google Analytics is the coolest. Besides my camera, it MIGHT be my favorite 'tool'. I plan to share and analyze traffic sources to identify trends, areas to focus on, and all my favorite charts/graphs for the visual people like myself. I'll post one of these reports every quarter. I hope you follow along!
Traffic Totals: July-September 2016
Overview
Sessions, Users & Page Views for Q3 2016 by Month
| | July | August | September |
| --- | --- | --- | --- |
| Sessions | 428 | 660 | 747 |
| Users | 238 | 403 | 565 |
| Pageviews | 1,080 | 1,578 | 1,338 |
A session is a period of time when one user is actively engaged with the site.
I got Google Analytics synced with Project Meal Plan on July 10th, 2016, so this it the first day data is available.
The high peaks occurring about once per week are when new recipes are posted. This also correlates with a new photo being accepted to Food Gawker, which normally happens when I post a new recipe. You will see below that Food Gawker is currently my number one traffic source.
I have found that my Sunday Meal Prep posts are not as highly viewed as the recipe posts initially, but this is what I expected. I can tell the Sunday Meal Prep posts are more often viewed through search queries than referred from social media.
You can totally tell the site saw a decrease in traffic when we were on our trip in mid-September. While I did prepare ahead and have blog posts ready before we left, I did not spend nearly as much time on social media as I normally would during that time.
Where It's Coming From
Food Gawker is #1 from July to September. I have submitted photos to other sites, but I definitely get the most traffic from Food Gawker.
Direct/None means someone typed in projectmealplan.com or had a page on the site bookmarked. I like this kind of traffic because it tells me people knew about Project Meal Plan or had a recipe saved for later.
I also really like Google/organic traffic – when one of my recipes (or any page) shows up when someone searches something related on Google. The more of this, the better. I've worked hard on the site's SEO and I hope this traffic source continues to increase.
I like how Project Meal Plan looks on desktop the most. I hope to improve the mobile version at some point, but I think it's not a concern right now. It's not too bad looking.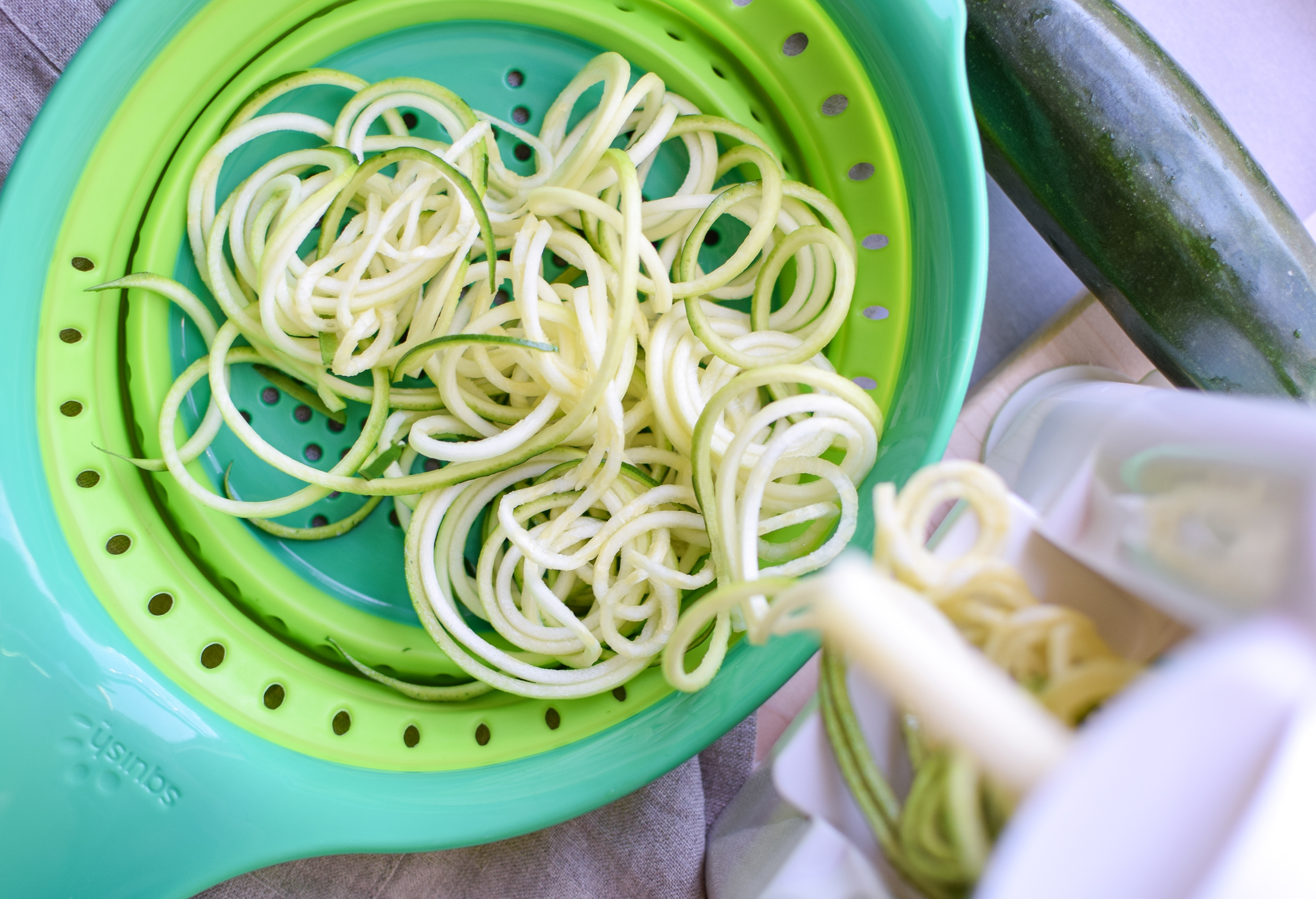 Income/Expenses: July-September 2016
Project Meal Plan was officially "monetized" on August 26th, 2016 (the first day she could actually make some $$$). When I look at these income numbers, I try to remember a couple things:
From what I've read and observed on other food blogs, most bloggers say it takes about a year(ish) to make real, noticeable money from their blog. Example: Pinch of Yum's first blog post was on July 22, 2010. They began The Food Blog Money Making Experiment in August 2011 (just over a year later). That month, income was $21.97. A year later in August 2012, income was $4,102.16. Everybody starts somewhere.
How long do some starting businesses run in the negative before making profit? I have no idea, but I'm sure some do. While I don't expect to be making a ton of money in the first year, Project Meal Plan did not require a huge financial investment to get started. That's a good thing.
Project Meal Plan JUST started. Traffic is increasing every month, and with that, income will increase.
Another reason I know income will increase – SPOILER: It already has. October (so far) has had more income than both August and September combined. Final numbers next quarter!
Income for Q3 2016 by Month
| | August | September | Estimated Total |
| --- | --- | --- | --- |
| Amazon Associates | $0.76 | $0.00 | $0.76 |
| Google Adsense | $0.06 | $0.50 | $0.50 |
| Estimated Total | $0.82 | $0.50 | $1.32 |
Monthly Expenses:
To keep it simple, I am leaving out the starting costs such as our camera and extra Pyrex. I would have bought those things anyway. I'm also leaving out food costs. This is because we eat all of the food that I cook and avoid as much food waste as possible. We would buy food anyway!
Note: Some of the links below are affiliate links, and I'll earn a commission (at no extra cost to you) if you sign up for the service after clicking on the link.
Food Blogger Pro ($23.35/month): An amazing community full of resources and helpful people who know a lot about blogging, photography, and the internet in general. I've watched a ton of their helpful videos on photography, WordPress, blog management, and more. Project Meal Plan would not be where it is without Food Blogger Pro! They continue to add new content monthly. I'm a yearly subscriber to Food Blogger Pro.
Adobe Creative Cloud ($10.95/month): I edit all my photos with Lightroom and use Photoshop weekly.
Google for Work Apps ($5/month): This gives me access to several fancy tools as well as my sweet email @34.211.113.157.
Plugins and WordPress add-ons ($15.58/month): Little add-ons and tools we use to make Project Meal Plan great. This includes Backblaze, to back up all of our hard work. It also includes things like anti-spam and the plug-in I use for the recipe index page.
Domain and related costs: $10.87 to purchase the domain name plus $12.50 a month for Linode.
Social Media Following: July-September 2016
| | July | August | September | Overall Change: |
| --- | --- | --- | --- | --- |
| Pinterest | 17 | 31 | 53 | +36 |
| Facebook | 39 | 48 | 57 | +18 |
| Instagram | 61 | 145 | 200 | +139 |
| Twitter | 13 | 30 | 34 | +21 |
| Email: | 6 | 10 | 11 | +5 |
I've devoted a majority of my social media focus to Pinterest and Instagram. I do post new recipes on Facebook and share related articles and recipes from time to time. But, it's rare that additional Facebook likes are generated through Facebook without sponsoring posts to be shown to more people. I've decided it's best to focus on social media where I'm finding it easiest to organically generate followers (Pinterest and Instagram).
I rarely post on Twitter. I don't really understand why the followers have been increasing but I love it.
A small photo and recipe feature from Kodiak Cakes helped boost Instagram following in October (not reflected here). My goals for social media are to continue to post as I am doing, but try to tag or note at least one brand for each post to initiate relationships (like Kodiak Cakes!).
I posted my very first 'long pin' on Pinterest on August 2nd. I can tell these pins have continued to get better as my Photoshop skills have improved. The best and most obvious thing about Pinterest is your pins can keep being pinned and continue to generate a little traffic flow even long after you post them.
I've noticed so far in October that Pinterest traffic has increased. I plan to keep practicing creating long pins with PhotoShop and increase Pinterest to at least #5 top source of traffic next quarter.
Thoughts: July-September 2016
Increase traffic through continued content creation. I've read that you should spend approximately the first year of blogging purely focused on creating your original content and expanding your presence on the web, regardless of your traffic and income ups and downs. After blogging for a few months, this has made more and more sense. It's why I've stuck with a strict posting schedule. At least one recipe and one Meal Prep/Plan per week since Project Meal Plan got started in June. So many of these traffic sources will continue to increase simply by producing more content. They will always be there to bring someone back to Project Meal Plan. More Pinterest pins, more photos on Food Gawker, more content being searched and bringing someone to the site.
Seasonal content has been one of the best things for my blog as a business. My most popular pages this fall season have been the Pesto Chicken Stuffed Spaghetti Squash and Pumpkin Pie Greek Yogurt Pancakes posts. The pancakes post has been featured on other sites and has generated a lot of traffic. Since it was posted so late in September, the popularity isn't quite reflected in the Q3 traffic report, but it has been very popular in October. So, even if I want to photograph and share smoothies forever, I should continue to focus on producing content people are searching for in each season if I want to keep people coming to the blog.
Photography is key. I haven't been doing this long. But I'm pretty sure producing original, beautiful and attractive photos that make people want to eat your food is the biggest determining factor in someone visiting the site. Most of the top traffic sources rely on photos to get people to visit the site (Instagram, Pinterest, Food Gawker…). I plan to improve my food photography through continued practice, practice, practice. A future goal includes obtaining everything necessary to take photos with artificial light, but I'm going to save that one for 2017.
Goals: October-December 2016
Complete and add pages, including meal prep and essential tools related content. These pages have been started but are nowhere near complete. Obviously I want Project Meal Plan to be a one stop info source for meal plan and prepping. I definitely want more informative and helpful information on the site for beginners. During the next 3 months, I am planning to complete at least two pages of resourceful and helpful information.
Increase traffic, with a goal of hitting 5,000 page views in one month. This is slightly ambitious but I think it's doable! Secret: Currently in October, I've surpassed any other month so far and the month is not yet complete. I'm not close to 5,000 page views, but I've got November and December to work on it.
Locate one additional income source related to the blog. Ultimately, increasing traffic is the main way to increase revenue for the blog. I am pursuing other sources of income related to photography but not related to the blog. Expanding the blog's income possibilities is obviously a priority. Project Meal Plan needs more traffic to pursue bigger advertising optimization companies, but there are certainly other options until then. I hate ads, but they are sort of a necessity when you produce free content.
Keep following Project Meal Plan! Every Like counts! I'll give you guys an update on each goal in the next report. Thank you to everyone for the support and love to make it this far. Don't forget to follow me on Pinterest for meal inspiration every single day!
– Danielle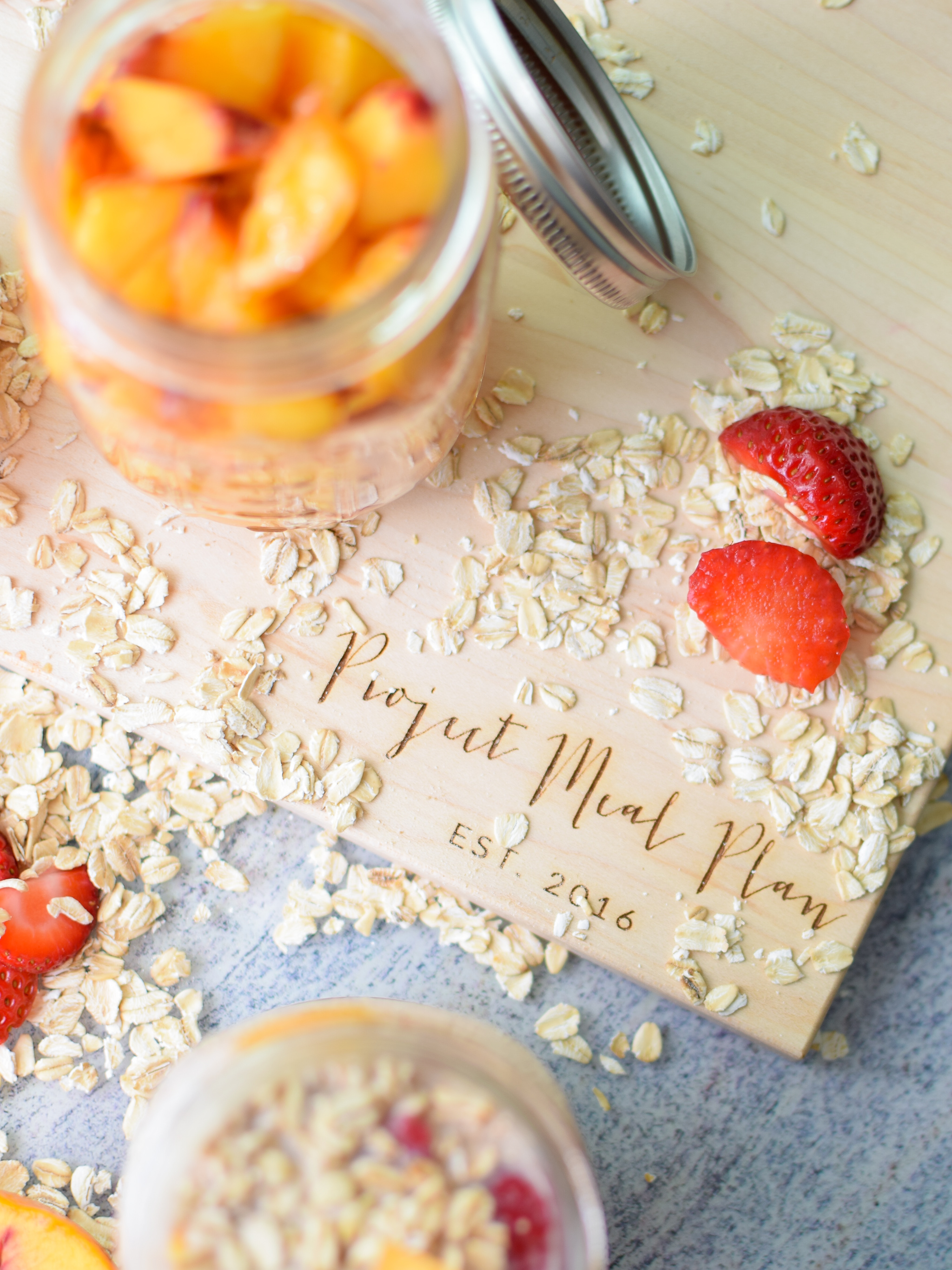 Disclaimer: Some of the links on this page are affiliate links, and I'll earn a commission if you sign up for the service after clicking on the link. All of the products or services are ones that I actually use and would recommend regardless of affiliation. I truly appreciate your support! For more information, please see our Full Disclosure & Privacy Policy.
Disclaimer:
 Project Meal Plan is a participant in the Amazon Services LLC Associates Program, an affiliate advertising program designed to provide a means for us to earn fees by linking to Amazon.com and affiliated sites. For more information, please see our
Full Disclosure & Privacy Policy
.