If you know me personally, then you know we are in DisneyWorld this week! Now, I am writing this post a bit ahead of time, but let me tell you, we had a MAGICAL time. My first experience with preparing my blog posts ahead went very well. I'm so happy to be able to keep the blog going while we're enjoying an extended vacation. Not that it's that difficult to plan ahead… uh, that's kind of the point around here. I'm just glad it's doable for me and the blog, since I'm still pretty new at all this. Cheers to planning ahead! And to the Sunday Meal Prep for September 18th, 2016.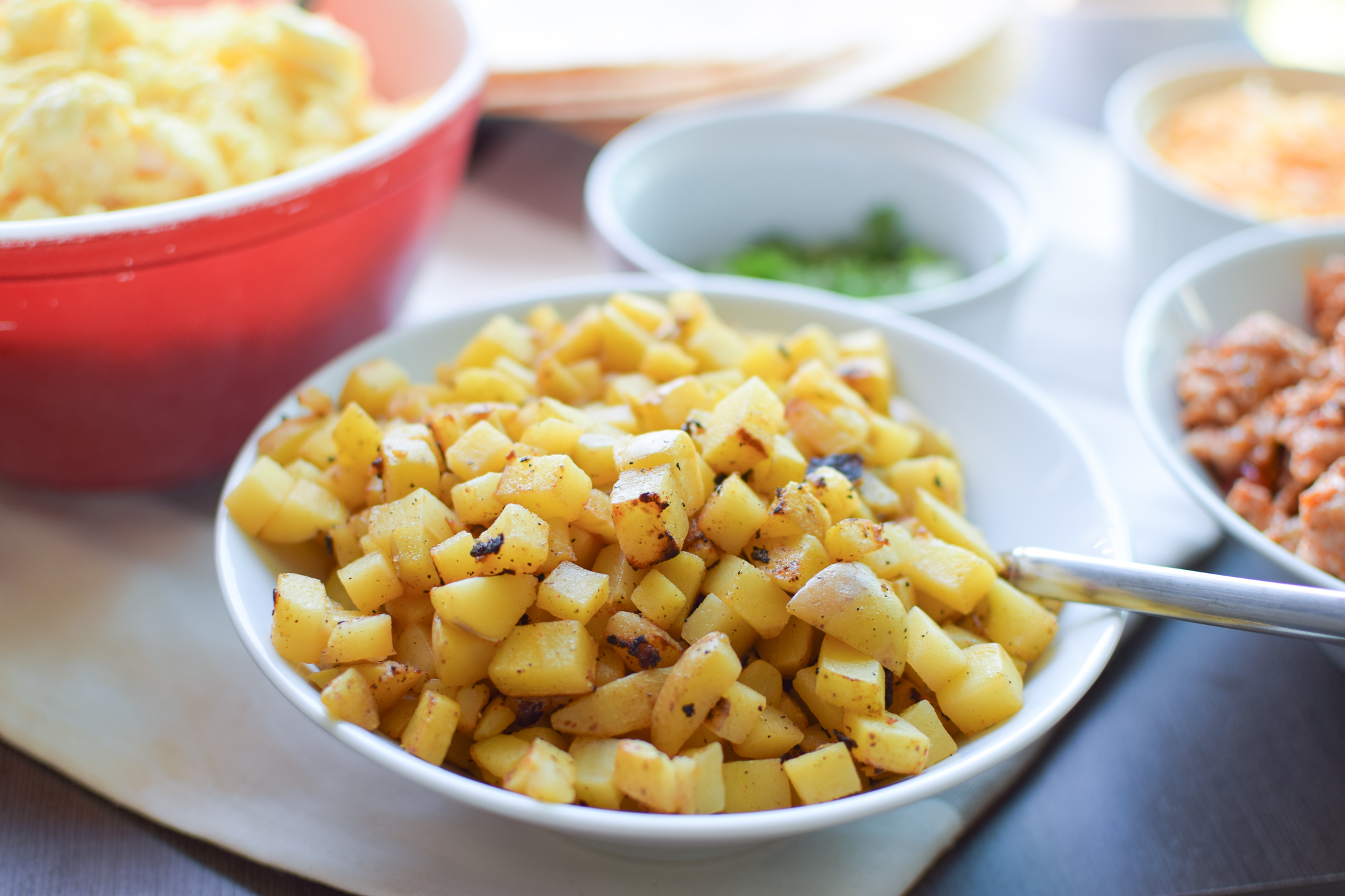 Goals: 1,700 calories a day, made up of 30% carbohydrates, 35% fat, and 35% protein (MyFitnessPal says this equals approximately 127g of carbohydrates, 66g of fat, and 149g of protein). In addition: 1) reduce costs and food waste, 2) help provide meal plan examples and preparation steps for any individual.
Meal Plan for September 19-23
Monday
Tuesday
Wednesday
Thursday
Friday
Breakfast
Breakfast Burrito
Breakfast Burrito
Breakfast Burrito
Breakfast Burrito
Breakfast Burrito
Lunch
Chicken Fajita Salad
Chicken Fajita Salad
Chicken Fajita Salad
Chicken Fajita Salad
Lemon Chicken or Beef Teriyaki Rice Bowl
Dinner
Stuffed Philly Chicken Peppers
Stuffed Philly Chicken Peppers
Shrimp & Pesto Zoodles
Lemon Chicken or Beef Teriyaki Rice Bowl
One-Pot Spinach Chicken Pasta
Snacks
Hard-boiled egg, Banana, Whole wheat fig bar
Hard-boiled egg, Apple, Whole wheat fig bar
Applesauce, Hard-boiled egg, protein bar
Hard-boiled egg, protein shake, Whole wheat fig bar
Protein Bar
Macro
Totals
Cal: 1,695
C: 135 g
F: 66 g
P: 160 g
Cal: 1,670
C: 130 g
F: 66 g
P: 160 g
Cal: 1,720
C: 131 g
F: 75 g
P: 148 g
Cal: 1,538
C: 124 g
F: 58 g
P: 149 g
Cal: 1,661
C: 127 g
F: 74 g
P: 145 g
What we'll accomplish on Sunday:
7-8 breakfast burritos for breakfast
4 or more servings of shredded chicken for lunches
2 servings of sautéed peppers for lunches
2 chicken fajita salads
hard-boiled eggs for snacks
Supplies List (for one person):
Grocery:
1 pound (16 ounces) ground breakfast sausage of choice
5-6 pounds boneless skinless chicken breasts (frozen works just fine), or reduce chicken to 4-5 pounds and purchase 1-2 pounds of your choice of beef for the teriyaki bowls
one serving of jumbo shrimp
1-2 dozen large eggs (10 for breakfast burritos, 5 for hard-boiled egg snacks)
4.5-ounce can of diced green chilies
1/2 cup shredded cheese
8-pack whole wheat/low carb large size tortillas (burrito size is pretty big but will fit your ingredients!)
salsa
can of black beans
can of chicken broth
provolone cheese slices (2)
pesto
grated parmesan cheese
your favorite pasta (2 cups needed)
dry brown rice (2 cups needed)
protein bars/shakes for snacks
whole wheat fig bars
1 cup heavy cream
Produce:
10 ounces baby potatoes
cilantro
1-2 heads of romaine lettuce
2 avocados
yellow onion
1 pound broccolini
3 green peppers
1 red pepper
1 zucchini
bag of baby spinach
1 lemon (for fresh lemon juice)
banana
apple
16 ounces sliced mushrooms (for Friday)
**SOME ITEMS ARE NOTED "FOR FRIDAY". FOR BEST QUALITY, PURCHASE THESE ITEMS LATER IN THE WEEK.
Pantry:
garlic powder
minced garlic
basalmic vinegar
cayenne pepper
taco seasoning
basil
olive oil
soy sauce
cornstarch
brown sugar
sweet rice wine (can omit)
salt/pepper
Equipment/Tools:
Stove/Grill
Crock pot
Non-stick skillet
Meat Thermometer
4-cup Pyrex bowls for lunches, and large Pyrex bowls
Sunday Meal Prep Steps:
[10 minutes] Get out your crockpot in order to begin preparing the chicken for your lunch salads. I've reviewed a couple recipes for crock-pot shredded chicken and I like this one the best: Easy Slow Cooker Shredded Chicken by Kristin at Yellow Bliss Road. Add some cayenne pepper and taco seasoning to the crockpot to flavor the chicken for the fajita bowls. You can place the breasts in the slow cooker from frozen. Be sure to check the temperature to ensure they are fully cooked.
[10 minutes] After the chicken is cooking, begin working on the breakfast burritos. Heat a little olive oil in a skillet and add your breakfast meat of choice. Cook until nearly done, drain excess liquid, and add 1/4 cup chipotle salsa and 4.5 ounce can of green chilies. Cook until done.
[10 minutes] While the meat is cooking, wash and cut all potatoes for the breakfast burritos into small .5 inch cubes (check out mine in the photo!). Toss with 1/2 tsp cayenne pepper, 1/2 tsp salt, 1/2 tsp ground black pepper, 1/2 tsp garlic salt, and 2 tablespoons olive oil.
[20 minutes] When the meat is finished, remove from pan and set aside. Cook the potatoes in the same pan. I added some olive oil and cooked them for about 12-15 minutes over medium heat until they were soft (or however cooked you like your potatoes!). Stir frequently for minimum pan stickage. **You can also cook these in the oven!
[10 minutes] While potatoes are cooking (or when they are done), chop up some cilantro and break all your (10) eggs. Use a fork or whisk to scramble them together with a sprinkle of salt and pepper.
[20 minutes] When the potatoes are done cooking, remove from pan and set aside. To reduce excess pots and pans at the end, I washed the skillet and then used it for cooking the eggs. Cook eggs over low heat, stirring frequently as you would normally cook your scrambled eggs.
[30 minutes] Gather all of your burrito ingredients and set up a burrito station. Line up some eggs, potatoes, and meat on one tortilla at a time. Sprinkle with some cheese and cilantro. Wrap each burrito in aluminum foil. Continue until you run out of ingredients. Put all except one burrito (Monday morning's breakfast) in the freezer. You may end with 7-8 burritos total.
[20 minutes] Move on to boiling eggs for your week's snacks. According to the FDA, hard-boiled eggs keep in the refrigerator for up to one week after cooking. Check out the Food Network's guide for boiling eggs. Instructions: Place your eggs in a pot and cover with water so there is at least an inch of water over the eggs. Bring to boil over medium-high heat, cover and remove from heat immediately. Let them sit, covered, for 8-10 minutes. Transfer eggs to ice bath to stop the cooking process. It's best to peel them right before they will be eaten. While the eggs are cooking, take the opportunity to get some dishes out of the way.
[20 minutes] Prepare your choice of peppers and onions for lunches. All will be cut and half will be cooked. The other half will be cooked on Tuesday night to ensure freshness. Cut 2 peppers (and and onion of choice) lengthwise, and remove seeds. Heat non-stick skillet over medium heat and add olive oil. When hot, add bell peppers and onion, and season with salt and pepper. Stir occasionally until done, about 10 minutes. Set aside to let cool. Refrigerate when completely cool. Another batch of peppers will be cooked on Tuesday evening.
[10 minutes] Wash/rinse remaining salad ingredients, including lettuce, black beans, cilantro, etc. Avocado is best when cut the morning of or added at lunch time.
[10 minutes] When the chicken is shredded, cooked, and cooled, begin to prepare two chicken fajita salads for Monday and Tuesday. Store remaining chicken and ingredients in the refrigerator. My fajita salad includes romaine lettuce, black beans, salsa, shredded chicken, cilantro, peppers and onions, and some shredded cheese. Store in airtight containers!
Total Active Time Estimate: 2 hours, 50 minutes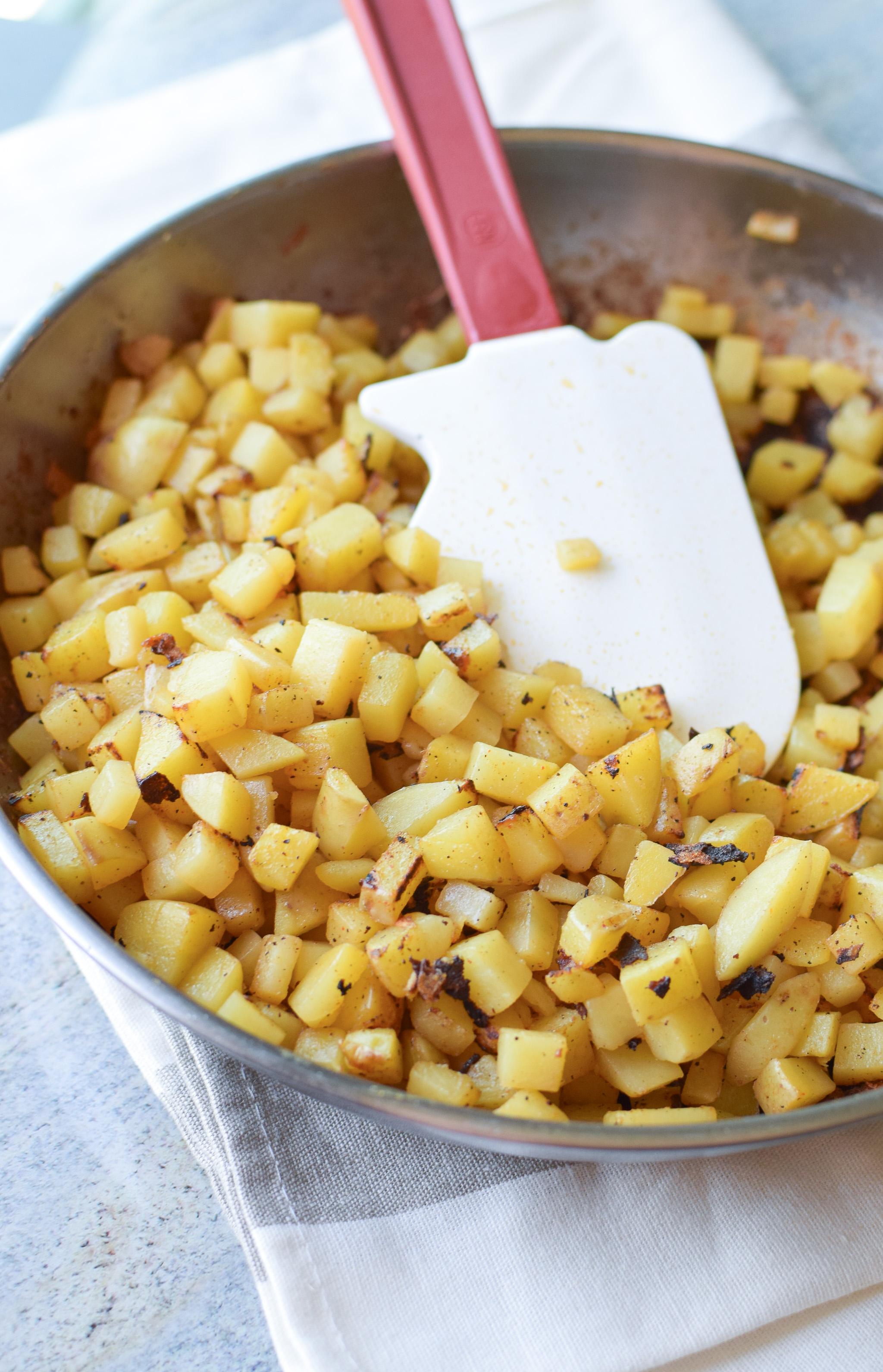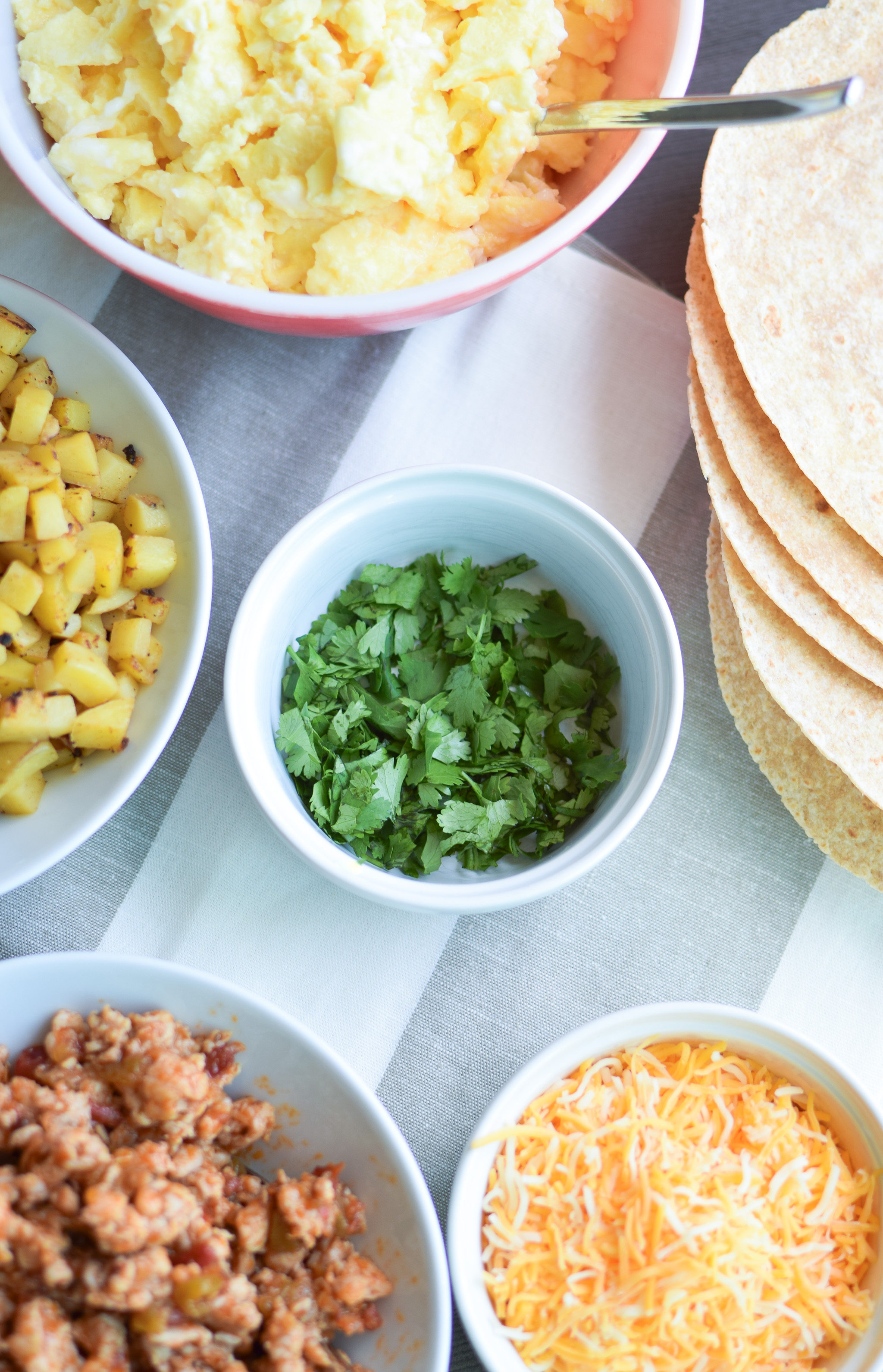 Daily Notes:
Monday
Dinner: Prepare 1 cup of brown rice in the rice cooker or according to box directions. While the rice is cooking, begin following this delicious recipe from Skinny Ms for Stuffed Philly Chicken Peppers. If cooking for two, double the recipe to prepare tomorrow's dinner as well.
Prep: Take a breakfast burrito out of the freezer for tomorrow's breakfast.
Tuesday
Prep: Take a breakfast burrito out of the freezer for tomorrow's breakfast.
Prep: Prepare your next two chicken fajita salads as you did on Sunday. Use your pre-cooked shredded chicken and other prepared ingredients. Saute remaining pre-cut peppers as you did on Sunday.
Wednesday
Dinner: Prepare Shrimp & Pesto Zoodles. I like to use one zucchini per person. This recipe is super flexible, so fit it to your needs. Spiralize zucchini, and pat dry. Remove tails from shrimp if not already removed. Heat oil in a skillet over medium heat, add zucchini noodles, and cook for 3-4 minutes, stirring frequently. Season with salt/pepper. Add shrimp once the zucchini noodles have softened and shrunk a bit. Cook for another 3-4 minutes, flipping shrimp half way through. Remove everything from pan, and add one scoop of pesto. Mix until combined and enjoy!
Prep: Take a breakfast burrito out of the freezer for tomorrow's breakfast.
Thursday
Dinner: Prepare Lemon Teriyaki Rice Bowls from Cooking Light with either chicken or beef. The recipe calls for chicken, but feel free to prepare your beef on the side and add to the sauce and broccolini. Keep leftovers for tomorrow's lunch.
Prep: Take a breakfast burrito out of the freezer for tomorrow's breakfast.
Friday
Feedback is appreciated!
Thank you so much for reading! Tag @projectmealplan on social media if you make any of these yummy recipes! I'd love to see what you've created! Email me or leave a comment if you got some feedback 🙂 I'm looking forward to so many things for Project Meal Plan after our magical vacation. See you soon!
– Danielle
A little disclaimer: Some of the links on this page are for products on Amazon. If you are planning to make any purchases, please start your Amazon shopping here on Project Meal Plan! We'll get a small commission at no extra cost to you. I truly appreciate your support! For more information, please see our Full Disclosure & Privacy Policy.
Disclaimer:
 Project Meal Plan is a participant in the Amazon Services LLC Associates Program, an affiliate advertising program designed to provide a means for us to earn fees by linking to Amazon.com and affiliated sites. For more information, please see our
Full Disclosure & Privacy Policy
.