It's March! And another month gone by. This week's prep features some super healthy and filling ideas for breakfast and lunch, but leaves dinners pretty much open for your own planning or emptying out your fridge. Sometimes, if my breakfasts and lunches are home-cooked, filling and delicious, I'll be down for a small wrap or sandwich for dinner. I use that as an excuse to get rid of extra veggies or meat from the fridge. But obviously, this is more of a choose-your-own-adventure type of website, so feel free to skip my tuna melt on sandwich thin plans 🙂 Here's the Sunday Meal Prep for March 5th, 2017.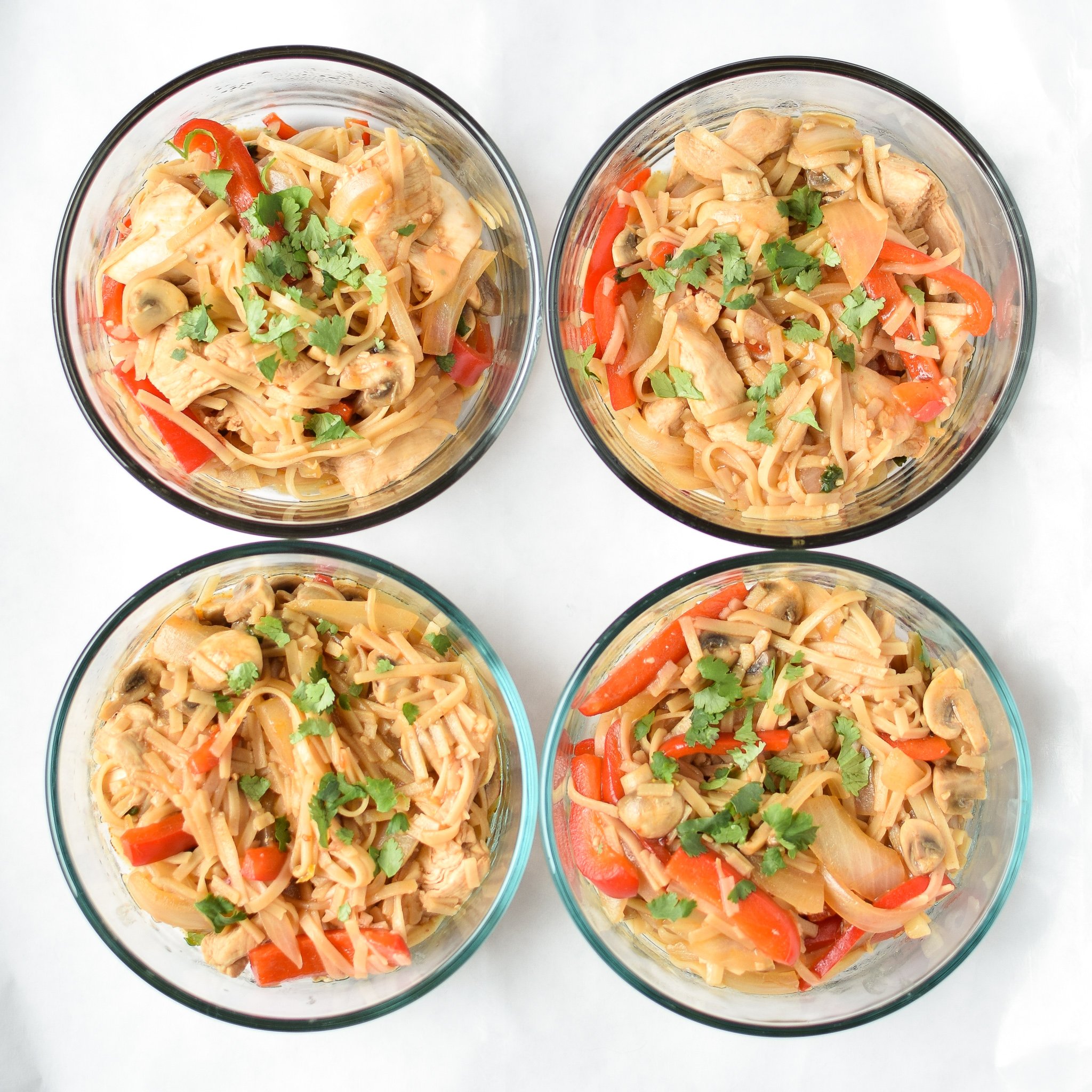 If you haven't tried brown rice Pad Thai noodles, I'm thinking now is your time. I'm talking about Annie Chun's Brown Rice Pad Thai Noodles. I located these babies in the Asian food section of my local grocery store, but they might actually be cheaper via the Amazon subscribe and save option. They just happen to be vegan AND gluten free. So pair with them only veggies for a vegan version, or try out the chicken pad thai recipe I prepped for the week!
Planning Goals: 1,700 calories a day, made up of 30% carbohydrates, 35% fat, and 35% protein (MyFitnessPal says this equals approximately 127g of carbohydrates, 66g of fat, and 149g of protein).
1) Reduce costs and food waste
2) Save time during busy week days
3) Help provide simple strategies, examples and meal preparation steps that are beneficial to almost anyone
4) Have healthy choices planned, prepared and available to reduce impulse eating
Meal Plan for March 6-10
Monday
Tuesday
Wednesday
Thursday
Friday
Breakfast
Spinach Feta Breakfast Casserole
Spinach Feta Breakfast Casserole
Spinach Feta Breakfast Casserole
Spinach Feta Breakfast Casserole
Greek yogurt, banana & PB
Lunch
Homemade Chicken Pad Thai
Homemade Chicken Pad Thai
Homemade Chicken Pad Thai
Homemade Chicken Pad Thai
Tuna Sandwich on Sandwich Thin
Dinner
Healthy Buffalo Chicken Bake
Healthy Buffalo Chicken Bake
Turkey Pesto Wrap
Tuna Melt on Sandwich Thin
Thai Delite Pizza
Snacks
Apple & PB, Whisps, cashews
Whisps, banana & PB, V8 juice
Protein Bar, Greek yogurt, almonds
Whisps, Protein bar, V8 juice
Macro
Totals
Cal: 1,648
C: 117g
F: 68g
P: 146g
Cal: 1,563
C: 126g
F: 55g
P: 143g
Cal: 1,689
C: 137g
F: 58g
P: 156g
Cal: 1,693
C: 125g
F: 66g
P: 149g
Cal: 1,545
C: 135g
F: 58g
P: 138g
See more detail on Project Meal Plan's My Fitness Pal account.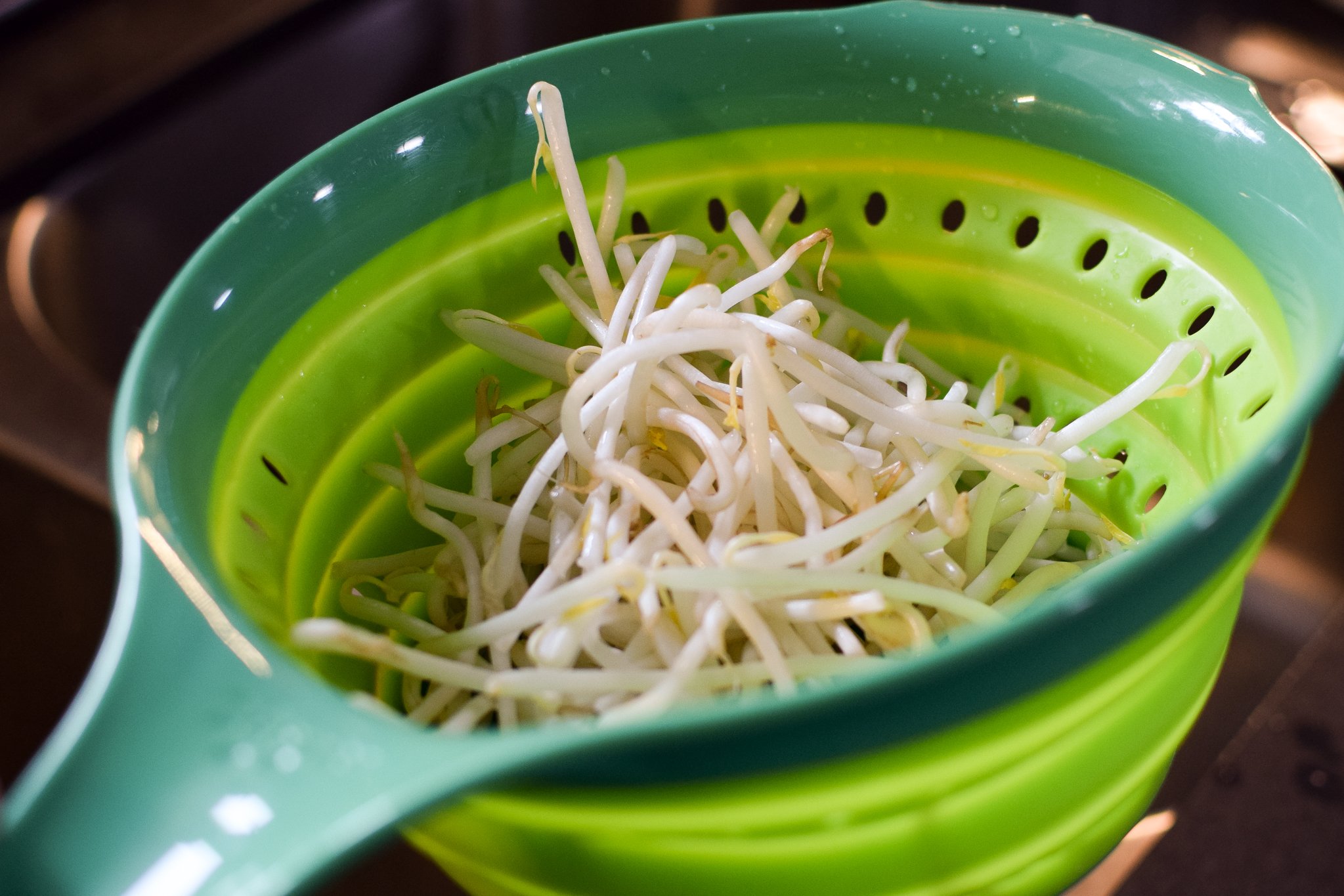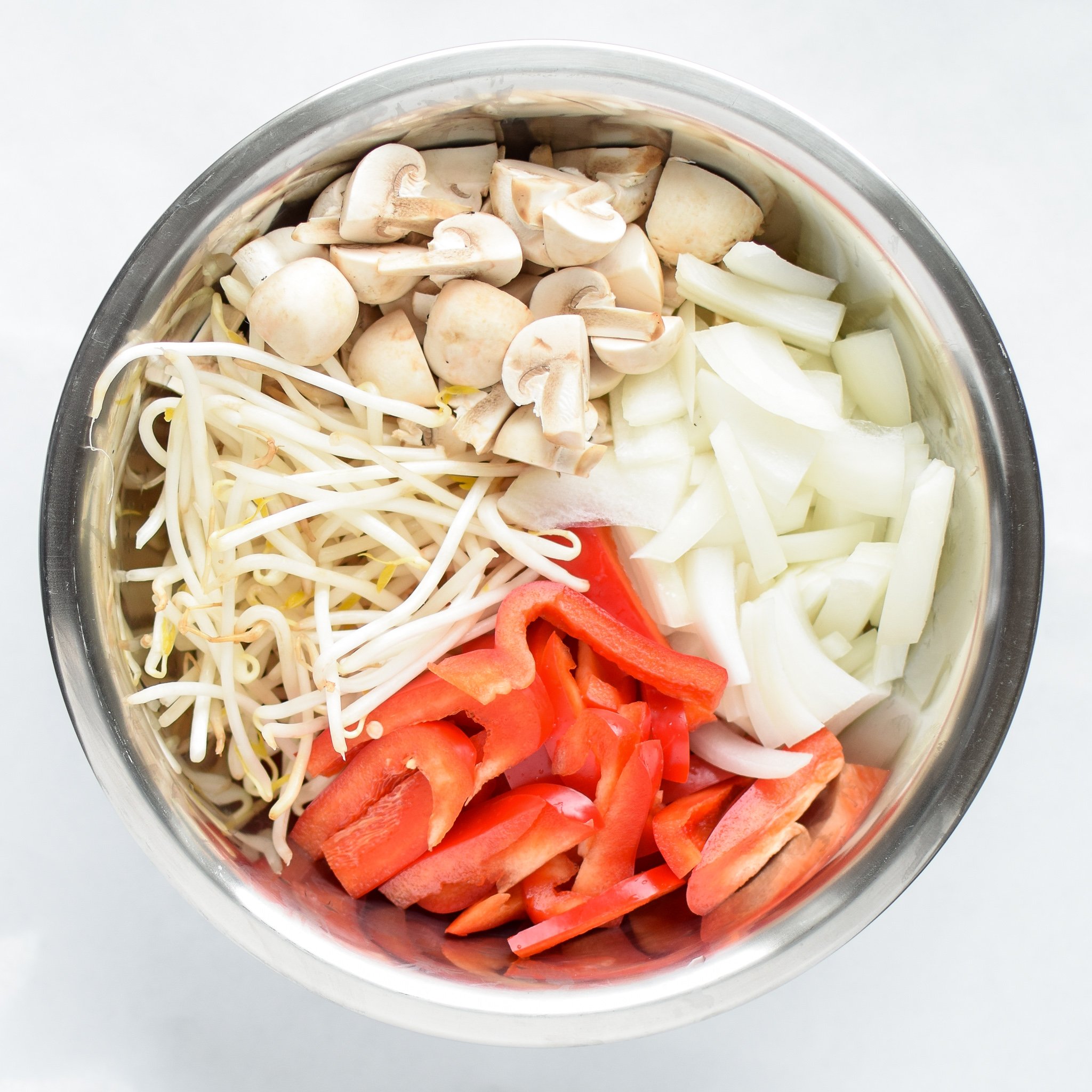 Prepped on Sunday:
For one person's Sunday Prep, you'll need:
Grocery:
boneless skinless chicken breast (thinly sliced is easier), 1 to 1.5 pounds
Italian ground chicken sausage, 1 pound (16 ounces)
minced garlic or garlic paste
10 eggs
2% milk, 1/2 cup
feta cheese, 1/2 cup
mozzarella cheese, 1 1/2 cups
Produce:
veggies for pad thai, including: 1 red bell pepper, 8 ounces white mushrooms, 1 yellow onion, 2 cups bean sprouts, lime, cilantro
veggies for breakfast casserole: 1 large/long sweet potato, 8 ounces white mushrooms, 1 yellow onion, 3 cups spinach leaves
Pantry:
rice vinegar
fish sauce
low sodium soy sauce
red chili pepper paste/sauce
coconut sugar
garlic salt
red pepper flakes
salt/pepper
non-stick cooking spray
Snacks:
apples/bananas/Peanut butter
protein bars/shakes
cashews/almonds
V8 Purple Power (I tried it this week because I got a free bottle… beets and carrots! It's not my favorite thing but it tastes super healthy and I plan to finish the bottle!)
Equipment/Tools:
During the week meal ideas:
Tuna melt on Sandwich thin
Turkey Wrap with Pesto and Provolone
Buffalo Chicken Quinoa Bake from Project Meal Plan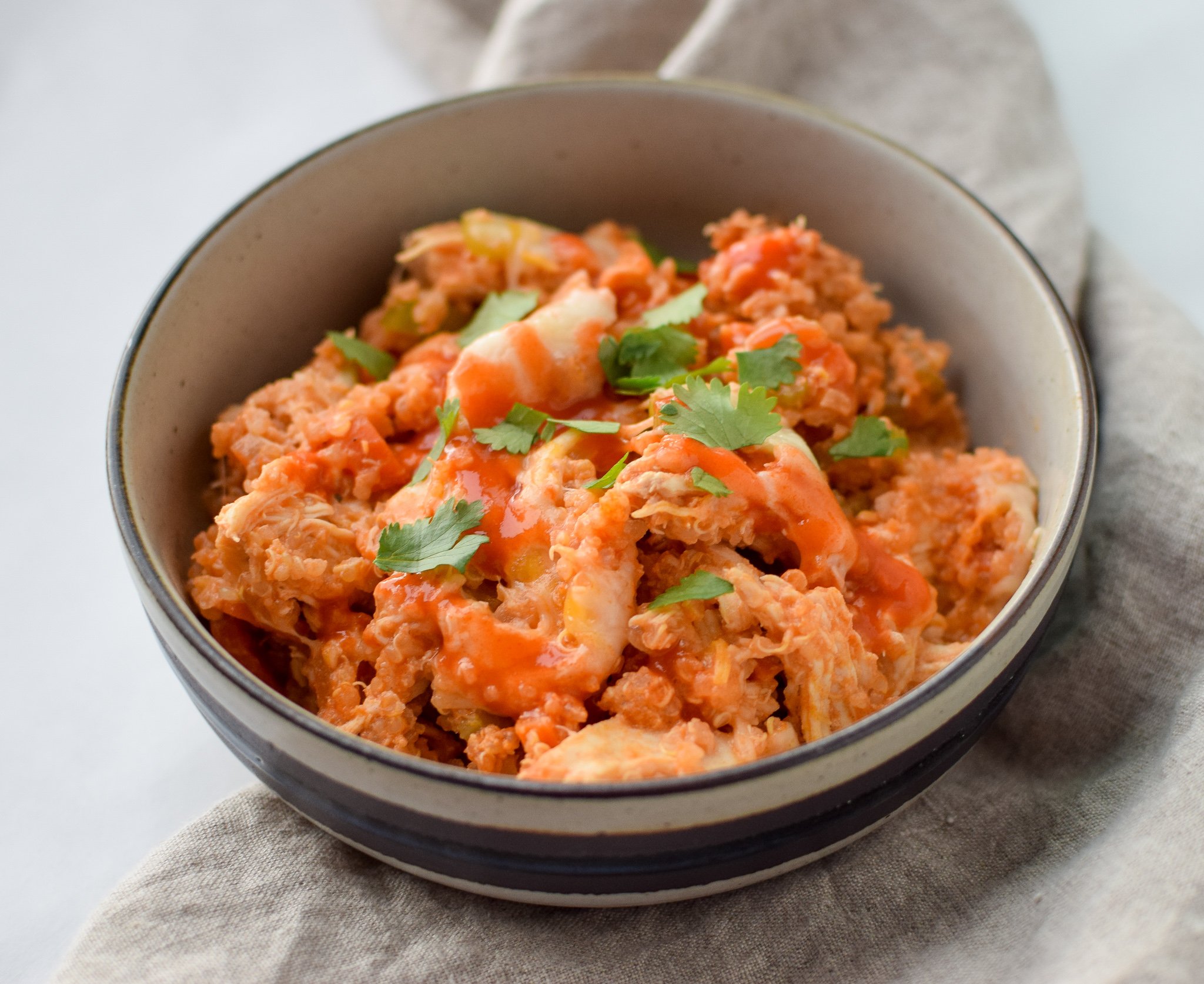 Sunday Meal Prep for March 5th, 2017:
[30 minutes] This week, I would recommend starting out with the Spinach Feta Chicken Sausage Breakfast Casserole. Once the final product is in the oven, you can get started with prep for the next recipe.
[40 minutes] Work on the Healthy Chicken Pad Thai Meal Prep recipe from Fit Men Cook. I made the following modifications to the recipe: Instead of 1/4 cup rice vinegar, I used 1/8 cup rice vinegar and 1/8 cup fish sauce. Vegetable slightly adjusted to include more mushrooms, and different onions. I cooked the chicken almost all the way before adding the vegetables and sauce. The cooked noodles were added when the dish was just about done. Everything was cooked in my Dutch oven.
[10 minutes] When both dishes are complete, make sure to let them cool almost completely before putting them in the fridge. Store in airtight containers for up to 4 days. You can also freeze extra portions of breakfast casserole for the following week.
Total Active Time Estimate: 1 hour, 20 minutes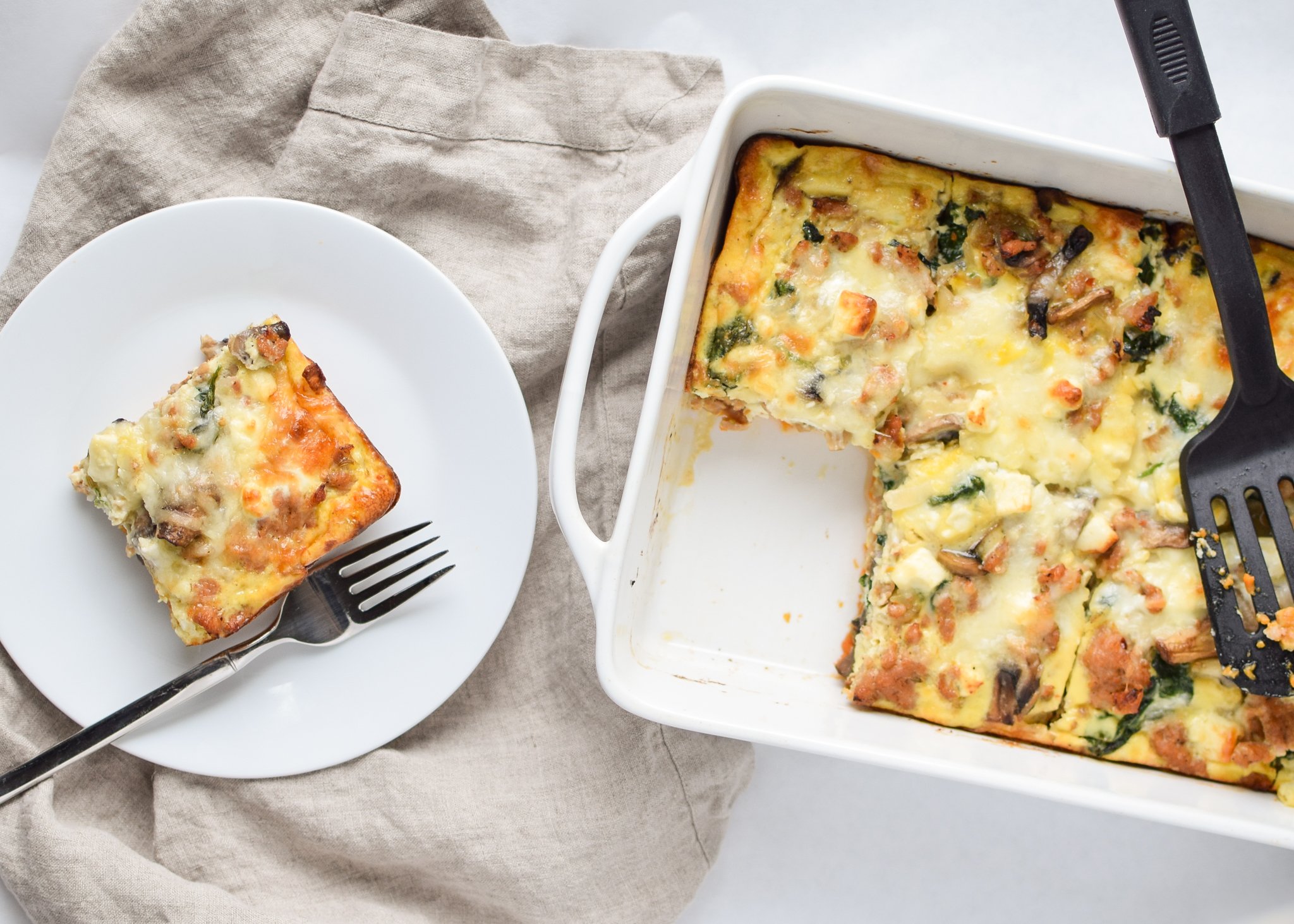 Thanks for checking out the Sunday Meal Prep for March 5th, 2017. Any feedback is appreciated so I can improve the Sunday Meal Prep posts every week. Tag @projectmealplan on social media if you meal prep! I'd love to see what you've created! And follow me on Pinterest for meal inspiration every single day 🙂
– Danielle
Disclaimer: Some of the links on this page are for products on Amazon. If you are planning to make any purchases, please start your Amazon shopping here on Project Meal Plan! We'll get a small commission at no extra cost to you. I truly appreciate your support! For more information, please see our Full Disclosure & Privacy Policy.
Disclaimer:
 Project Meal Plan is a participant in the Amazon Services LLC Associates Program, an affiliate advertising program designed to provide a means for us to earn fees by linking to Amazon.com and affiliated sites. For more information, please see our
Full Disclosure & Privacy Policy
.