Welcome to the very first Sunday Meal Prep Post (SMPP) from Project Meal Plan. The purpose of the SMPP is simple: share our meal plan each week, and provide instructions for the preparation and execution of the meal plan for other people like us. Not only does preparing and planning ahead save you time in the future, but virtually eliminates the almost daily conundrum of what to cook for dinner or make for tomorrow's lunch.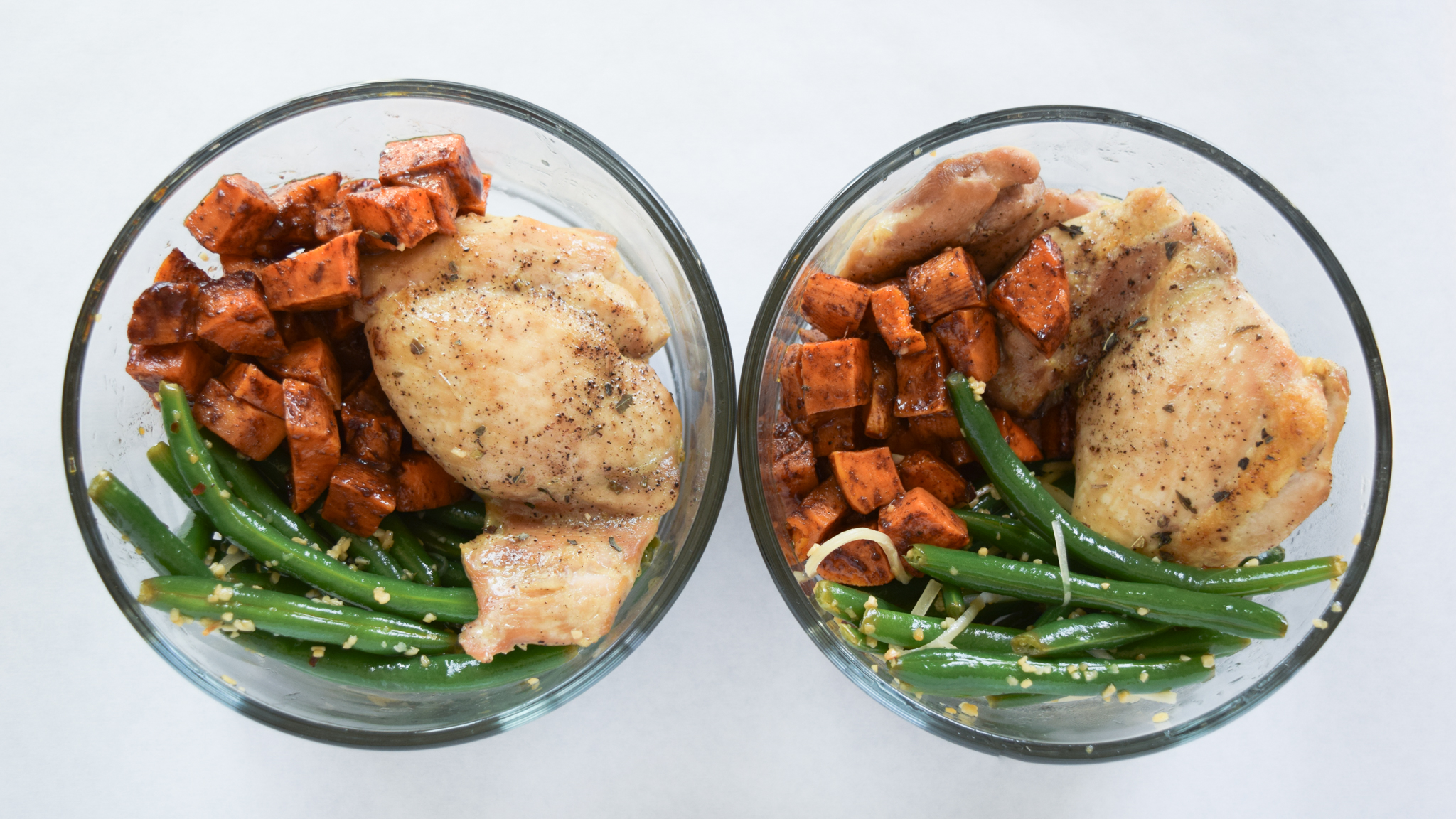 I've been doing Sunday Meal Prep for a while now, but continued to face the issue of being unprepared for dinners and sometimes end of the week lunches (if my bulk cooking didn't make it the whole week for both of us). I would catch myself wishing I would've marinated something yesterday, or cooked some taco meat for chicken taco salad lunches on Friday. And I'm so guilty of making multiple Trader Joe's trips in one day (record is three times… ouch). The goal of this post is to eliminate those occurrences by planning the week's meals ahead.
Generally, I plan to aim for 1,700 calories a day, made up of 30% carbohydrates, 35% fat, and 35% protein. MyFitnessPal tells me this equals approximately 127g of carbohydrates, 66g of fat, and 149g of protein. Of course, please keep in mind all bodies and fitness goals vary. These are just mine.
I'm going to provide our meal plan for the week with approximate macronutrients listed, a shopping list (for two!), Sunday meal preparation steps, and daily notes or tips for weekday cooking. And of course, some awesome pictures to help you along the way. My meal prep instructions are created to work for two people. It's up to you to determine what parts of the meal plan and prep steps work for you. Everything is optional. Let's get going!
Meal Plan for July 25-29
Monday
Tuesday
Wednesday
Thursday
Friday
Breakfast
Two Eggs & Chicken Sausage Scramble
Chia Berry Protein Smoothie
Two Eggs & Chicken Sausage Scramble
Chia Berry Protein Smoothie
Two Eggs & Chicken Sausage Scramble
Lunch
Broccoli Chicken Quinoa Casserole
Broccoli Chicken Quinoa Casserole
Broccoli Chicken Quinoa Casserole
Ginger Chicken Veggie Soup (1.5 servings)
Ginger Chicken Veggie Soup (1.5 servings)
Dinner
Ginger Chicken Veggie Soup (1.5 servings)
Marinated Chicken, or Steak with Roasted Veggies
Ginger Chicken Veggie Soup (1.5 servings)
Zucchini Chicken Lo Mein (1.5 servings)
Chicken Breast, Pesto and Quinoa Bowl
Snacks
Blueberries (one cup)
Protein Bar
Apple with Peanut Butter
Turkey Jerky
Whole Grain Fig Bar
Turkey Jerky
Protein Bar
Turkey Jerky
Beer or Cider
Macro
Totals
Cal: 1,706
C: 120 g
F: 68 g
P: 152 g
Cal: 1,704
C: 134 g
F: 74 g
P: 134 g
Cal: 1,735
C: 110 g
F: 78 g
P: 147 g
Cal: 1,668
C: 154 g
F: 47 g
P: 162 g
Cal: 1,655
C: 125 g
F: 57 g
P: 138 g
What we'll accomplish on Sunday:
Six servings of Broccoli Quinoa Casserole ready for lunches
Leftover quinoa for Monday dinner
Four servings of Chia Berry Protein Smoothie freezer packs
Homemade Chicken Stock for Monday's soup recipe (you can opt for store bought)
Chopped onion for Monday's breakfast scramble
Supplies List (for two people):
Grocery:
12 eggs
6 chicken or other breakfast sausage
2 yellow onions (1 for chicken broth, 1 for chicken soup, minor amount for Monday breakfast)
1 rotisserie chicken
1-12 ounce box of quinoa
1 head of broccoli
2-10 ounce packages white mushrooms
1 half gallon milk (some extra for my coffee!)
1 package grated parmesan cheese
16 ounces mozzarella cheese
Fresh bay leaves, and thyme for homemade chicken broth
1 bunch of fresh parsley for broth and soup
6 carrots (3 for chicken broth, 3 for chicken veggie soup)
2 stalks of celery (1 each for chicken broth and soup, a couple ribs for zucchini lo mein)
4 protein bars of your choice (we go for Premier Protein from Costco)
1 container of fresh blueberries
Approximately 10 chicken breasts (or 4 pounds of chicken), fresh or frozen
Frozen strawberries, blueberries, and raspberries
1 bag baby spinach
4 bananas
Teriyaki sauce
3 medium/large zucchinis
1 red pepper
1 Can or jar of pesto (we love the Costco brand)
Pantry
Salt/pepper
Olive oil
Butter
White flour
Chia seeds
Dried parsley
Dried oregano
Minced garlic
Red pepper flakes
Soy sauce
Barbecue sauce
Brown sugar
Cornstarch (optional)
Toasted sesame oil
Notable Equipment:
Grill or oven
Crockpot or slow cooker
Meat Thermometer
Nutribullet or blender
Wok
Sunday Meal Prep Steps:
[45 minutes] Go shopping in the morning. Fresh rotisserie chicken is best rotisserie chicken.
[15 minutes] Chop veggies, including: broccoli for casserole, mushrooms, carrots/celery/onion for stock. Separate a little onion in a Ziploc to toss in your Monday morning scramble.
[5 minutes] Work on the Broccoli Chicken Quinoa Casserole. Grease rice cooker dish with coconut oil. Cook 1 cup quinoa and two cups water or chicken stock on the brown rice setting.
[20 minutes] Next, pull rotisserie chicken from carcass and put it directly in the crockpot with onion, celery, and carrots. Add your desired herbs (bay leaves, thyme, parsley) and fill with water. Set it on low for all-day brewing. Here's a great crock pot chicken broth recipe to follow from Lisa Leake at 100 Days of Real Food.
Preheat the oven to 350 degrees.
[40 minutes] As your quinoa continues to cook in the rice cooker, steam your broccoli, cook your mushrooms, then work on the sauce (detailed instructions on the recipe page). These steps can be done at your own pace. As explained in the casserole recipe, mix all components together in a 9×13 casserole dish, top with mozzarella, and cook for 25 minutes. Cook an additional 3-5 minutes on broil for a golden brown top.
[10 minutes] While the casserole bakes, create your freezer smoothie packs for your Chia Berry Protein Smoothies. Create four Ziploc packs each with one banana and 1.5 cups frozen berries. Store in the freezer.
[15 minutes] There might be some leftover quinoa from the rice cooker. Save for the next day to have along with soup. Wash dishes dirtied while cooking the casserole ingredients.
[5 minutes] When the casserole is done, portion out into 6 equal portions (using a kitchen scale

(affiliate link!)

) and store in the fridge. Eat one portion for dinner or lunch on Sunday if you don't need all 6 during the week.
[15 minutes] When the broth is done, let it cool, strain with cheesecloth, and store it covered in the fridge. It will be used for dinner the following night.
Total Active Time Estimate: 2 hours, 50 minutes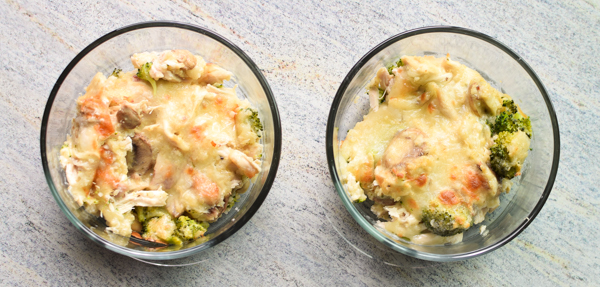 Weekday Notes:
Monday:
Breakfast: First, I brown my veggies in a tiny bit of olive oil. Add the cut, pre-cooked sausage for a minute or two, turn the heat way down and pour in four (total for two people) eggs. Scramble and top with a little cheese.
Dinner: Cook your favorite version of a chicken veggie soup with the homemade broth yesterday. I followed the recipe for Chicken Detox Soup from A Spicy Perspective. I had almost exactly the amount of broth this recipe called for. Toss yesterday's leftover quinoa in your bowl for a little extra substance.
Prep: Before you go to bed, put two thawed chicken breasts or steaks in a Ziploc with your choice of teriyaki marinade (homemade or store bought). I double bag to prevent any chicken juice leakage.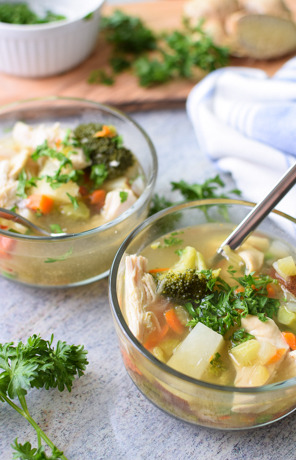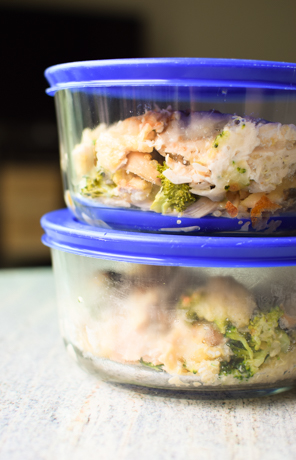 Tuesday
Dinner: Use a grill or your stove to cook your meats. Roast veggies in the oven or in foil packets on the grill. Here are a few classic veggies on the grill recipes from Good Housekeeping.
Prep: Set aside half to a whole cup of mushrooms for tomorrow's breakfast scramble.
Wednesday
Breakfast: Scramble like Monday but with mushrooms.
Thursday
Dinner: Time to spiralize! The Zucchini Chicken Lo Mein recipe can be made with chicken or shrimp.
Note: According to MyFitnessPal, today's meals are high in sodium. Reduce added salt.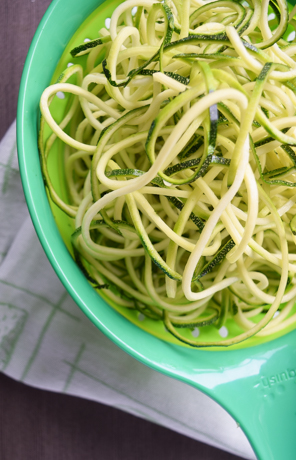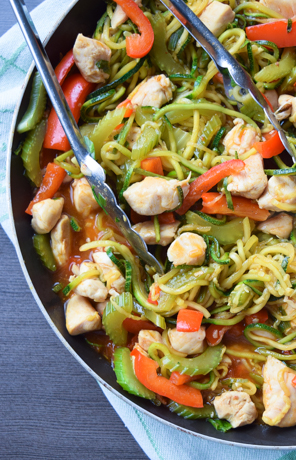 Friday
Dinner: Grease rice cooker bowl with coconut oil and place one cup dry quinoa and two cups water or chicken broth. Cook quinoa on rice setting. Cook chicken breasts in the oven until internal temperature reaches 165 degrees. Shred cooked chicken. Combine with quinoa and a scoop of pesto and mix until pesto is evenly distributed. YUM.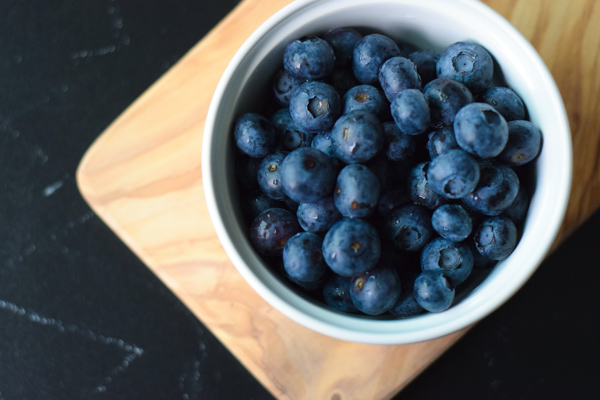 Feedback is appreciated!
I'm looking forward to hearing from any and all of you on your thoughts for this week's (and my very first) SMPP. I plan to try out different things in the meal plan each week and aim for maximum variation. It's my goal to improve the SMPP based on what I learn, and feedback from you! Feel free to leave a comment or email me at danielle@34.211.113.157. If you love the meal plans and want to see them get better every week, please subscribe to our mailing list! I will provide updates and share new posts with you. I can't wait to hear from you!
– Danielle
A little disclaimer: Some of the links on this page are for affiliated products on Amazon. If you are planning to make any purchases, please start your Amazon shopping here on Project Meal Plan! We'll get a small commission at no extra cost to you. I truly appreciate your support! For more information, please see our Full Disclosure.
Disclaimer:
 Project Meal Plan is a participant in the Amazon Services LLC Associates Program, an affiliate advertising program designed to provide a means for us to earn fees by linking to Amazon.com and affiliated sites. For more information, please see our
Full Disclosure & Privacy Policy
.