Today, I learned two pounds of heirloom navel oranges is only… three oranges. I strolled into Metropolitan Market with my two-pounds-free-with-any-purchase coupon. Weighed out three oranges. And I was already just over two pounds! I mean, I'll still take free-with-purchase anything, but I had imagined a bag of small-to-medium oranges… at least five. For the purchase part of this transaction, I searched Met Market for some meal prep dinner inspiration. After some wandering (okay, lots of wandering and ogling the gourmet cheeses), I found something. And it's in the Sunday Meal Prep for December 18th, 2016.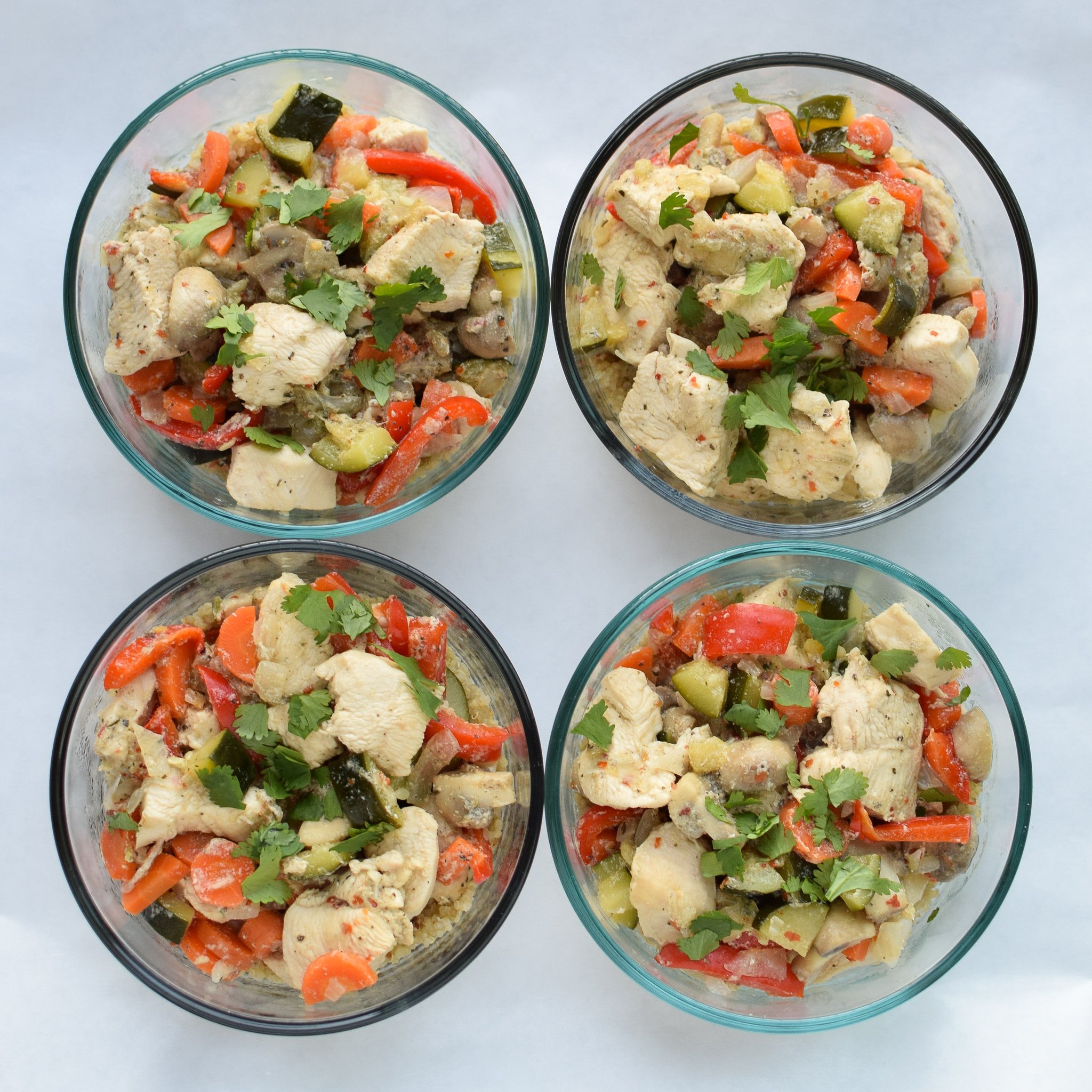 This week, I decided to use a Hak's Pak sauce packet as the flavor profile for my lunch prep. It was way simpler than measuring out a ton of ingredients to flavor my chicken and veggies in the Dutch oven. I picked some of my favorite veggies, sliced up my chicken, and let it all simmer in the green curry sauce for a solid 20 minutes. I also cooked one cup of dry quinoa, and split both into four portions (pictured above!).
I chose the Hak's Pak because it's all-natural, has no preservatives, and all the of ingredients were things I actually could pronounce! Next time, I'll probably try the Caribbean Jerk or Cajun Jambalaya flavors. The Thai Curry flavor was good, but a little too sweet for me. I added a good old heaping tablespoon of red chili pepper flakes, and that totally made it work!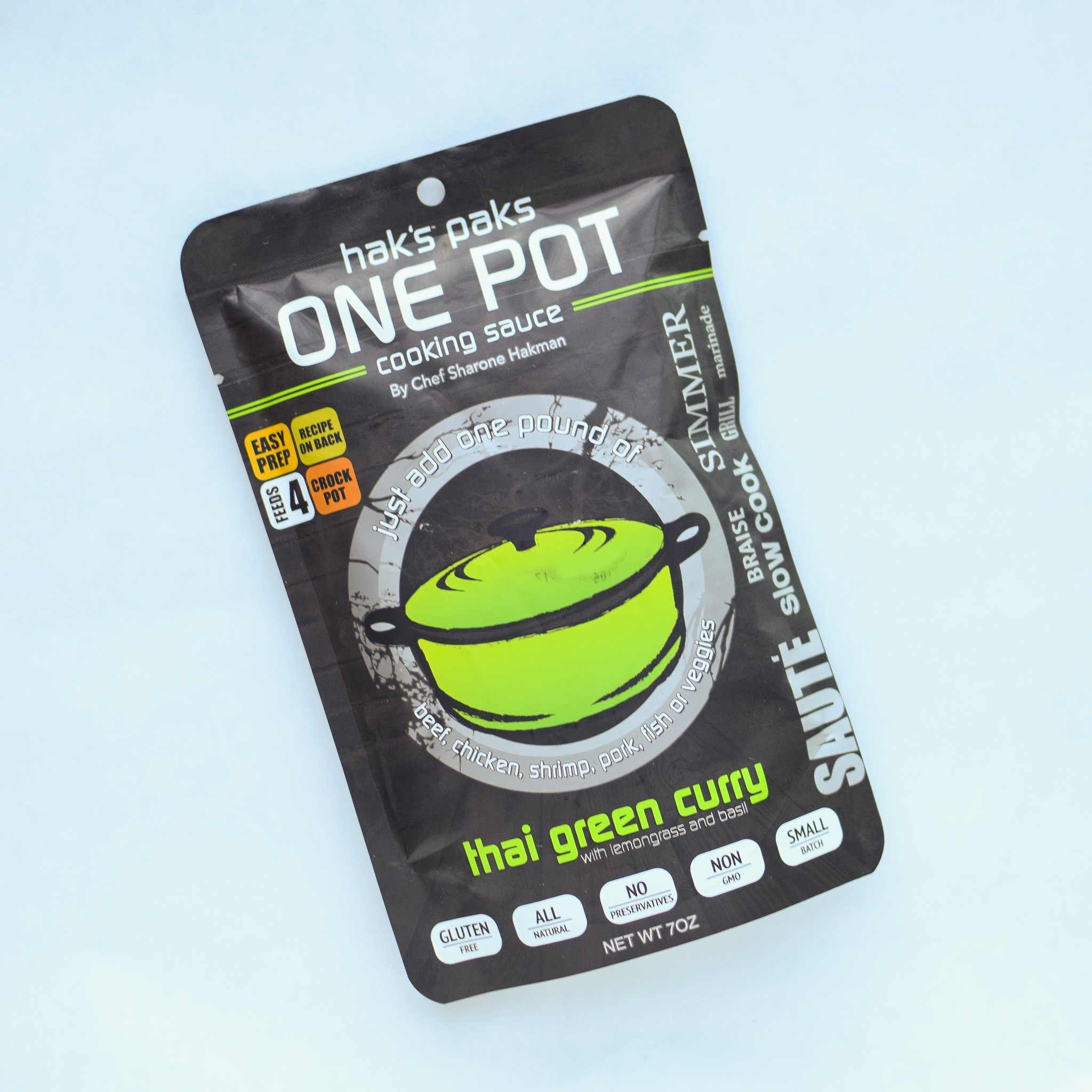 Planning Goals: 1,700 calories a day, made up of 30% carbohydrates, 35% fat, and 35% protein (MyFitnessPal says this equals approximately 127g of carbohydrates, 66g of fat, and 149g of protein).
1) Reduce costs and food waste
2) Save time during busy week days
3) Help provide simple strategies, examples and meal preparation steps that are beneficial to almost anyone
4) Have healthy choices planned, prepared and available to reduce impulse eating
Meal Plan for December 19-23
Monday
Tuesday
Wednesday
Thursday
Friday
Breakfast
Siggis Yogurt, Turkey Bacon, Hard-Boiled Egg
Siggis Yogurt, Turkey Bacon, Hard-Boiled Egg
Freezer Breakfast Burrito
Siggis Yogurt, Turkey Bacon, Hard-Boiled Egg
Siggis Yogurt, Hard-Boiled Egg
Lunch
Green Curry Chicken & Veggie Bowl
Green Curry Chicken & Veggie Bowl
Green Curry Chicken & Veggie Bowl
Green Curry Chicken & Veggie Bowl
Zucchini Chicken Lo Mein
Dinner
Easy Slow Cooker 4-Bean Turkey Chili, Avocado
Easy Slow Cooker 4-Bean Turkey Chili, Avocado
Easy Slow Cooker 4-Bean Turkey Chili
Zucchini Chicken Lo Mein
Easy Slow Cooker 4-Bean Turkey Chili
Snacks
Orange, Turkey Pepperoni, Parm Crisps
Protein Bar, Orange, Turkey Pepperoni
Apple & PB, Protein Shake
Apple & PB, Parm Crisps
Protein Shake
Macro
Totals
Cal: 1,704
C: 129 g
F: 64 g
P: 159 g
Cal: 1,739
C: 151 g
F: 53 g
P: 167 g
Cal: 1,716
C: 141 g
F: 62 g
P: 158 g
Cal: 1,583
C: 99 g
F: 67 g
P: 151 g
Cal: 1,718
C: 127 g
F: 72 g
P: 162 g
See more detail on Project Meal Plan's My Fitness Pal account.
What you'll accomplish on Sunday:
Hard-Boiled eggs for Monday, Tuesday, Thursday, Friday breakfast (for variety, I threw in a previously frozen homemade breakfast burrito on Wednesday)
Turkey Bacon (or your preferred bacon) for Monday, Tuesday, Thursday breakfast
Thai Green Curry Chicken Veggie Bowls for Monday-Thursday lunches
Easy Slow Cooker 4-Bean Turkey Chili for Monday-Wednesday, Friday dinners (freeze one portion for Friday)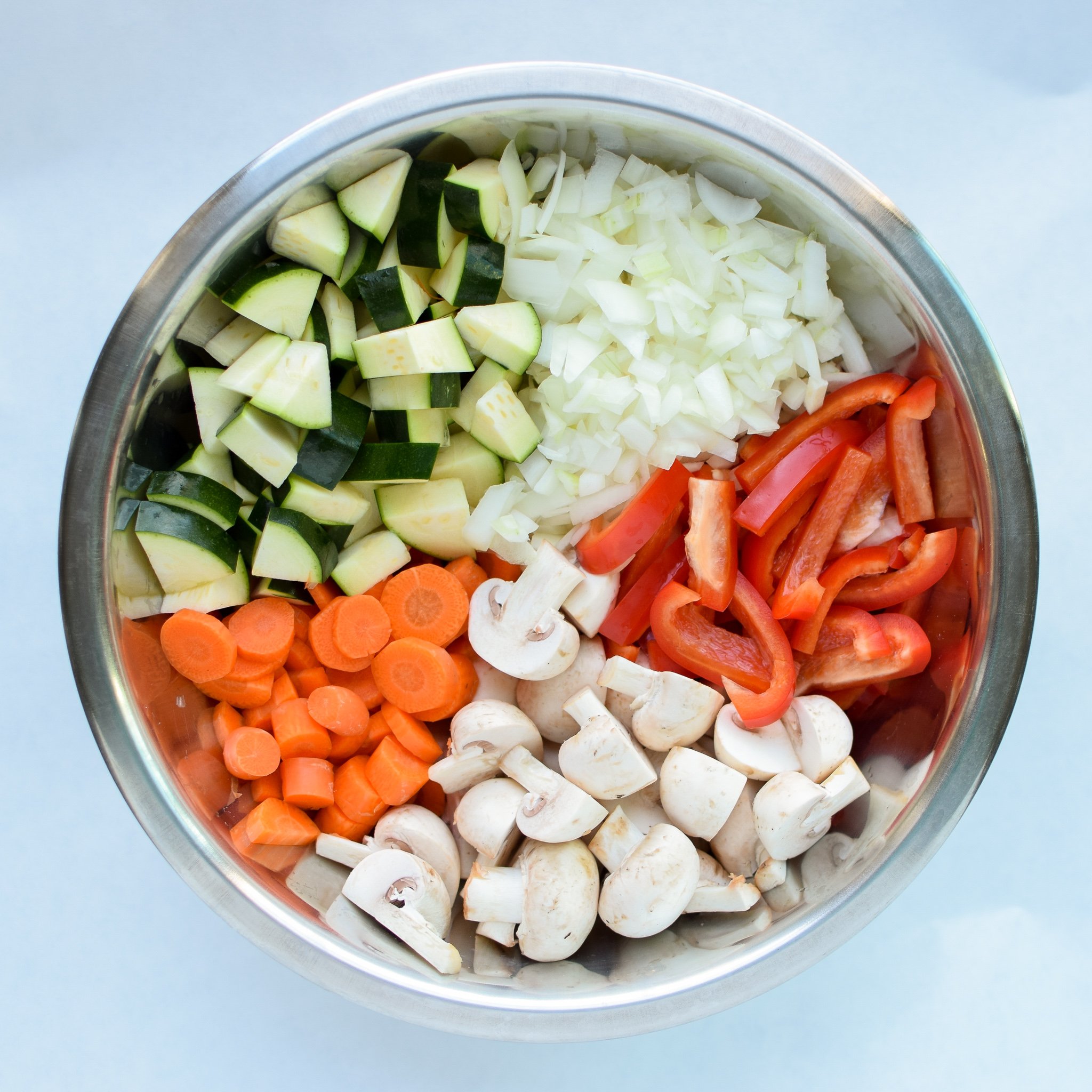 Supplies List (for one person):
Grocery:
boneless, skinless chicken breast, 32 ounces, about 3 large breasts (frozen or fresh)
ground turkey, 93%, 1 pound
turkey bacon, or your preferred bacon (we like Columbus brand)
eggs, dozen
Hak's Pak Thai Green Curry sauce packet, or any simmer sauce packet of your choice
dry white quinoa, 1 cup
diced green chilis, 4.5-ounce can
Beans for chili, 1 can each: Great White Northern Beans, black beans, kidney beans, pinto beans
diced tomatoes, 15 ounces can
shredded cheese
Siggi's Blueberry yogurt, 4-5 servings
Produce:
Veggies for Thai green curry bowls – I used 2 carrots, 8 ounces white mushrooms, 1 red pepper, 1 zucchini, and 1/2 yellow onion.
For chili: 1 green pepper, 1 yellow onion, and 2 jalapeños, 1 avocado for topping (extra habanero optional)
Snacks: Heirloom navel oranges, apples
Snacks:
turkey pepperoni
protein bars, shakes
oranges
apples & PB
parmesan crisps
Pantry:
ground cumin
chili powder
Trader Joe's Smoke Seasoning (or smoked paprika)
minced garlic
olive oil
Equipment/Tools:

During the Week:
Zucchini Chicken Lo Mein – Thursday dinner & Friday lunch – by Project Meal Plan
Sunday Meal Prep for December 18th, 2016:
[35 minutes] Start the Slow Cooker 4-Bean Turkey Chili, since that will take the longest to cook. Move on after it's cooking away in the crock pot.
[5 minutes] Start some quinoa in your rice cooker (to go with the green curry dish). Cook 1 cup of dry quinoa with 1 can of chicken stock. I prefer to oil the rice cooker dish with coconut oil to reduce sticking. Set it on the brown rice setting. This takes 45 minutes to an hour.
[30 minutes] Next, cook your bacon according to package instructions or your preferred method. While each batch of bacon is cooking, start preparing your veggies for the green curry bowls. Chop/dice them all to approximately the same bite sized pieces (see photo for an example). Make sure your chicken is defrosted or defrosting.
[40 minutes] When the bacon is done and cleaned up, cut your chicken into bite-sized pieces (finish veggie prep if not done). This is easier to do if the chicken is still a tiny bit frozen (mostly thawed, perhaps just a super cold center). In a Dutch oven or large/deep skillet, begin by heating 2 tablespoons of oil over medium heat and then adding all your veggies for 4-5 minutes. After they are slightly cooked down, add your chicken and sauce packet. Stir until everything is well mixed. Stir frequently for the first 5 minutes so everything heats evenly. Reduce heat to low-medium, put the lid on and set the timer for 15 more minutes. I also added a bit of salt and pepper, plus a heaping tablespoon of red pepper flakes since the sauce was a bit too sweet for my preference. While the chicken is simmering, start cleaning some of the meal prep mess to save time later.
[15 minutes] Next, set some boiling water for your hard-boiled eggs. According to the FDA, hard-boiled eggs keep in the refrigerator for up to one week after cooking. Check out the Food Network's guide for boiling eggs. Instructions: Place your eggs in a pot and cover with water so there's at least an inch of water over the eggs. Bring to boil over medium-high heat, cover and remove from heat immediately. Let them sit, covered, for 8-10 minutes. Transfer eggs to ice bath to stop the cooking process. It's best to peel them right before they will be eaten.
[10 minutes] When both the quinoa and green curry chicken and veggies are done, portion each out into 4 equal portions. The first photo in this post is exactly 4 servings of quinoa and 4 servings of chicken/veggies. There should be about 8 ounces of chicken in each bowl if you started with 32 ounces. Let them cool and store in the fridge.
[10 minutes] When the chili is done, I usually store it in the crockpot for the first night, and then portion it out the next day after I've eaten at least a serving (everything fits in my containers better that way). You can also just use your Pyrex dishes and store it that way when it's done and cooled. If you are planning to eat any portions after 4 days away, it would be best to freeze the portions individually.
Total Active Time Estimate: 2 hours 25 minutes, plus clean-up
This Week's Featured Recipes:
Easy Slow Cooker 4-Bean Turkey Chili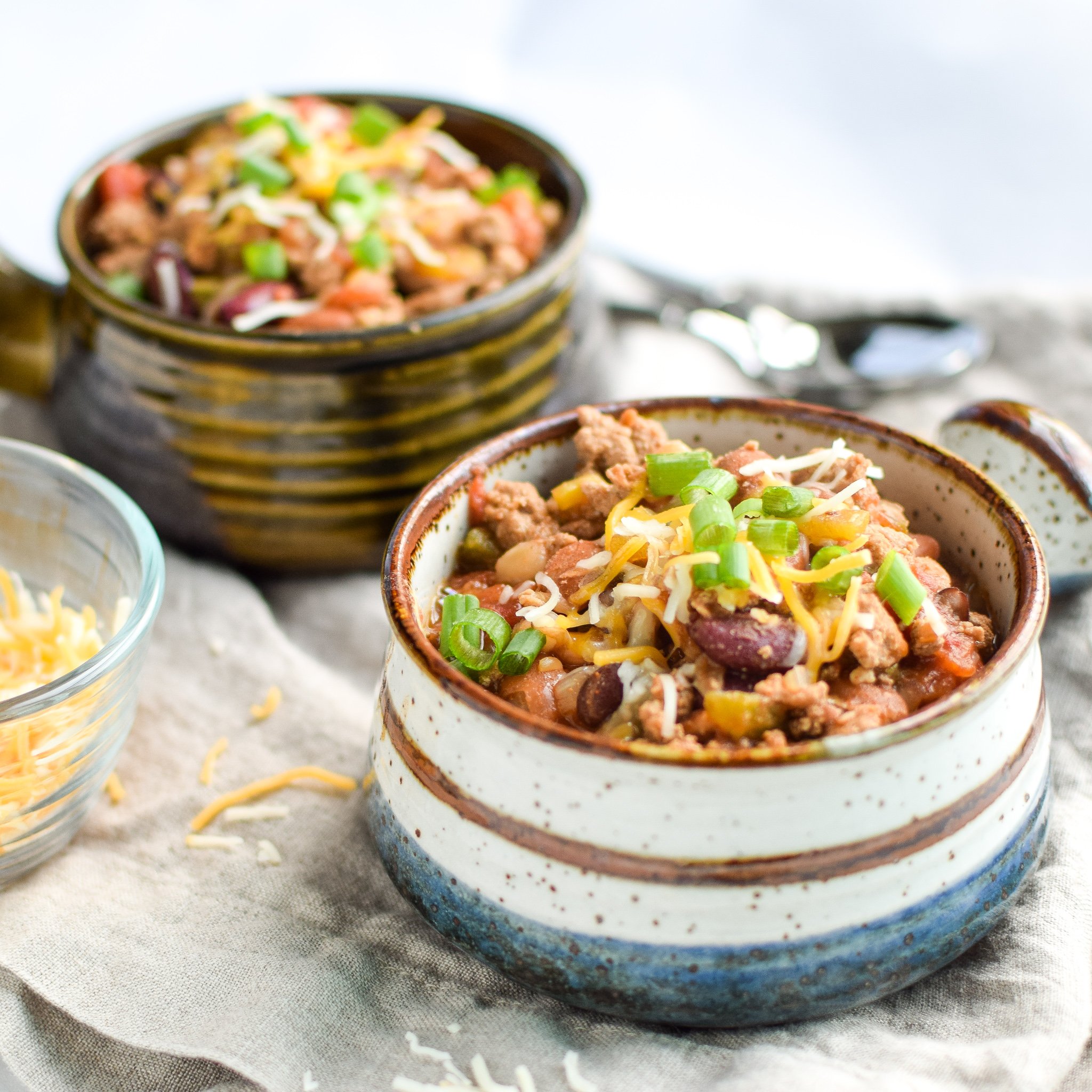 Thanks for checking out the Sunday Meal Prep for December 18th, 2016. I'll be skipping out on next week's meal plan since most people are enjoying delicious holiday foods (leftovers yes please). But I'm working on more recipes in the mean time! Your feedback is always appreciated so I can improve the Sunday Meal Prep posts every week. Tag @projectmealplan on social media if you meal prep! I'd love to see what you've created! And follow me on Pinterest for meal inspiration every single day 🙂
– Danielle
Disclaimer: Some of the links on this page are for products on Amazon. If you are planning to make any purchases, please start your Amazon shopping here on Project Meal Plan! We'll get a small commission at no extra cost to you. I truly appreciate your support! For more information, please see our Full Disclosure & Privacy Policy.
Disclaimer:
 Project Meal Plan is a participant in the Amazon Services LLC Associates Program, an affiliate advertising program designed to provide a means for us to earn fees by linking to Amazon.com and affiliated sites. For more information, please see our
Full Disclosure & Privacy Policy
.