It's my goal to try out one new food item or prep method every week – so this week, it's scallion pancakes. Okay, I didn't actually make scallion pancakes from scratch. These fine specimen are from Trader Joe's (of course). My mom recommended them a few months ago, and I bought them with very good intentions. But then they totally got hidden in the back of our tiny freezer, only to be rediscovered during the recent move. Sometimes you just have to cook what you've got instead of buying new stuff. Maybe I'm learning this lesson because we no longer live within one block of three grocery stores… No matter! Food is prepped. Scallion pancakes are seriously delicious. And here's the Sunday Meal Prep for February 26th, 2017.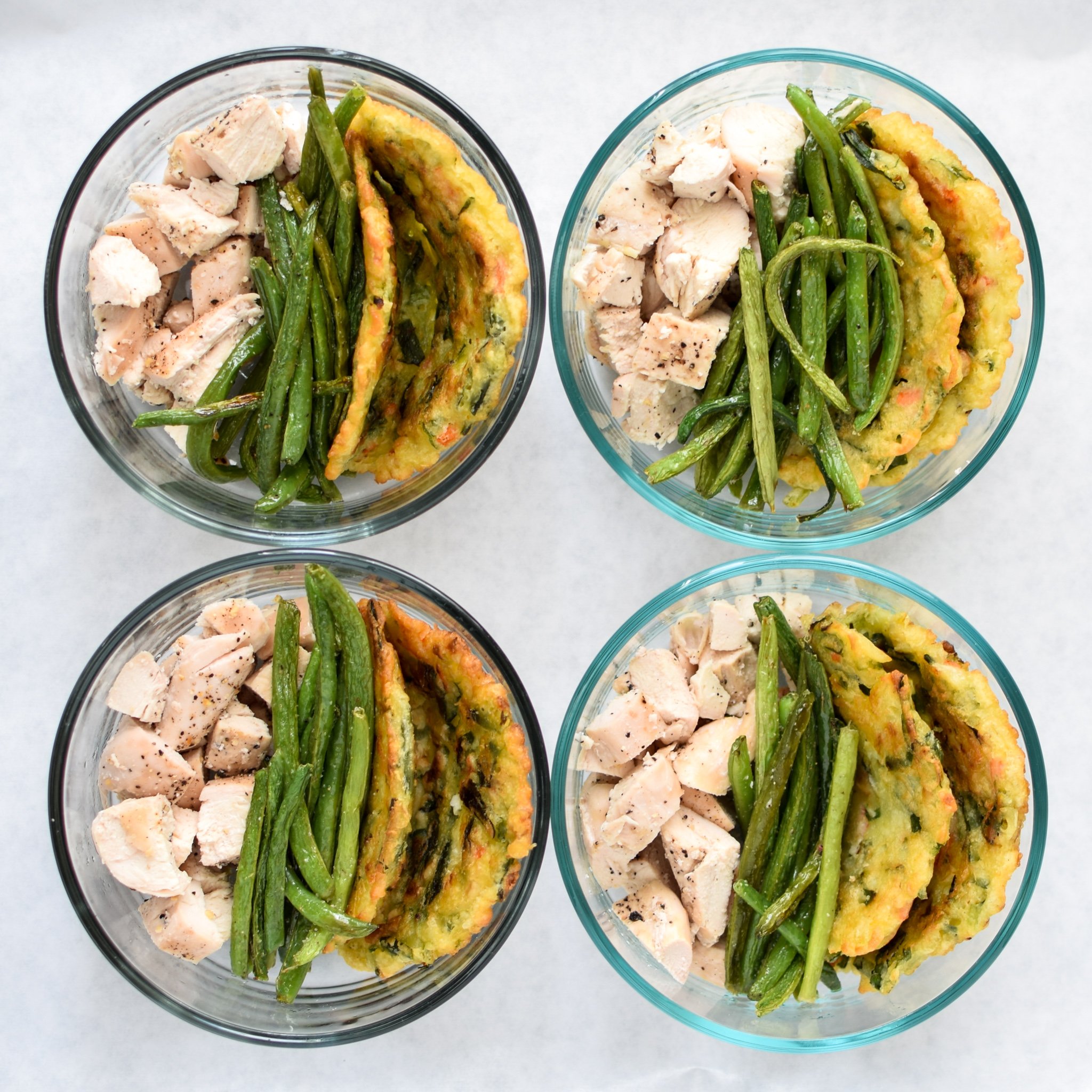 Planning Goals: 1,700 calories a day, made up of 30% carbohydrates, 35% fat, and 35% protein (MyFitnessPal says this equals approximately 127g of carbohydrates, 66g of fat, and 149g of protein).
1) Reduce costs and food waste
2) Save time during busy week days
3) Help provide simple strategies, examples and meal preparation steps that are beneficial to almost anyone
4) Have healthy choices planned, prepared and available to reduce impulse eating
Meal Plan for February 27-March 3
Monday
Tuesday
Wednesday
Thursday
Friday
Breakfast
Cinnamon PB Blueberry Smoothie
PB Banana Berry Smoothie
Greek Yogurt, Honey & Blueberries
Cinnamon PB Blueberry Smoothie
PB Banana Berry Smoothie
Lunch
Chicken, Green Beans & Scallion Pancake
Chicken, Green Beans & Scallion Pancake
Chicken, Green Beans & Scallion Pancake
Chicken, Green Beans & Scallion Pancake
Tuna on Sandwich Thin, Carrots
Dinner
Turkey Taco Black Bean Salad
Turkey Taco Black Bean Salad (w/tortilla)
Turkey Taco Black Bean Salad
Turkey Taco Black Bean Salad
Lemon Garlic Zoodles
Snacks
Chicken Bone Broth, Apple & PB
Protein Shake
Apple & PB, Chicken Bone Broth w/Egg
Protein Shake, Apple & PB
Apple & PB
Macro
Totals
Cal: 1,626
C: 133g
F: 60g
P: 148g
Cal: 1,645
C: 138g
F: 57g
P: 152g
Cal: 1,554
C: 111g
F: 65g
P: 137g
Cal: 1,686
C: 138g
F: 61g
P: 158g
Cal: 1,669
C: 138g
F: 70g
P: 143g
See more detail on Project Meal Plan's My Fitness Pal account.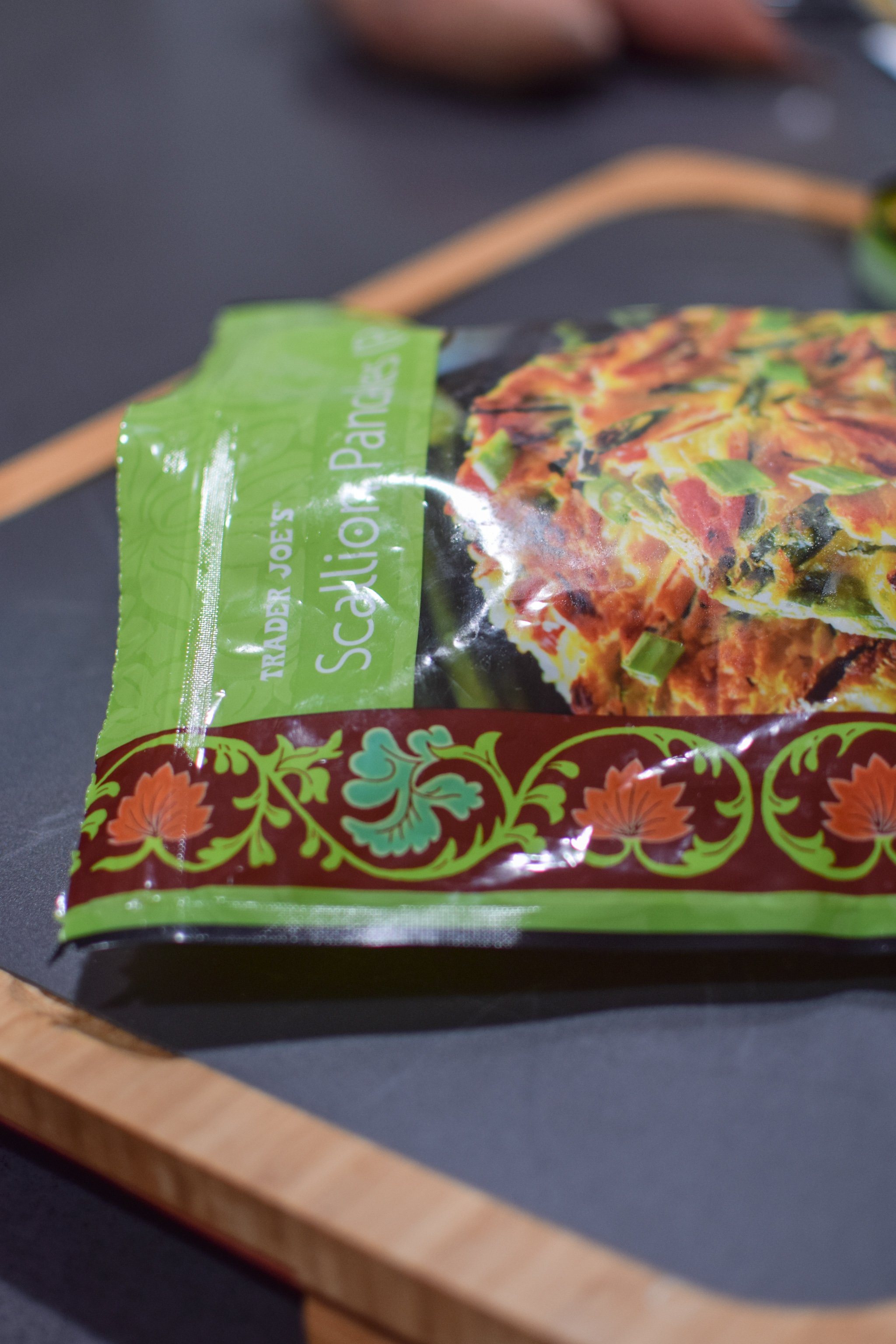 Prepped on Sunday:
Portioned smoothie fruit for Monday, Tuesday, Thursday, Friday Breakfasts
Chicken, green beans & scallion pancakes for Monday-Thursday lunch
Turkey Taco with Black Beans mixture made for Monday-Thursday dinners
During the Week Ideas:
Lemon Garlic Chicken Zoodles from the Iron You – Friday dinner
Tuna Sandwich on Sandwich Thin with greens – Friday lunch
Supplies List (for one person):
Grocery:
boneless skinless chicken breasts, 20 ounces (about 3 small to medium breasts)
ground turkey, 1 pound
frozen strawberries, 2 cups
frozen blueberries, 3 cups
vanilla almond milk (can sub regular milk)
whole fat greek yogurt (or 0% can be subbed)
scallion pancakes (Note: I picked these ones up at Trader Joe's, but there are several recipes for scallion pancakes out there if you want to make them from scratch. The TJ's version seem to have a few more veggies than most recipes I can find online.)
chunky salsa, 1-2 cups
15-ounce can black beans, 1
shredded cheddar cheese, 1/2 cup
Produce:
bananas, 4
baby spinach, 4 cups (for smoothies)
romaine or other additional greens for taco salad
green beans, 10 ounces
onion, 1
jalapeno, 1
lime, 1
taco salad toppings: cherry tomatoes, cilantro, etc.
tortillas (optional)
Snacks:
chicken bone broth (eggs optional)
apples
protein shakes/bars
Pantry:
creamy peanut butter (and/or peanut butter powder)
vanilla protein powder
avocado oil (or olive oil)
cinnamon
chicken seasonings: lemon pepper, garlic powder, onion powder
turkey taco seasonings: ground cumin, paprika, garlic powder, chili powder
sea salt/ground pepper
Equipment/Tools: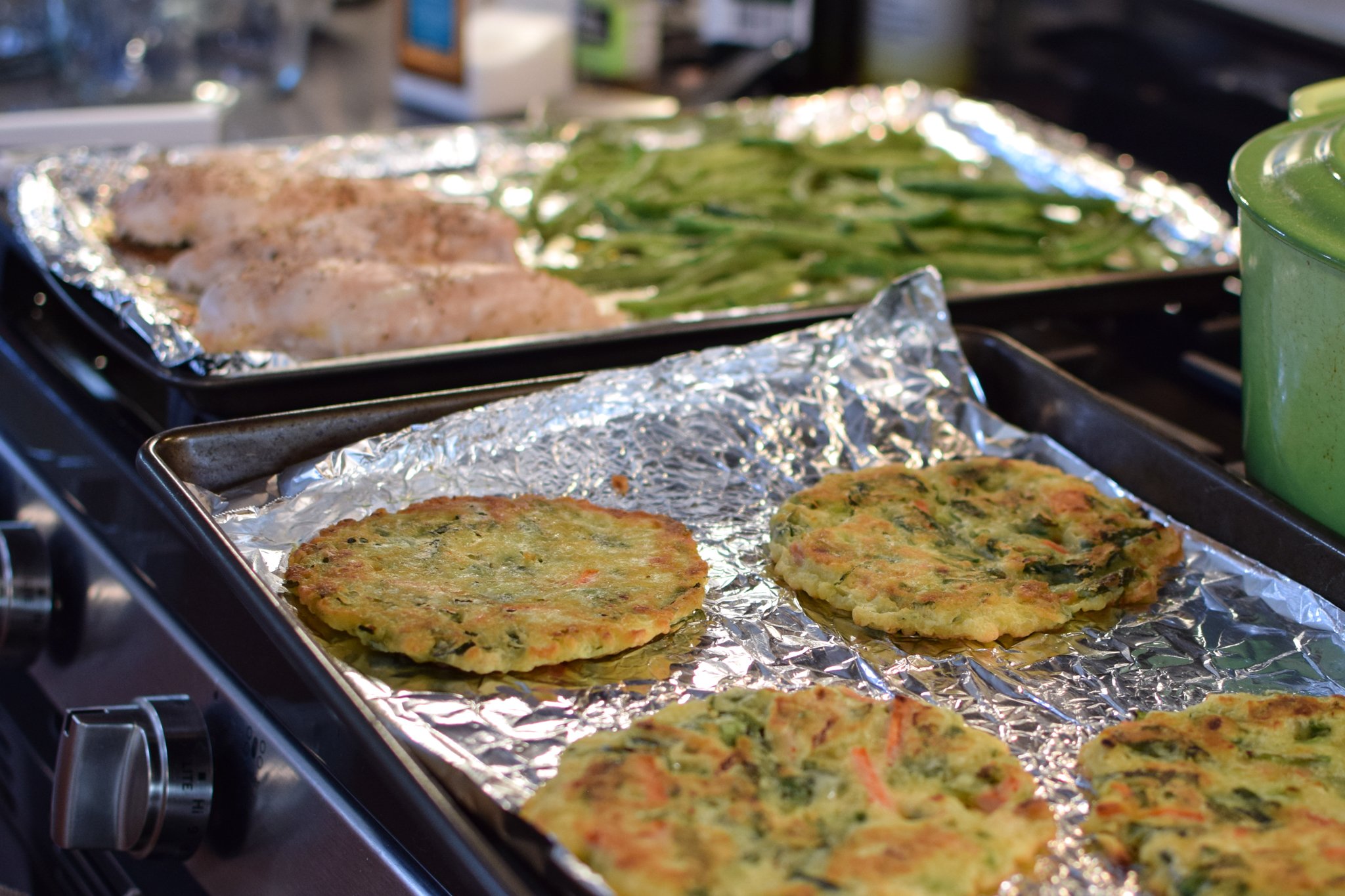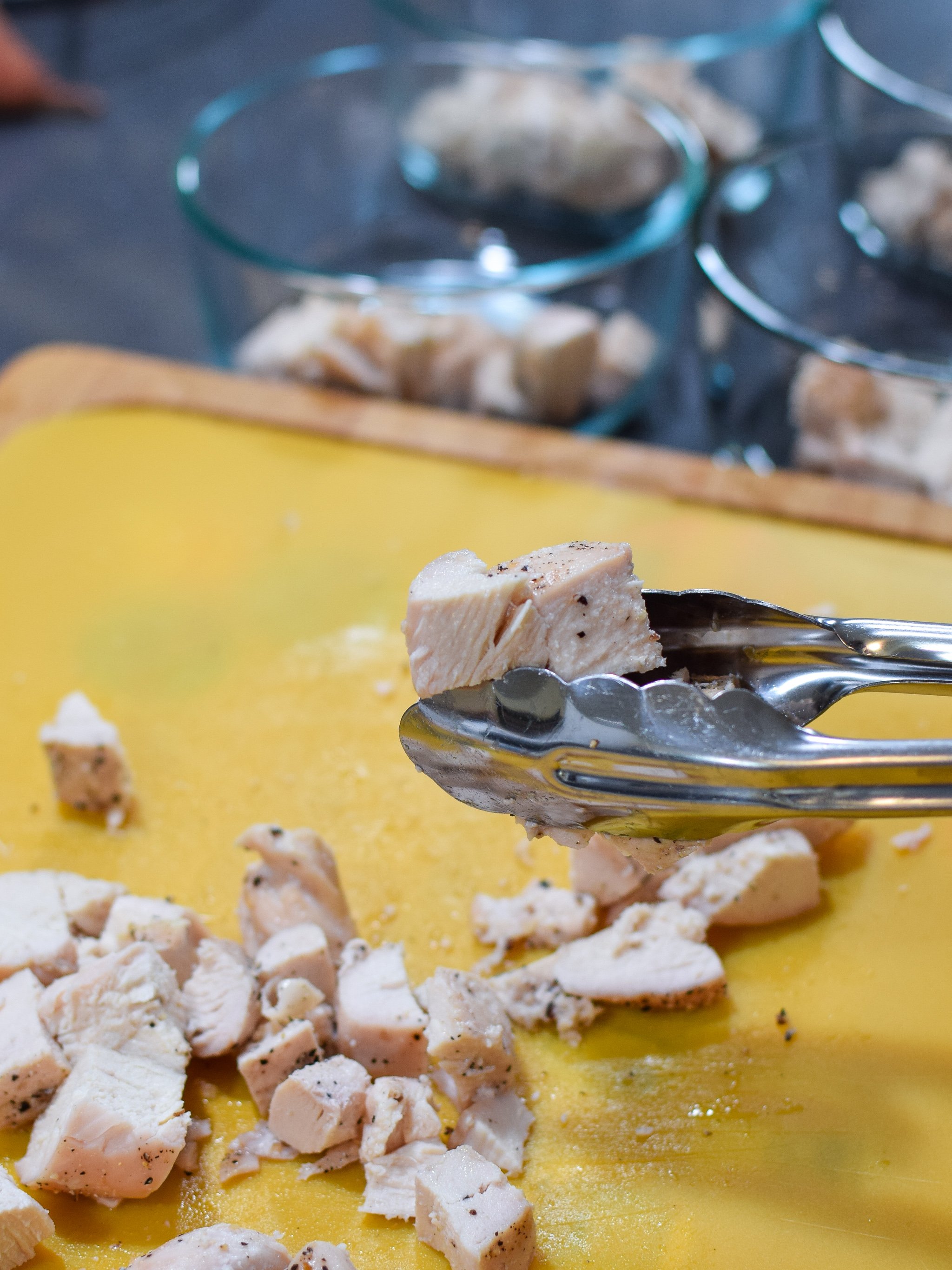 Sunday Meal Prep for February 26th, 2017:
[25 minutes] Follow the recipe for the turkey mixture of Turkey Taco Black Bean Salads recipe. You can either completely prep four salads so they're ready to go, or you can save the turkey mixture and use it for tacos, burritos, and salads during the week.
[25 minutes] Preheat the oven to 400 degrees. Follow the heating directions for the scallion pancakes (skip this if you are making your own from scratch). While the scallion pancakes are cooking, prepare the chicken and green beans which will share a sheet pan. Place chicken breasts and green beans on a foil-lined sheet pans (as pictured). Add about 1 tablespoon of avocado oil to the green beans, followed by 1/4 teaspoon each salt, garlic powder, onion powder, and black pepper. Use hands or tongs to mix and evenly coat green beans. To the chicken breasts, place a couple drops of oil on each, 1/2 teaspoon salt, and grind lemon pepper seasoning (4 or 5 cranks) over all breasts. Flip and repeat. Use your hands or tongs to make sure everything is evenly coated. Bake for 20-25 minutes until chicken is cooked through (165 degrees inside).
[10 minutes] While the chicken is cooking, portion fruit and greens into Ziploc bags for four smoothies during the week. Place banana, fruits, and any greens you want for each smoothie into each bag. Recipes: PB Powder Cinnamon Blueberry Smoothie and PB Banana Berry Smoothie. Store in the freezer until you make the smoothie.
[10 minutes] Portion cooked chicken, green beans, and one scallion pancakes into each meal prep bowl. Seal and store in the fridge until Thursday!
Total Active Time Estimate Including Dishes: 1 hour, 30 minutes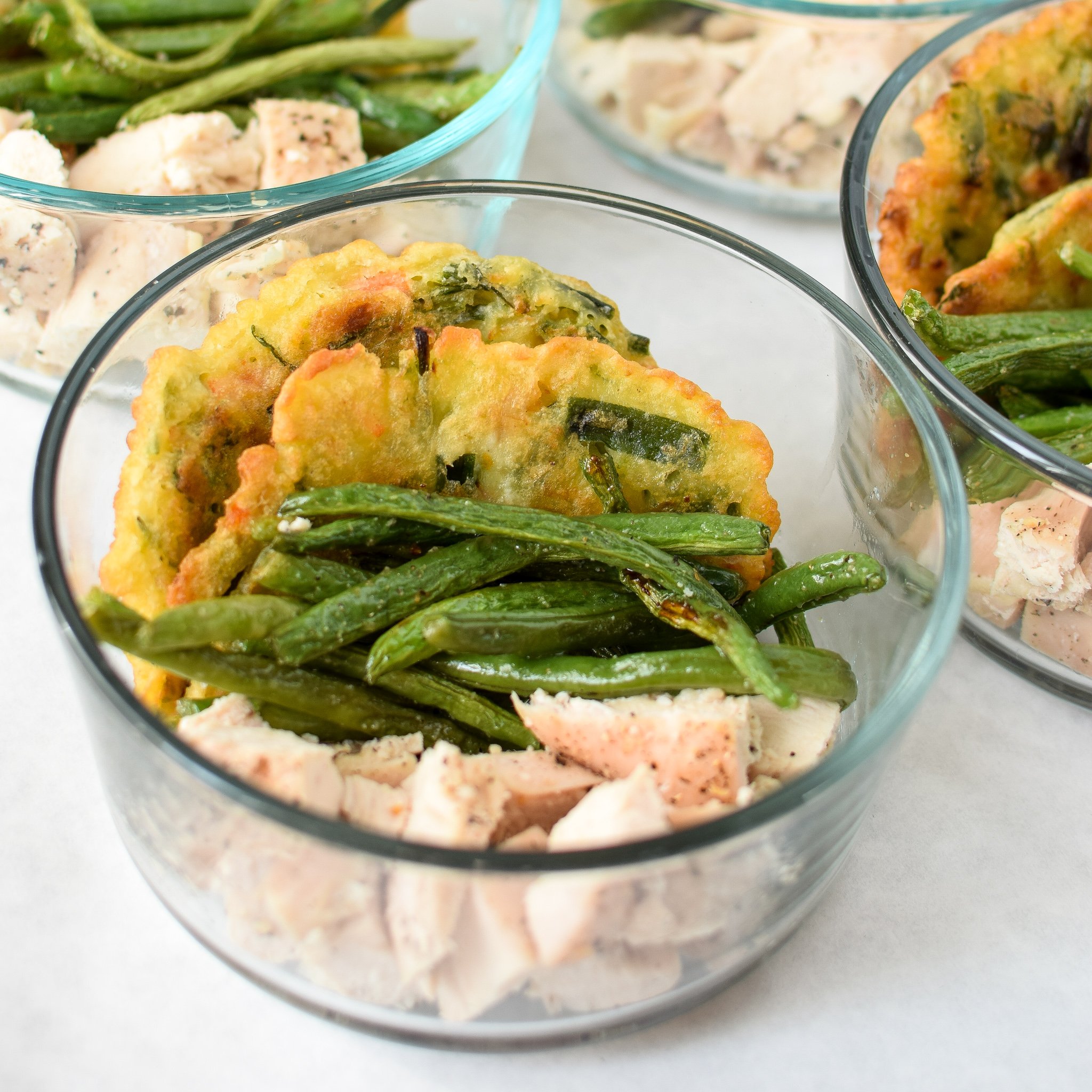 This Week's Project Meal Plan Recipes:
Meal Prep Turkey Taco Black Bean Salads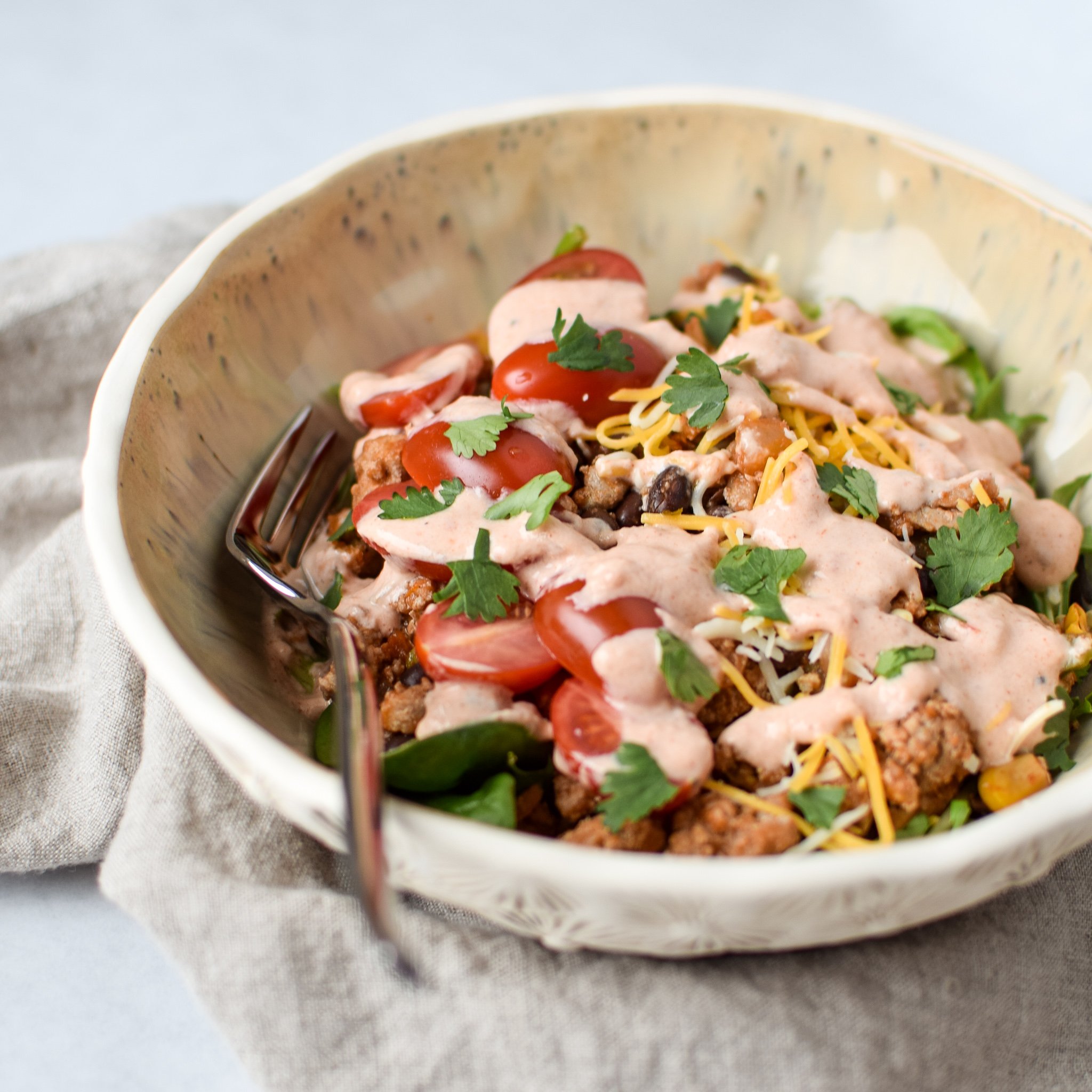 Peanut Butter Powder Blueberry Cinnamon Smoothie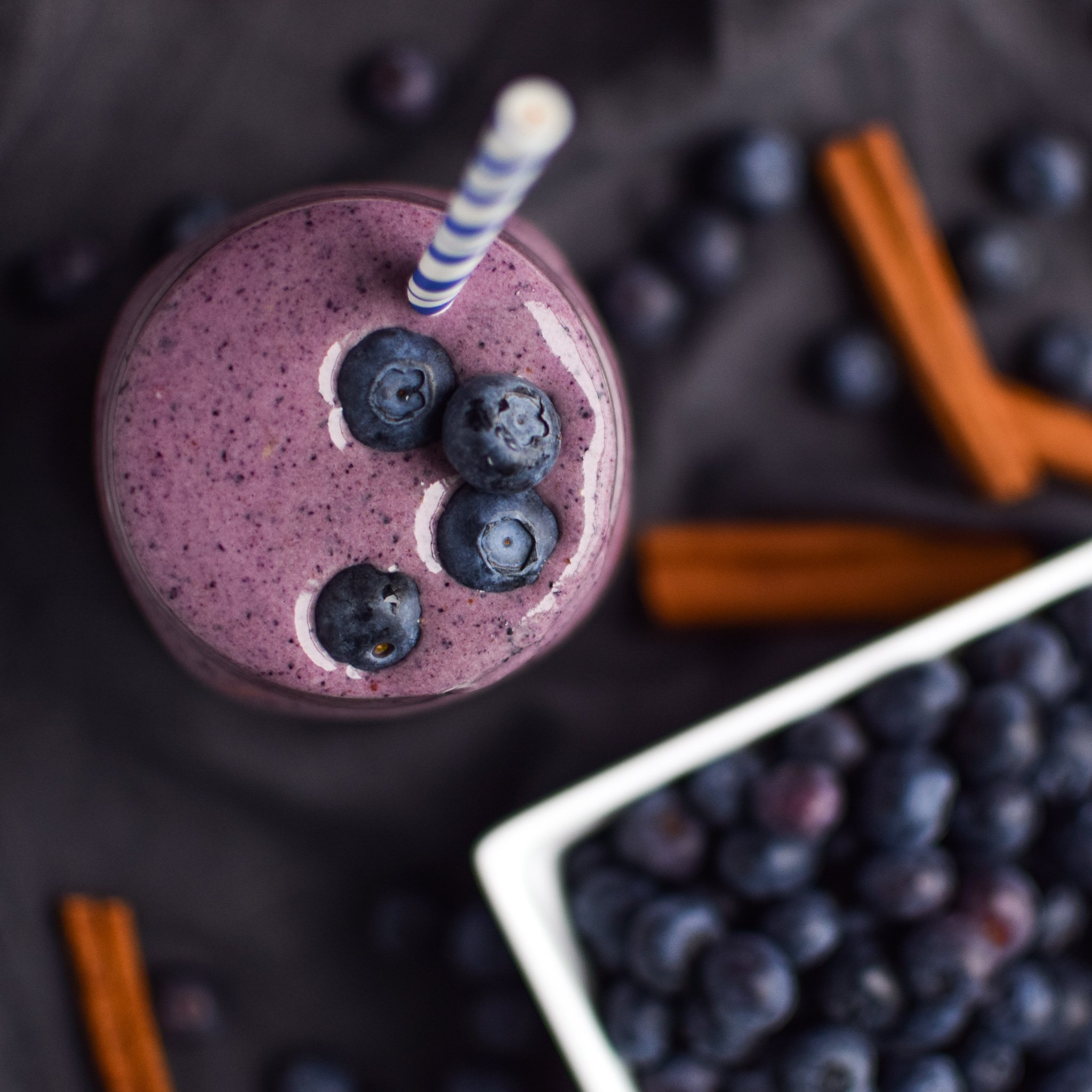 Thanks for checking out the Sunday Meal Prep for February 26th, 2017. Any feedback is appreciated so I can improve the Sunday Meal Prep posts every week. Tag @projectmealplan on social media if you meal prep! I'd love to see what you've created! And follow me on Pinterest for meal inspiration every single day 🙂
– Danielle
Disclaimer: Some of the links on this page are for products on Amazon. If you are planning to make any purchases, please start your Amazon shopping here on Project Meal Plan! We'll get a small commission at no extra cost to you. I truly appreciate your support! For more information, please see our Full Disclosure & Privacy Policy.
Disclaimer:
 Project Meal Plan is a participant in the Amazon Services LLC Associates Program, an affiliate advertising program designed to provide a means for us to earn fees by linking to Amazon.com and affiliated sites. For more information, please see our
Full Disclosure & Privacy Policy
.