High school taught me, "Procrastinating is bad and you should never do it". It was a pretty blanket statement at that point. In college, I learned everyone has their own version of how bad procrastinating really is, and when it is or isn't permissible. I knew people who would go to sleep with an entire paper left to write because they planned to finish it in the morning, hours before it was due. How?! I would never be able to sleep until that thing was proofread and ready for submission. Seriously.
The point here is this – planning and doing things ahead works differently for everyone. But I've found that with food, procrastinating never does any good (unless you are a food wizard who conveniently lives in a grocery store). It leads to impulse meals and easy access quick food that might not always be a healthy choice. Solution: Meal planning ahead! Here's the Sunday Meal Prep for Sunday, August 28th, 2016.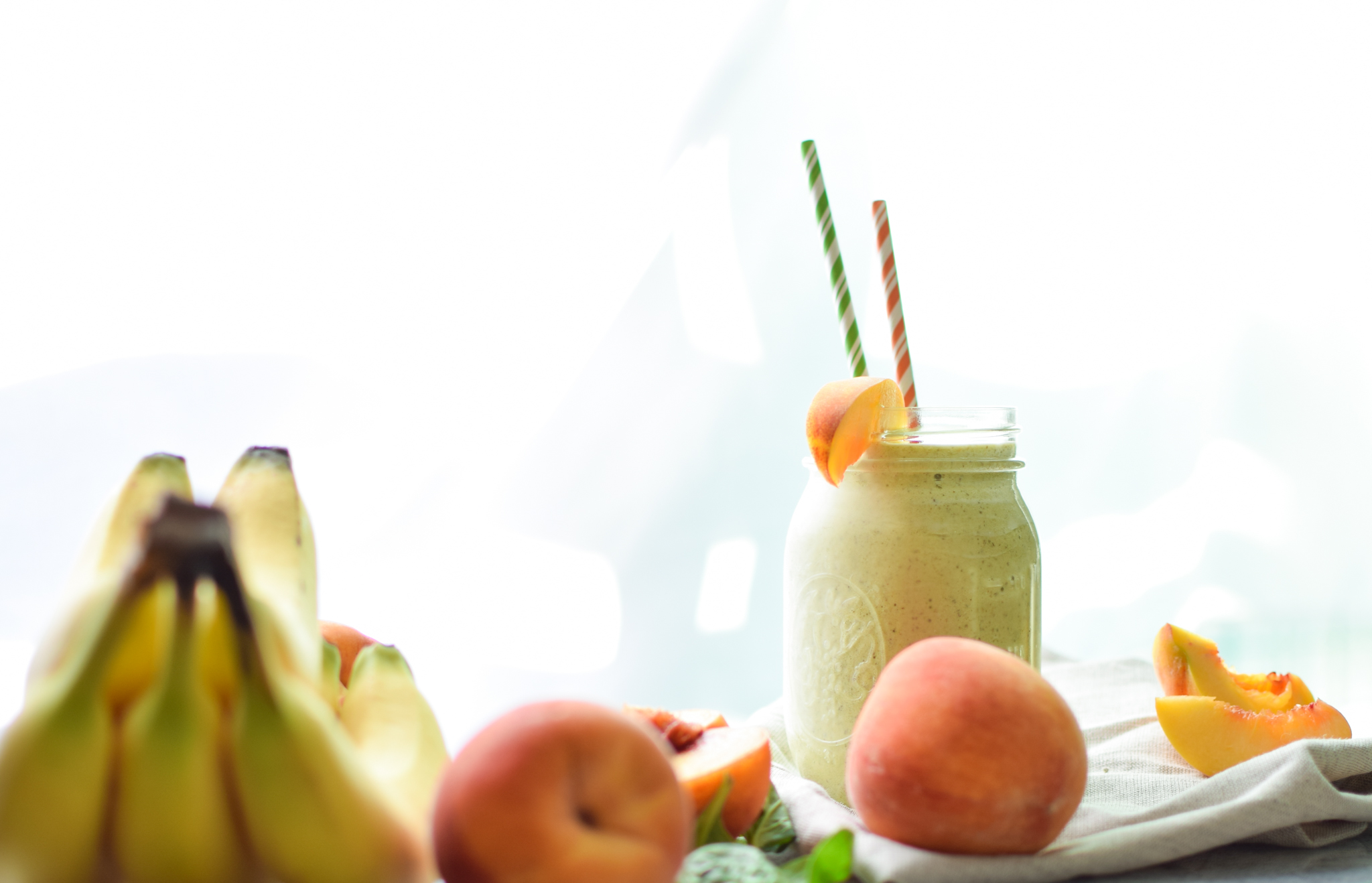 I want to encourage you to review any meal plan you're going to follow ahead of time and write down changes you'd like to make for your own use. This week, I tried to provide a few flexible options to give the meal plan a little slack. Don't like sun-dried tomatoes? Find yourself another sweet skillet recipe on my Pinterest page! Turkey pepperoni snacks ain't your thing? Try some beef sticks (Sean loves the Costco ones!) or jerky. Have a workout day? Add some more calories to fit your needs. The point is, make it your own, because different bodies need different things.
My Goals: 1,700 calories a day, made up of 30% carbohydrates, 35% fat, and 35% protein (MyFitnessPal says this equals approximately 127g of carbohydrates, 66g of fat, and 149g of protein). In addition: 1) reduce costs and food waste, 2) help provide meal plan examples and preparation steps for any individual.
Meal Plan for August 29-September 2
Monday
Tuesday
Wednesday
Thursday
Friday
Breakfast
Peaches and Green Smoothie
Eggs & Turkey Bacon with Homemade Sourdough
Peaches and Green Smoothie
Eggs & Turkey Bacon with Homemade Sourdough
Peaches and Green Smoothie
Lunch
Turkey Taco Quinoa Casserole
Turkey Taco Quinoa Casserole
Turkey Taco Quinoa Casserole
Turkey Taco Quinoa Casserole
Chipotle Chicken Salad
Dinner
Tuna Lettuce Wraps, Carrots & Hummus
Creamy Sun-Dried Tomato Chicken & Roasted Parm Broccoli
Creamy Sun-Dried Tomato Chicken & Roasted Parm Broccoli
Chipotle Chicken Burrito with Cilantro Dressing
Chipotle Chicken with chipotle Fried Cauliflower Rice
Snacks
Hard-boiled egg, turkey pepperoni, almonds
Vanilla protein shake, carrots & hummus, hard-boiled egg
Hard-boiled egg, turkey pepperoni, apple & pb
Hard-boiled egg, turkey pepperoni
Carrots & Hummus, Whole grain fig bar
Macro
Totals
Cal: 1,625
C: 124 g
F: 68 g
P: 142 g
Cal: 1,714
C: 109 g
F: 81 g
P: 130 g
Cal: 1,700
C: 146 g
F: 75 g
P: 117 g
Cal: 1,713
C: 128 g
F: 73 g
P: 144 g
Cal: 1,671
C: 130 g
F: 66 g
P: 158 g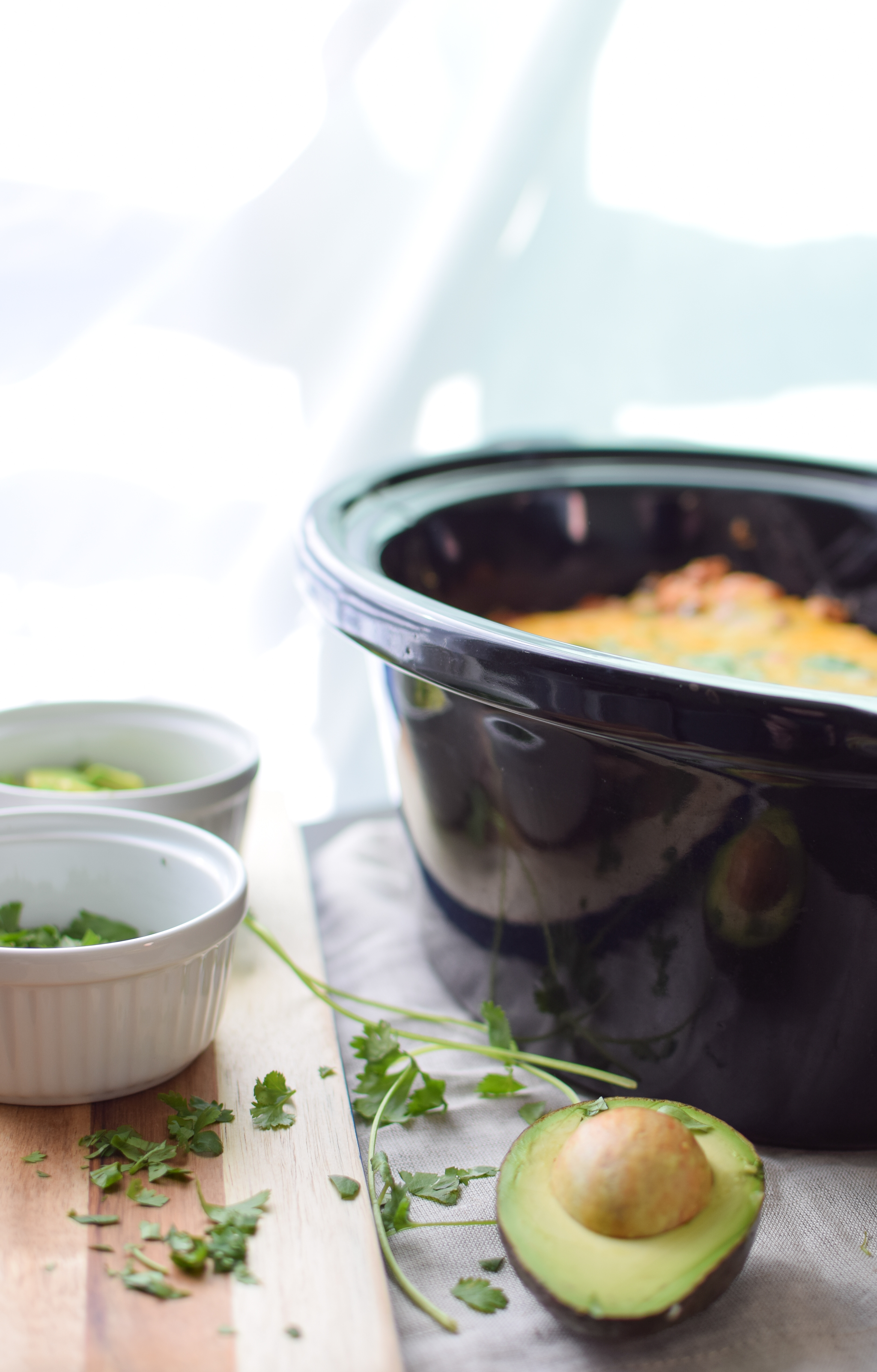 What we'll accomplish on Sunday:
8-10 servings of Turkey Taco Quinoa Casserole (best for two eaters!)

You could make Broccoli Chicken Quinoa Casserole for an appropriate amount of leftovers for one person's lunches for the week. You could also experiment with creating the recipe in smaller amounts.

Peaches and Green Smoothie Packs for Monday, Wednesday, and Friday breakfast.
Hard-boiled eggs for snacks
Romaine lettuce cut and cleaned for various meals
Supplies List for the Week:
Grocery:
1 to 1.25 pounds ground turkey, 93/7%
turkey bacon, or your preferred bacon
8 boneless, skinless, chicken thighs
2 pounds boneless skinless chicken breast *for Thursday/Friday
3 peaches, peeled, diced and frozen (or fresh, to be prepared on Sunday)
3 bananas
baby spinach (or your preferred variety of power greens)
2 yellow onion
1 green pepper
1 red pepper
pack of baby carrots
fresh basil
2 hearts of romaine *some for Friday
1 head of broccoli
1 head of cauliflower (or riced cauliflower) *for Friday
bunch of cilantro
1 avocado
1 serving of plain greek yogurt
1 lime
small package of frozen peas
3/4 cup sun dried tomatoes, not packed in oil
1-14.5 ounce can pinto beans
1-14.5 ounce can white beans (or Great Northern beans)
2-14.5 ounce can black beans
Dry quinoa
enchilada sauce
burrito size tortilla shells
2-14.5 ounce can chicken broth
1-4 ounce can diced green chilis
1-4 ounces can diced jalapeños
1-14.5 ounce can diced tomatoes
1 can chipotle peppers in adobo sauce
shredded cheddar/Colby jack cheese (or any)
grated parmesan cheese
1-6 ounce can albacore tuna
1 container Sabra hummus
turkey pepperoni pack
almonds
dozen eggs
your favorite bread for toast (I'm lucky enough to have an amateur baker husband who makes super delicious sourdough!)
1 can coconut milk
unsweetened vanilla almond milk
vanilla protein shake
whole grain fig bar
Pantry:
Vanilla protein powder
Chia seeds
olive oil
chili powder
cumin
salt/pepper
mayonnaise (with olive oil)
corn starch
garlic
Chipotle flavored Tabasco sauce
Italian seasoning (parsley, thyme, oregano)
Equipment/Tools: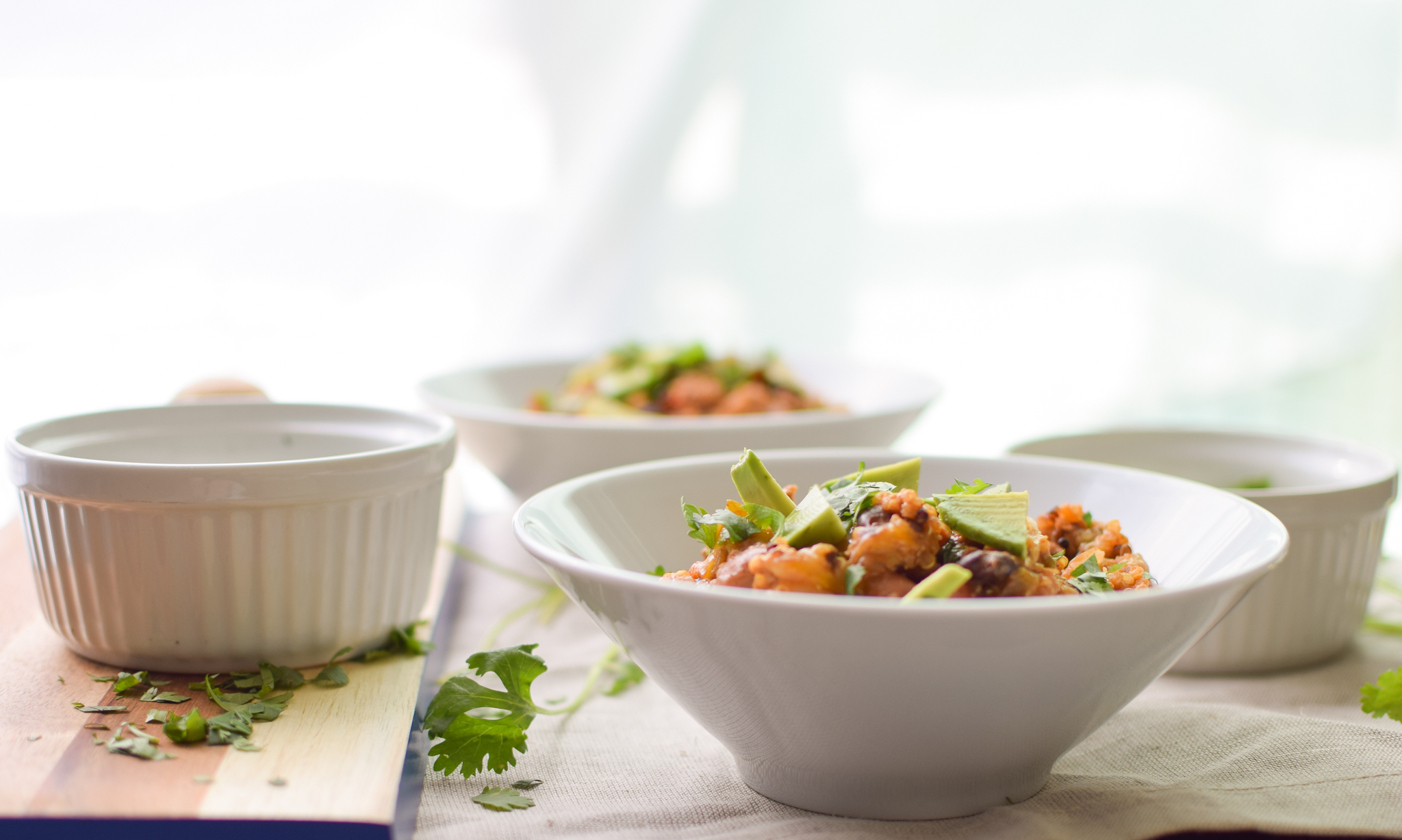 Sunday Meal Prep Steps:
[30 minutes] First, work on the Turkey Taco Quinoa Casserole. Remember, this makes a lot of servings and is best for two people, or eating for lots of meals. A similar option is this Quinoa Enchilada Bake from Damn Delicious, which makes much less food. An alternative (unfortunately non-taco themed) is my Broccoli Chicken Quinoa Casserole. Remember, the shopping list is created for the original meal plan. Follow your chosen recipe as is! When you've got everything in the crockpot, move to step 2.
[15 minutes] Move on to boiling eggs for your week's snacks. Obviously this is optional if you don't like boiled eggs (that was me for the first 24 years of my life), but they are an awesome high protein/low carbohydrate snack. Check out the Food Network's guide for boiling eggs. Instructions: Place your eggs in a pot and cover with water so there is at least an inch of water over the eggs. Bring to boil over medium-high heat, cover and remove from heat immediately. Let them sit, covered, for 8-10 minutes. Transfer eggs to ice bath to stop the cooking process. It's best to peel them right before the will be eaten.
[10 minutes] Cut and peel your peaches, if they are fresh. Dice into chunks (size doesn't really matter). Separate equally into 3 Ziploc bags (about one peach in each bag). Peel 3 bananas, break them in half or quarters, and put one in each bag. You've created peach smoothie portions for Monday, Wednesday, and Friday breakfast! See Monday notes for Peaches and Green Smoothie Recipe.
[10 minutes] Romaine lettuce is used in a couple meals this week. Note: Since you are already buying spinach for smoothies, you can opt for spinach instead of romaine for the following uses:

Monday Dinner: Whole leaves of romaine for tuna lettuce wraps
Thursday Dinner: Add some chopped romaine to your burrito.
Friday Lunch: Chopped romaine taco salad.
Make your own salads to go with dinner on other nights to use all your romaine. Toss with your baby spinach leaves!

[10 minutes] When your turkey taco quinoa casserole is done, portion it into 8-10 Pyrex or tupperware containers. I like to add avocado and cilantro right before consuming!
Total Active Time Estimate: 1 hour, 15 minutes
Daily Notes:
Monday
Breakfast: Peaches and Green Smoothie recipe: 1 peach, 1 banana, 1 cup baby spinach leaves (or your preferred power greens), 1 tablespoon chia seeds, 1 scoop vanilla protein powder, and 1/2 cup vanilla almond milk. Add a little honey if you like your smoothies sweeter. Dump your pre-portioned frozen fruit, then other ingredients and blend away.
Dinner: Mix tuna with a little olive oil mayo, garlic, salt/pepper (maybe some capers if you have them). Spoon into large romaine lettuce leaves for tuna lettuce wraps. Carrots and humus on the side!
Prep extra: To save time in the morning, cook your bacon ahead of time, and pre-whisk your eggs (keep in an air tight container!). This may only save you a minute in the morning, but for some, anything helps.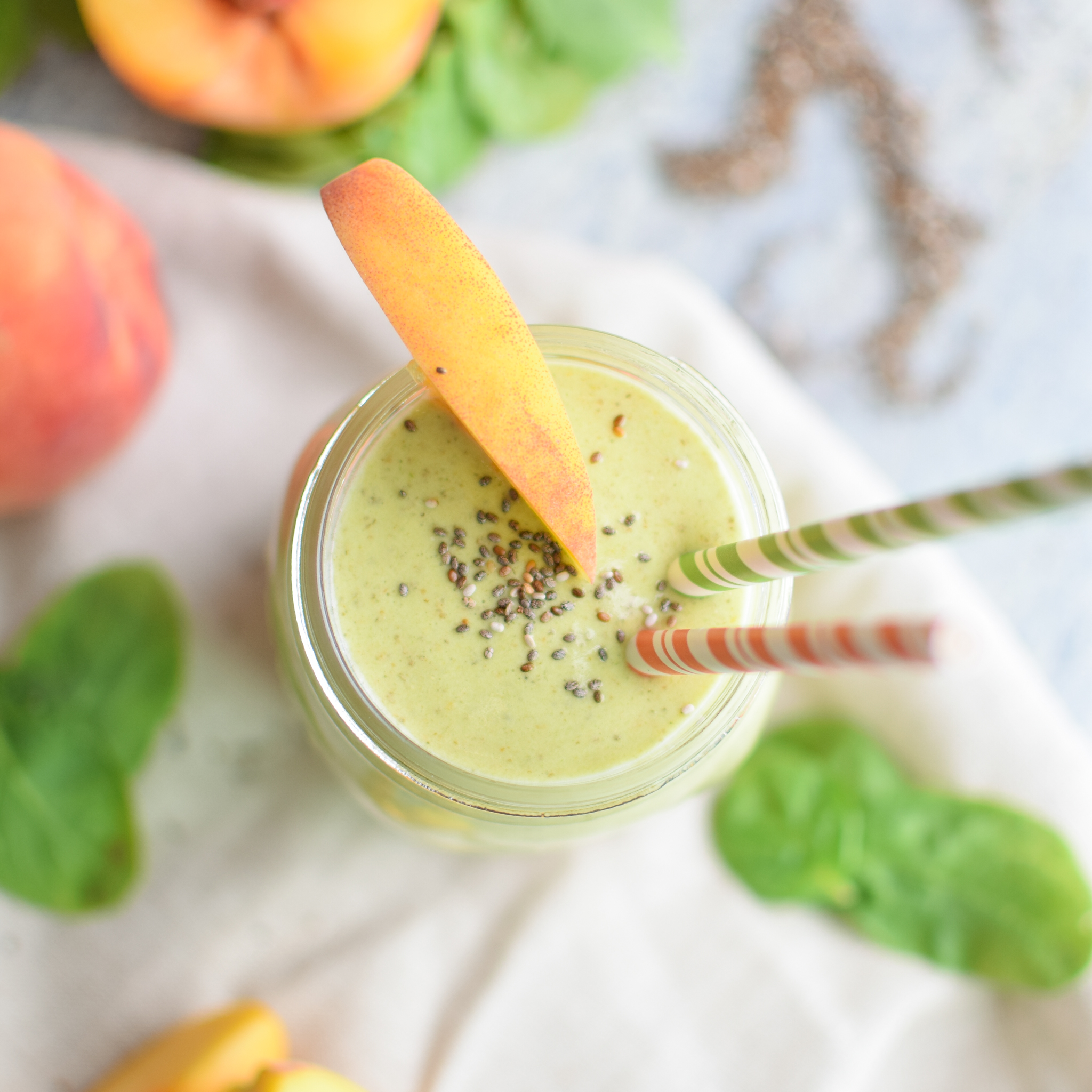 Tuesday
Breakfast: Scrambled eggs with cheese, turkey bacon, and thinly sliced bread.
Dinner: Follow this recipe for some supremely yummy clean-eating sun-dried tomato chicken from My Natural Family. Side dish: Super addictive Roasted Parmesan Broccoli from Taste and See. From experience for the chicken dish: 1) This is best when prepared in a Dutch oven. 2) Use sun dried tomatoes from a bag style packet, NOT a jar full of oil. I didn't think that mattered, but it does.
Prep: Prepare your chicken to marinate for grilling on Thursday. Check out the recipe for Homemade Chipotle Grilled Chicken. Quick instructions here:

Place the following in a gallon size Ziploc: 2 pounds of fresh chicken breasts (tenderized!), 1 can of chipotle peppers in adobo sauce (if you can crush the peppers a little bit more, you'll get more chipotle smokiness), 1/2 T salt, 1 T oregano, 1 T cumin, 1 T minced garlic. Let soak in chipotle marinade for at least 12 hours, preferably until Thursday. Double bag if you want to ensure no leakage. [Recipe courtesy of Reddit user BaroccoliObama]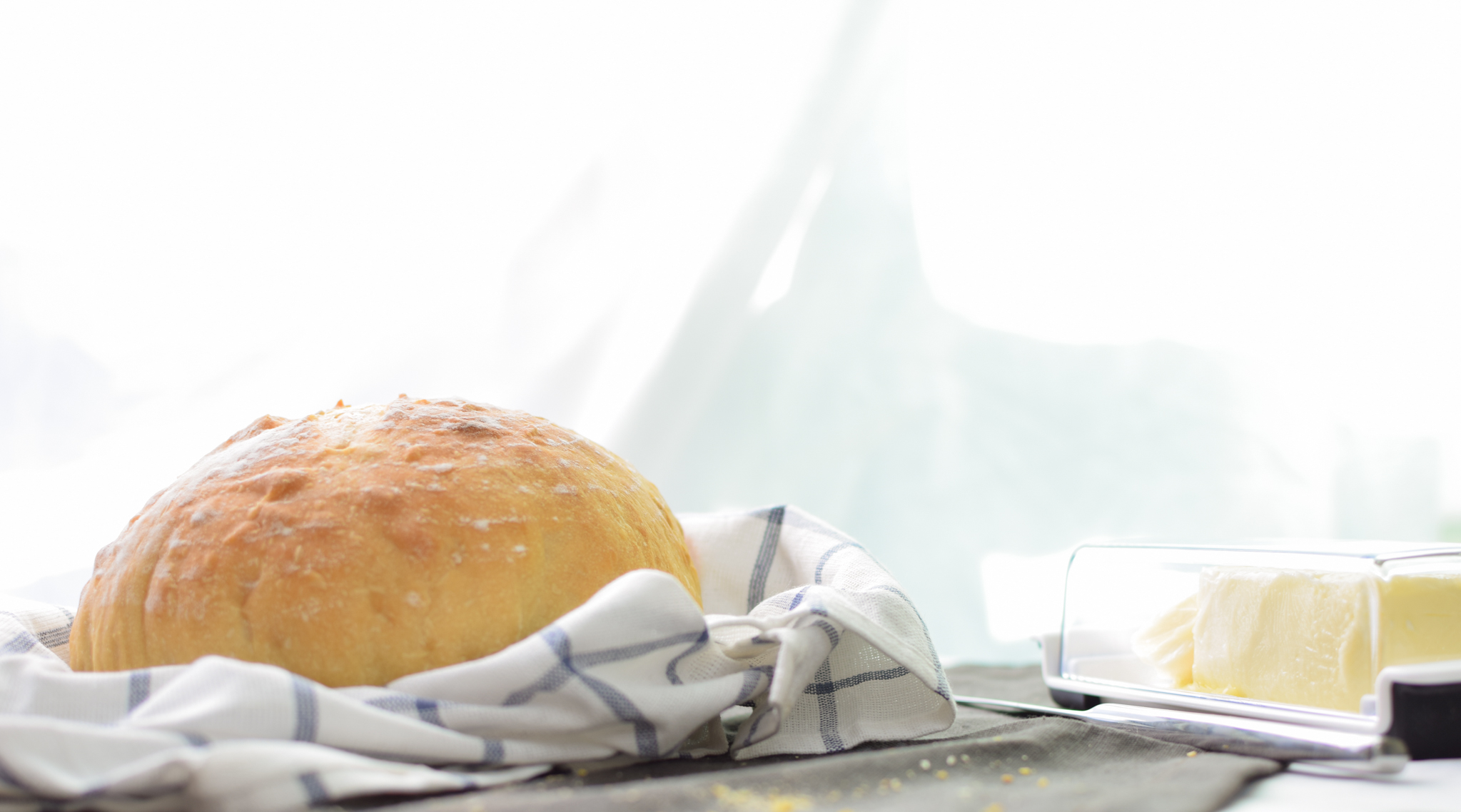 Wednesday
Breakfast: Repeat Monday recipe for Peaches and Green Smoothie.
Dinner: Leftover from yesterday's dinner.
Prep extra: To save time in the morning, you can cook your bacon ahead of time, and pre-whisk your eggs (keep in an air tight container!). This may only save you a minute in the morning, but for some, anything helps.
Thursday
Dinner: Get your grill ready and throw on the chipotle marinated breasts (after they drip a bit). Cook the chicken to 165 degrees. Eat 6-8 ounces of chicken with each chipotle chicken meal. I also encourage you to make this extremely popular cilantro dressing by Pinch of Yum (it's in the second half of the recipe) for your burrito and tomorrow's salad! Pinch of Yum recommends this dressing keeps best in the fridge for up to 1-2 days in an airtight container. Prep right after dinner.
Prep: Prepare a taco salad for Friday lunch, while you still have all those dinner ingredients out. Squeeze leftover lime juice on salad. I would wait to put leftover dressing on the salad until the morning.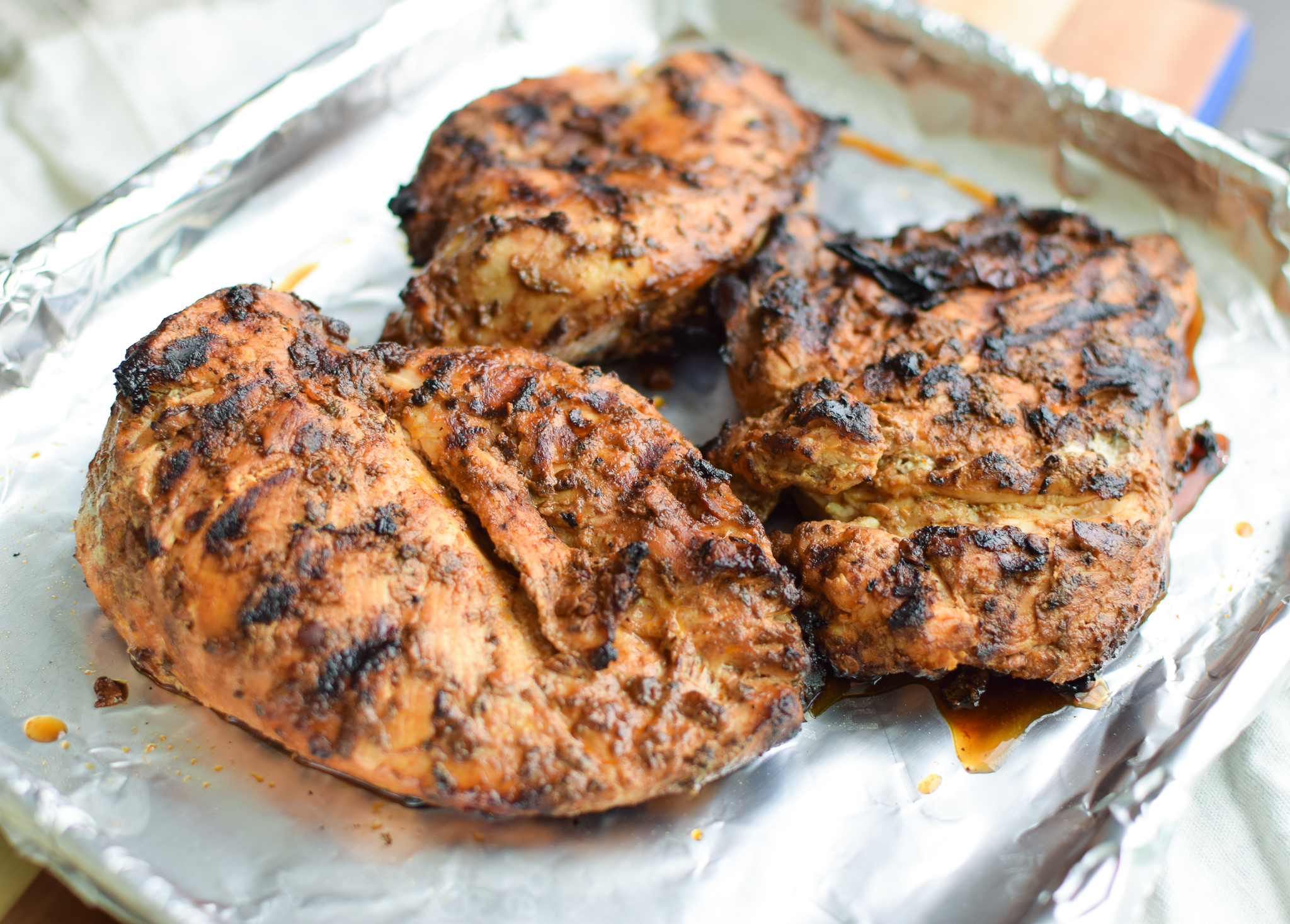 Friday
Breakfast: Repeat Monday recipe for Peaches and Green Smoothie.
Morning: Put the dressing on your to-go salad before you head out for the day!
Dinner: Okay, so chipotle chicken with the Fried Cauliflower Rice sounds weird, I admit it. But we can't waste the chicken. If you are uncomfortable with the different tastes happening here, perhaps go for another burrito (always my Plan B), or try some different flavors with the Fried Cauliflower Rice 🙂
Feedback is appreciated!
I'm trying to write these Sunday Meal Prep Posts in the way I think would be most helpful for you. But I am absolutely positive that some people work differently and might have some input on a better way to do things. I would love to hear it. Because while I am just putting my meal plan examples out there for anyone to check out, I want to present them in the most clear and helpful way (within my abilities!). Shoot me an email to danielle@projectmealplan.com, or leave a comment!
– Danielle
If you are into blogs, you should follow my blog with Bloglovin' 🙂
A little disclaimer: Some of the links on this page are for products on Amazon. If you are planning to make any purchases, please start your Amazon shopping here on Project Meal Plan! We'll get a small commission at no extra cost to you. I truly appreciate your support! For more information, please see our Full Disclosure.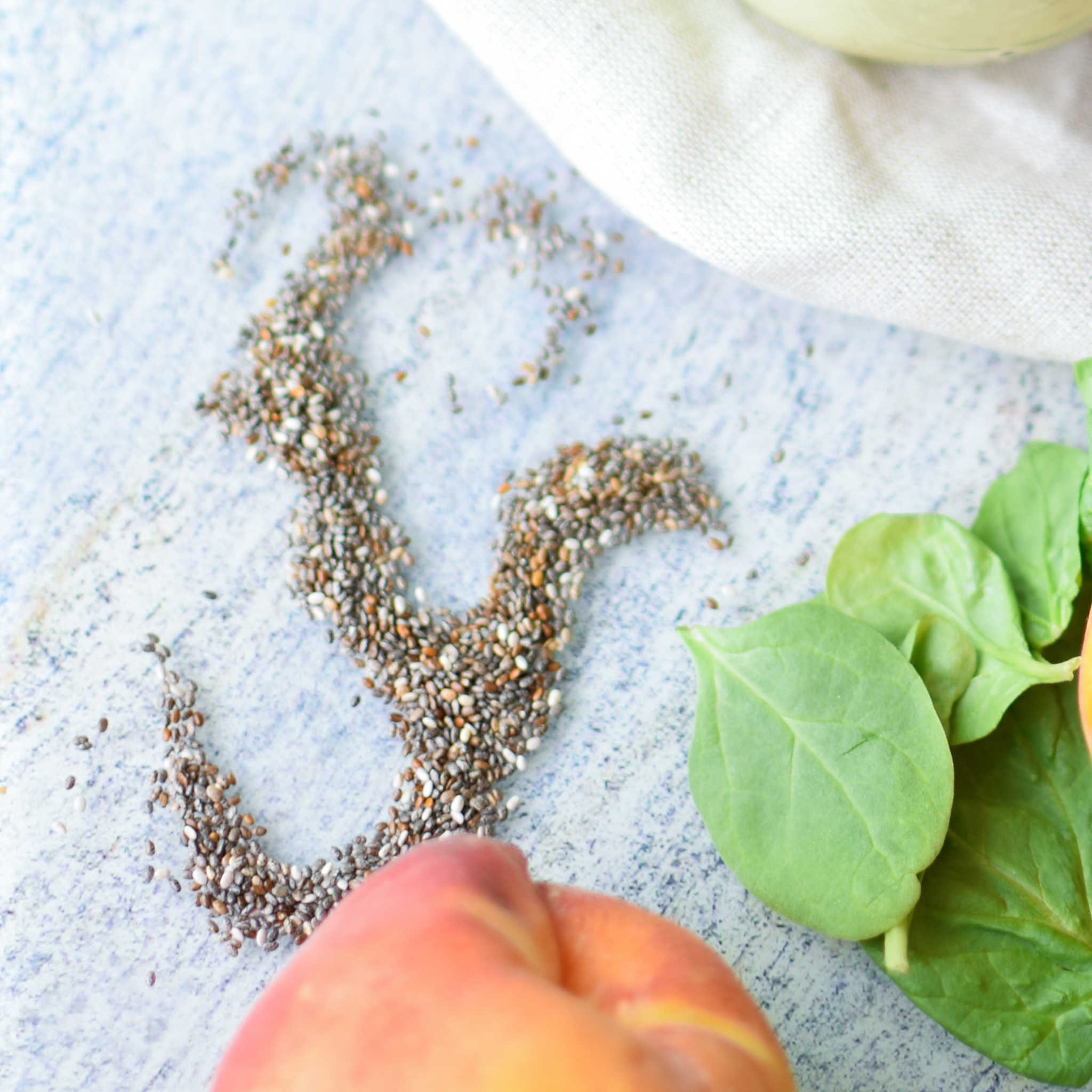 Disclaimer:
 Project Meal Plan is a participant in the Amazon Services LLC Associates Program, an affiliate advertising program designed to provide a means for us to earn fees by linking to Amazon.com and affiliated sites. For more information, please see our
Full Disclosure & Privacy Policy
.