When you've got a busy week coming up, spending a couple extra hours preparing and planning ahead can be a life saver. Maybe Sundays are your busiest day. Make it a Meal Prep Monday, or Tuesday, or whatever day you have. Sunday Meal Prep can happen on any day. The point is – planning your meals and preparing ahead can you save you time any day of the week.
Maybe I'm blabbing on about being super busy because these past couple weeks have been… super busy. If you're having an incredibly busy August too, save yourself some weekday minutes by doing a little planning, a little prepping, and mostly eating. This week's meal plan has a little of everything: easy and varied breakfasts, one-pot lunch for the week, yummy casserole, and more.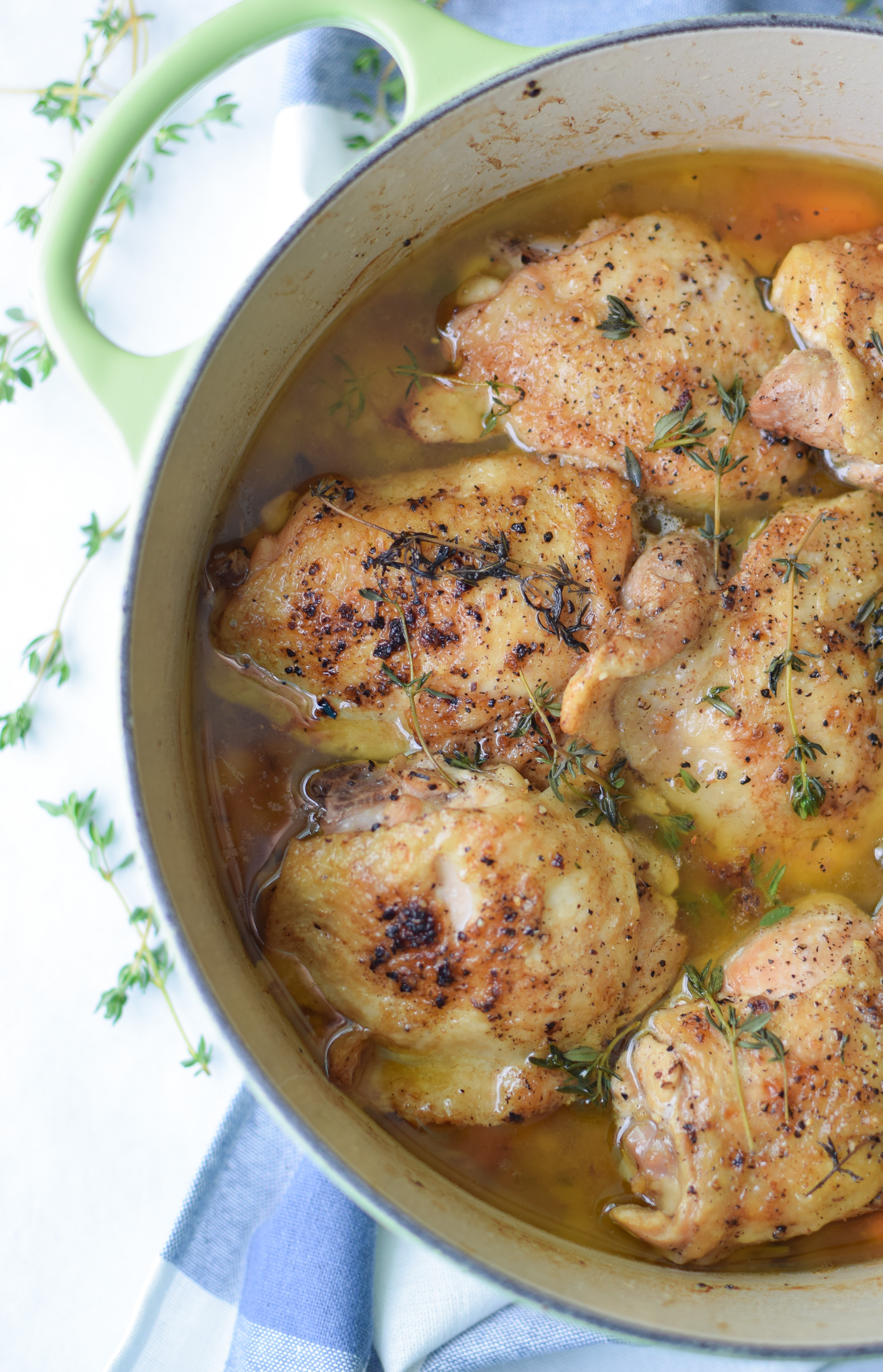 Goals: 1,700 calories a day, made up of 30% carbohydrates, 35% fat, and 35% protein (MyFitnessPal says this equals approximately 127g of carbohydrates, 66g of fat, and 149g of protein). In addition: 1) reduce costs and food waste, 2) help provide meal plan examples and preparation steps for any individual.
Meal Plan for August 22-26
What we'll accomplish on Sunday:
Four servings of braised chicken thighs and veggies for lunch
One smoothie freezer pack for Wednesday breakfast
Cut peppers and scramble eggs for Monday breakfast
Supplies list for the week (for one person):
Grocery:
dozen eggs
breakfast sausage (I prefer spicy chicken)
3 pounds bone in chicken thighs (8 thighs)
1 rotisserie chicken (purchase on Tuesday)
10 ounces sliced white mushrooms
1 large head of broccoli
2-3 medium sweet potatoes OR 24 ounces baby yukon potatoes
baby carrots
1 serving jumbo shrimp (deveined/detailed)
1 large zucchini
pesto
baby spinach (optional: spinach is not used in any other recipes, optional to purchase so extras are not wasted).
1 – 32 ounce container of honey greek yogurt
3 bananas
dry white quinoa
1 apple and/or applesauce
1 whole grain fig bar
protein shake (1)
2% milk
grated parmesan cheese
grated mozzarella cheese
frozen berries
vanilla protein powder
2 yellow onion (1 for Friday)
1-1/2 pounds chicken breast tender (for Friday)
coconut milk
2 limes (for Friday)
cilantro (for Friday)
**SOME ITEMS ARE NOTED "FOR FRIDAY". FOR BEST QUALITY, PURCHASE THESE ITEMS LATER IN THE WEEK.
Pantry:
butter
peanut butter
salt/pepper
white flour
parsley
oregano
minced garlic
red pepper flakes
chia seeds
cornstarch
fish sauce
olive oil or avocado
ground ginger
sriracha
sugar
Equipment/Tools:
Stove/Grill
Wok
Meat Thermometer
4-cup Pyrex bowls for lunches, and large Pyrex bowls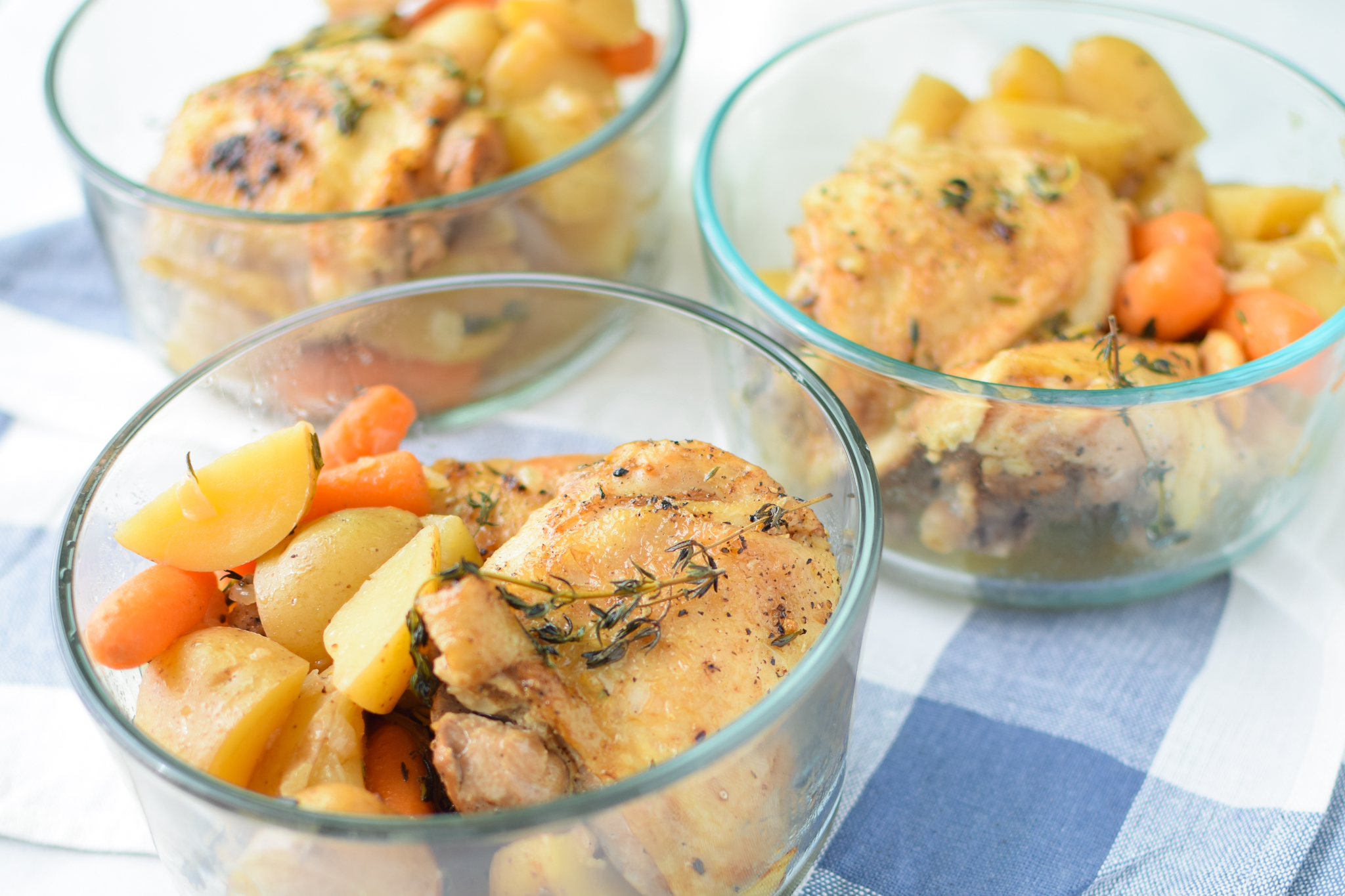 Sunday Meal Prep Steps:
[25 minutes] Begin to cook your braised chicken and vegetables by cutting your potatoes into small bite sized pieces and dicing your onions. For a good reference on braising, follow Emeril's Braised Chicken Thighs recipe. I made the recipe my own by adding baby carrots and small potatoes to the onions after browning the chicken. In addition, I followed this recipe until the thighs were added back into the pan, at which time I put the whole dutch oven in a 375 degree preheated oven for 30 minutes. Everything was cooked perfectly when it came out! I absolutely loved this one-pot dish.
[5 minutes] While the thighs are cooking, make up a freezer smoothie pack (in a Ziploc) with 1.5 cups of frozen berries and 1 medium banana. Store in freezer for breakfast on Wednesday.
[15 minutes] Prepare Monday morning breakfast. Cut up one chicken sausage, 1/2 pepper to your desired size. Scramble two eggs and place them in airtight container in the fridge.
[20 minutes] Let the dutch oven cool for several minutes after it comes out of the oven. Place two thighs with veggies in 4-cup Pyrex bowls for Monday – Thursday lunches. Store in the fridge. Clean up remainder of dishes and pans.
Total Active Time Estimate: 1 hour 5 minutes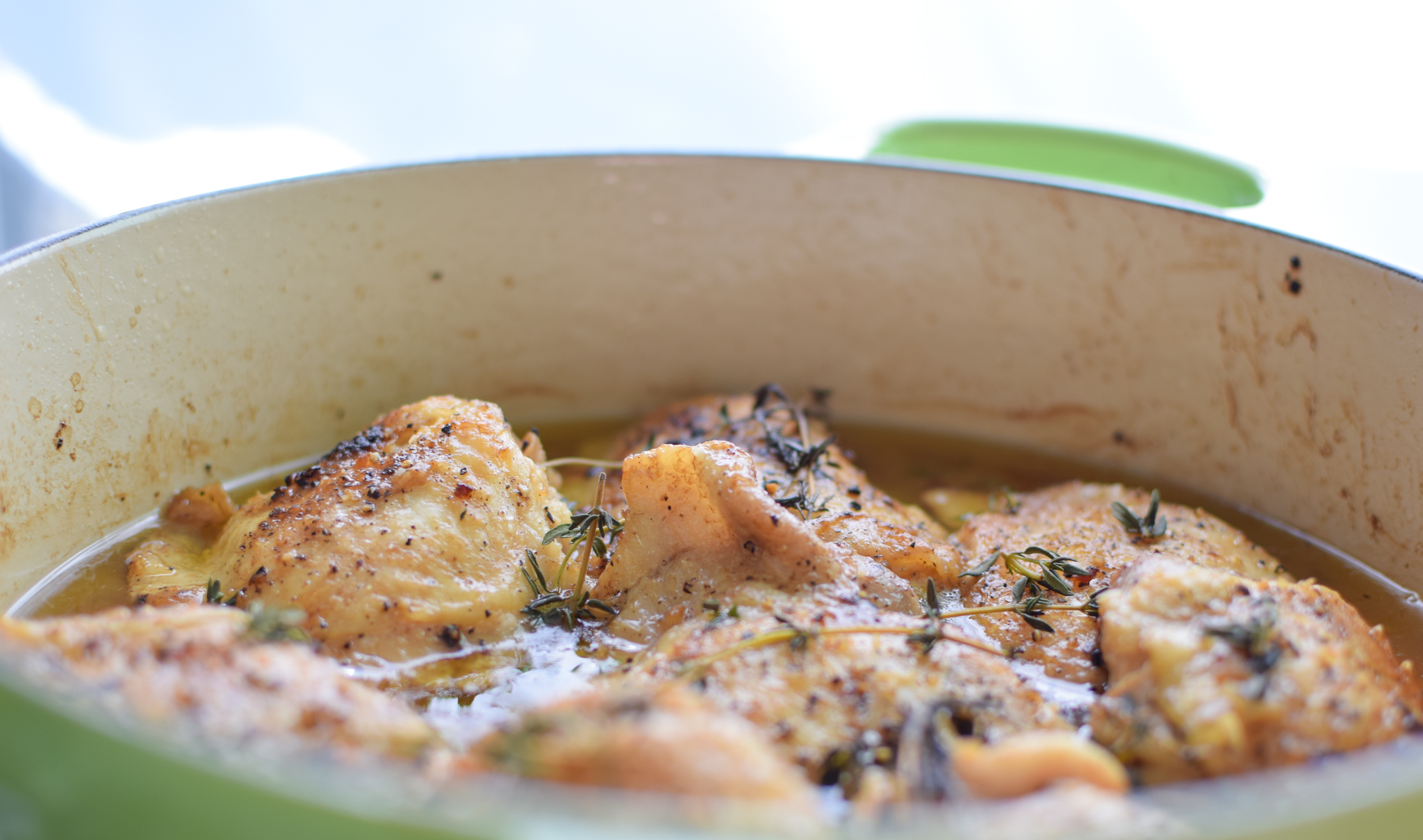 Daily Notes:
Monday
Breakfast: First, I brown my veggies in a tiny bit of olive oil. Add the cut, pre-cooked sausage and cook for a minute or two, with some salt and pepper. Turn the heat way down and pour in eggs. Scramble and top with a little cheese.
Dinner: Spiralize one zucchini, and pat dry. Remove tails from shrimp if not already removed. Heat oil in a skillet over medium heat, add zucchini noodles, and cook for 3-4 minutes, stirring frequently. Season with salt/pepper. Add shrimp once the zucchini noodles have softened and shrunk a bit. Cook for 3-4 minutes, flipping shrimp half way through. Remove everything from pan, and add one scoop of pesto. Mix until combined and enjoy!
Tuesday
Breakfast: Greek yogurt, sliced banana and two tablespoons of peanut butter.
Dinner: Cook Broccoli Chicken Quinoa Casserole, which will make portions for Tuesday through Thursday dinner and Friday lunch. Eat 1.5 servings for each dinner, and a normal serving for lunch. Portion each in 4-cup Pyrex containers.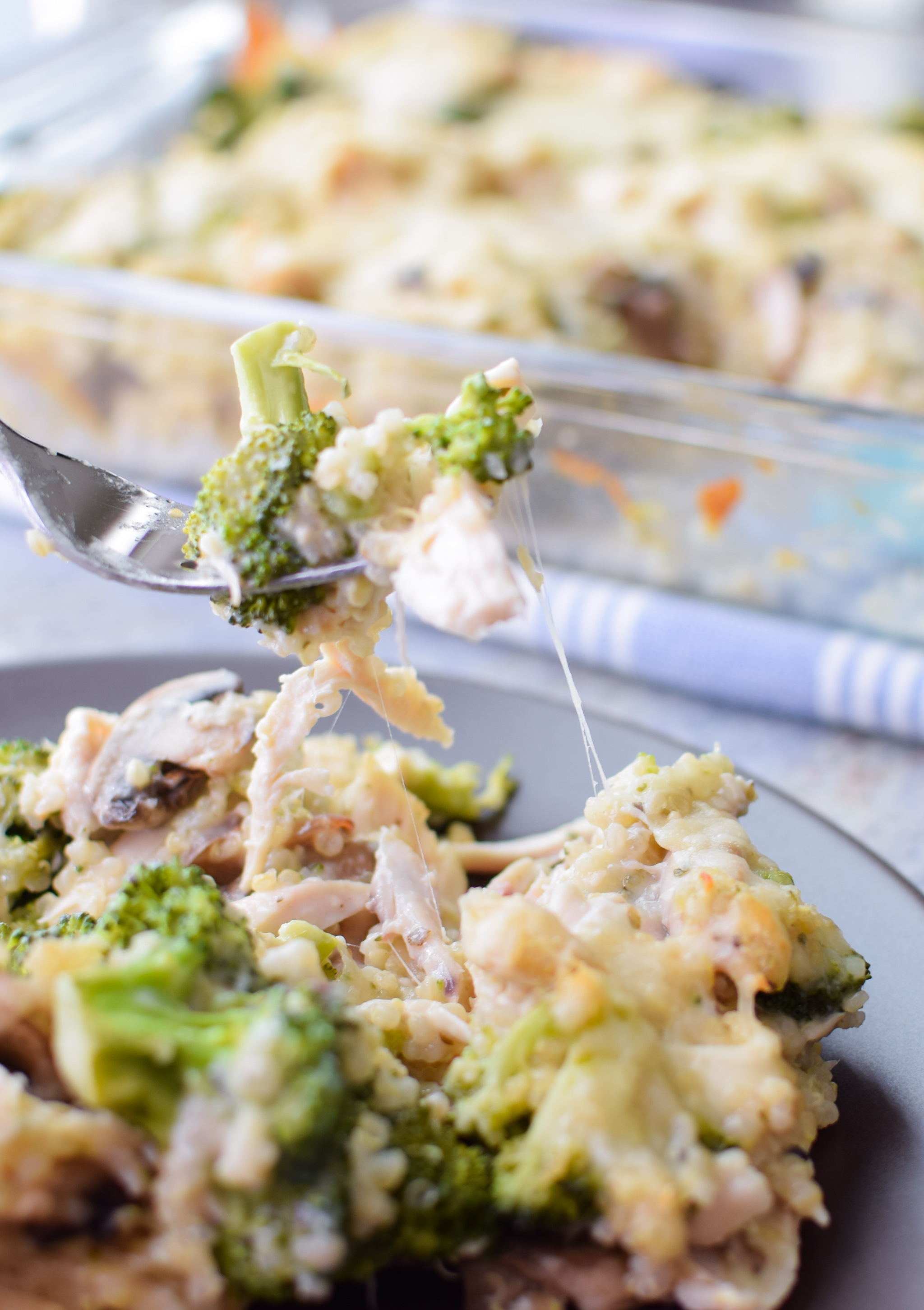 Wednesday
Breakfast: Dump smoothie freezer pack into Nutribullet or blender, add PB, protein powder, spinach, and water.
Thursday
Breakfast: Greek yogurt, sliced banana and two tablespoons of peanut butter.
Prep: Cut 1/4 onion and slice mushrooms (or peppers, or whatever veggie you are using) if not already sliced. Scramble eggs and store in airtight container in the fridge for the morning.
Friday
Breakfast: Brown veggies in a tiny bit of olive oil. Add the cut, pre-cooked sausage and cook for a minute or two, with some salt and pepper. Turn the heat way down and pour in eggs. Scramble and top with a little cheese.
Dinner: I love this delicious recipe for Thai Chicken Saute from My Recipes. We always add a few extra veggies. Omit the corn starch if you want! Perfect meal to share with a friend. Quick and easy with a hint of lime.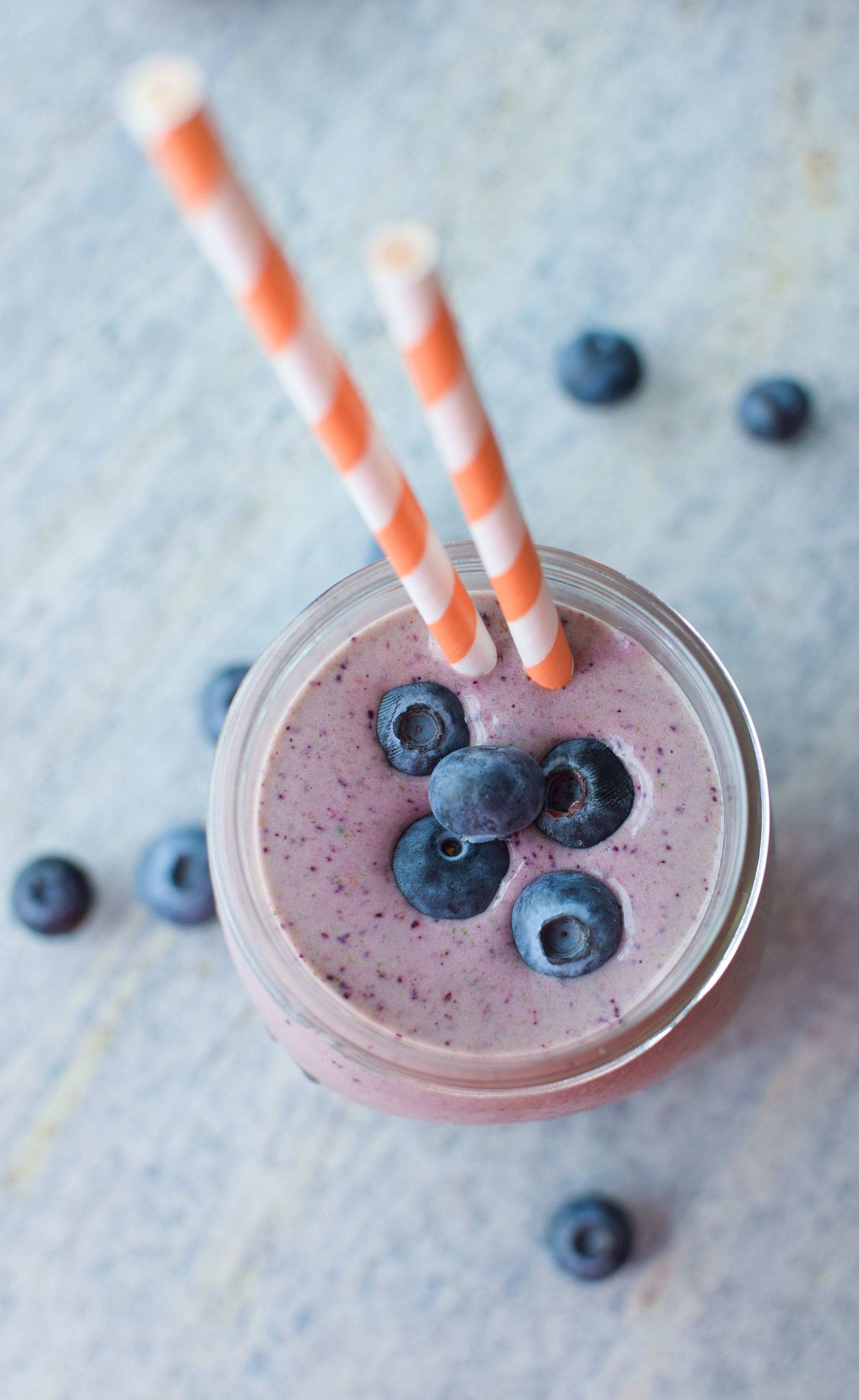 Feedback is appreciated!
Thank you so much for reading! Tag @projectmealplan on social media if you make any of these yummy recipes! I'd love to see what you've created! Email me or leave a comment if you got some feeback 🙂
– Danielle
Follow my blog with Bloglovin'
A little disclaimer: Some of the links on this page are for products on Amazon. If you are planning to make any purchases, please start your Amazon shopping here on Project Meal Plan! We'll get a small commission at no extra cost to you. I truly appreciate your support! For more information, please see our Full Disclosure.
Disclaimer:
 Project Meal Plan is a participant in the Amazon Services LLC Associates Program, an affiliate advertising program designed to provide a means for us to earn fees by linking to Amazon.com and affiliated sites. For more information, please see our
Full Disclosure & Privacy Policy
.