Get a FREE Weekly Meal Planner when you subscribe to the Project Meal Plan Newsletter! 
---

You want some meal prep ideas. A few new ones every week would be great.
You also want relevant, seasonal recipe ideas to share with your own family and friends.
And how about a little help staying current on food trends, food holidays, kitchen tips, and what's new on Project Meal Plan?
The Project Meal Plan Newsletter is delivered every Saturday morning.
The goal is to provide you with plenty of ideas for next week's meal planning and Sunday Meal Prep (or whichever day you meal prep!).
You might also find out its National Chili Month (October!) 🍲
Or see a link to the best Game Day Snacks your guests will devour 🏈
Or the best soups you need to try when you have a cold 😷

My favorite part: I share links to the best things I find around the web, every week!! Dinner ideas, meal prep ideas, things I want to try, kitchen tips, and seasonal recipes you didn't know you needed. I love searching for awesome recipes and articles so you don't have to.
Things you'll find in the Weekly Newsletter from Project Meal Plan: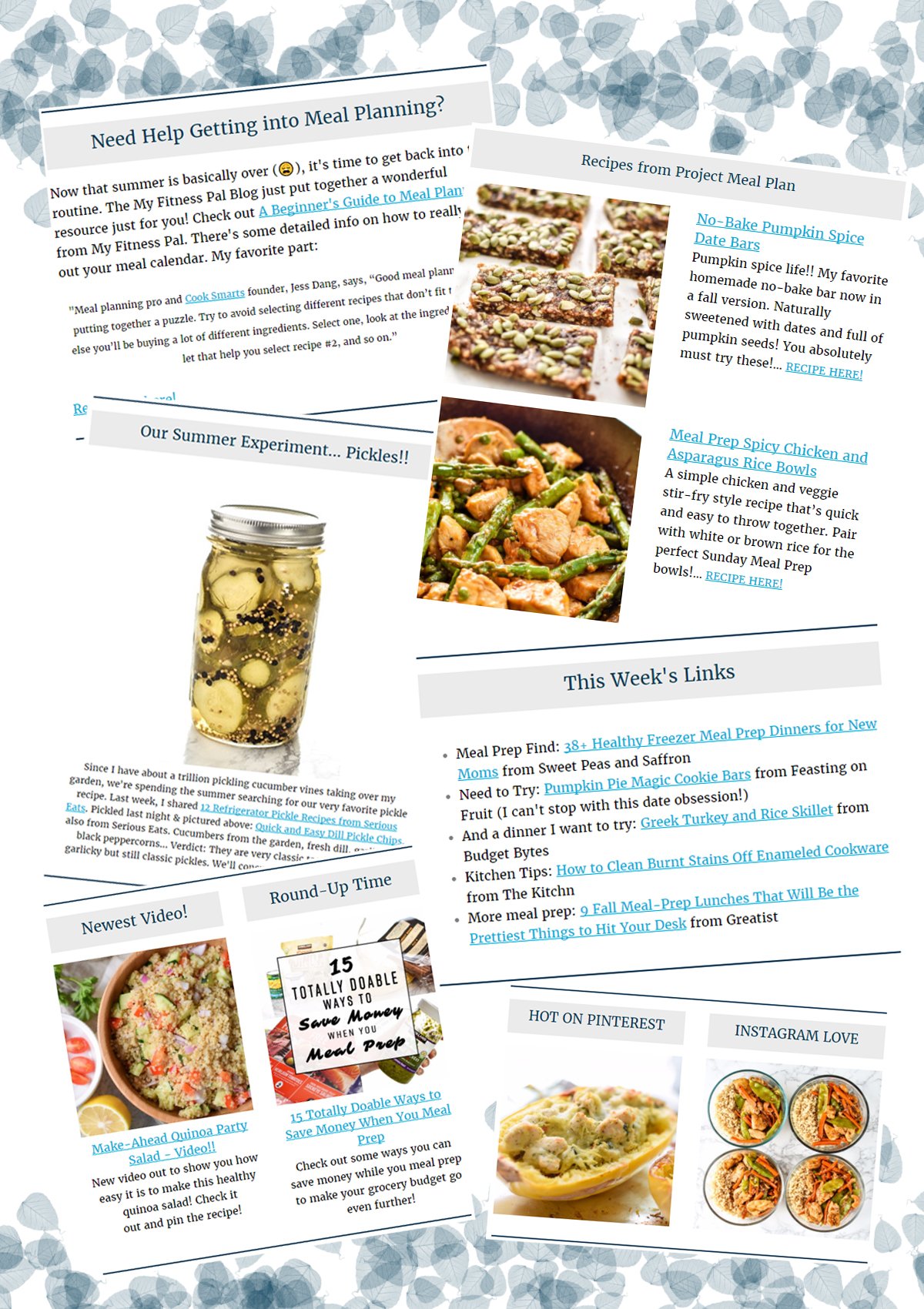 Plus, you'll get a FREE Weekly Meal Planner with a special section for planning your Sunday Meal Prep!

Join the Project Meal Plan Newsletter today, and never run out of recipe ideas!

Woo! I'm so excited to share new stuff with you every week. Thanks so much for signing up! Remember, you can also follow me on Pinterest, Facebook, Instagram and Twitter.
Check out these essentials if you're new to meal prepping:

Support and Share Project Meal Plan -
Disclaimer:
 Project Meal Plan is a participant in the Amazon Services LLC Associates Program, an affiliate advertising program designed to provide a means for us to earn fees by linking to Amazon.com and affiliated sites. For more information, please see our
Full Disclosure & Privacy Policy
.