It's time (YUP, again) for some holiday shopping. And, time to pick out the best gifts for that home cook in your life. Repay him or her for all the glorious food they've shared with you this year by picking up a gift they'll actually put to good use. Technically, anyone can be a home cook, so maybe you know a few. I consider myself a pretty enthusiastic home cook (maybe that's obvious from the FOOD blog I run), so I decided to put my enthusiasm to work for the holidays. Here's your Holiday Gift Guide for the Home Cook!
Every item on this list is one that I either:
a) received as a gift and love;
b) purchased for myself and love;
or
c) WANT REAL BAD (and know I will love).
This gift guide is split up into three sections (before, during, and after cooking items) to help you navigate the craziness that is the holidays and find exactly what your favorite home cook needs from Amazon. The sections are also separated into Needs and Wants which are highly based on my own opinions. Get that shopping doneeeee.
SHOW ME THOSE GIFT IDEAS.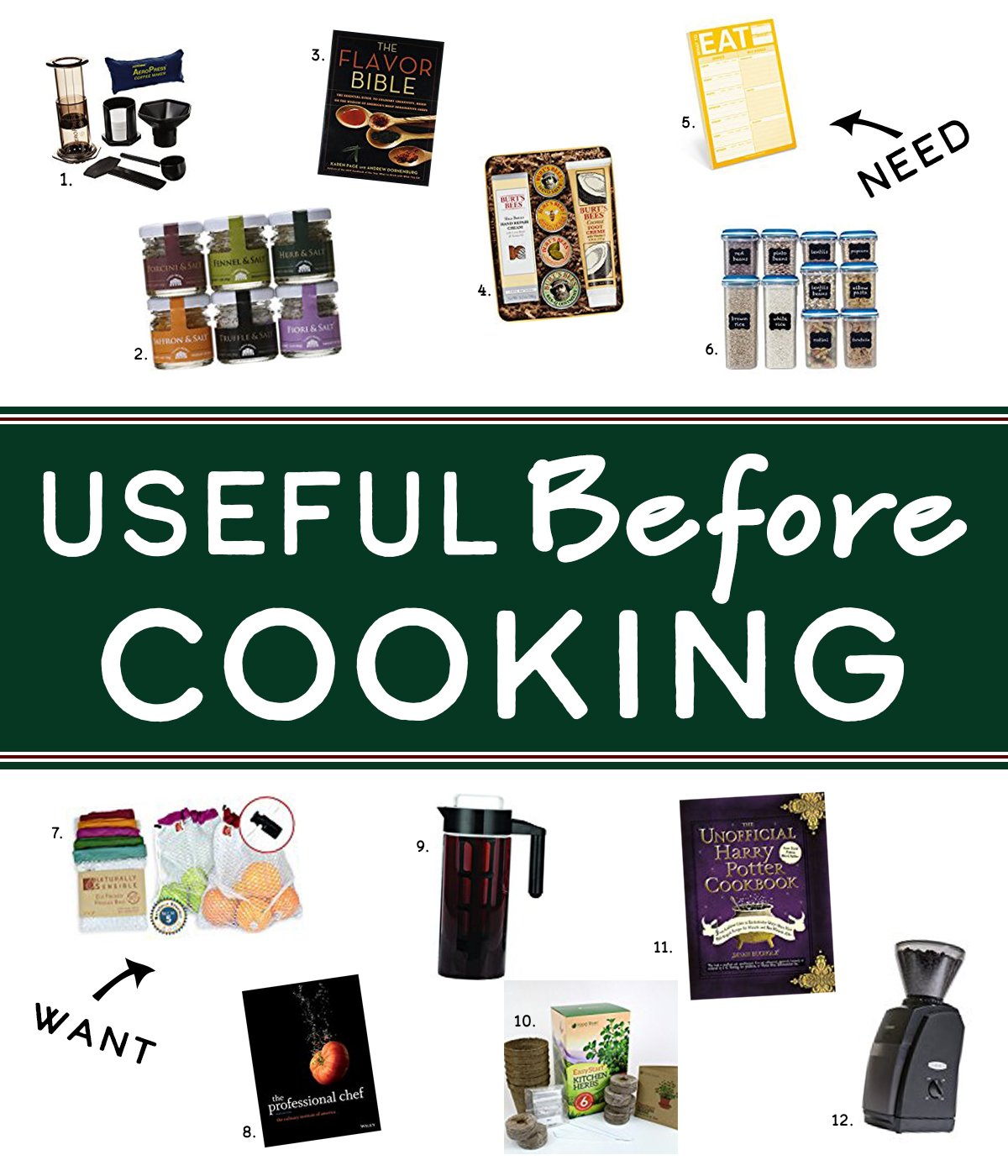 AeroPress Coffee and Espresso Maker – I was a little scared before I knew how to use it, but now I make myself single cups of coffee with this thing basically every day.
Casina Rossa Gourmet Sea Salt Gift Pack – Any cook knows salt is KING for cooking. Particularly if your favorite home cook likes meat, they NEED to try these fancy salts.
The Flavor Bible: The Essential Guide to Culinary Creativity – The #1 most used book on my cookbook shelf. Match flavors like a champ.
Burt's Bees Classics Gift Set – Can you say dry, crackly hands? Burt's Bees Hand Salve to the rescue! And some other creams, because gifts sets are fun.
What to Eat Pad – All enthusiastic home cooks need to schedule, organize and track meals. Oh, and it sticks on the fridge.
Airtight Dry Food Storage Containers with Chalkboard Labels – Check out your bestie home cook's pantry next time you're around. They might need these.
Eco Friendly Washable and Reuseable Produce Bags – Farmer's market, grocery store, garden to kitchen. Help your home cook save plastic!
The Professional Chef – I WANT this book. Even though it's like 1200 pages. I don't even care. I'm that dedicated.
Cold Brew Coffee Maker – Home cooks like to make breakfast. Cold brew coffee will take their breakfast to the next level. Trust me.
Kitchen Garden Organic Herb Kit – I grew cilantro in my garden this year, and it was the FRESHest thing. Treat your favorite home cook to the feeling year round!
The Unofficial Harry Potter Cookbook – If they like HP, then this a gift gold mine. Now they can host a marathon and make all the appropriate foods just for you.
Baratza Encore Conical Burr Coffee Grinder – The best (and quietest!) grinder I've ever possessed. Customer service is really helpful when your husband breaks internal parts!
---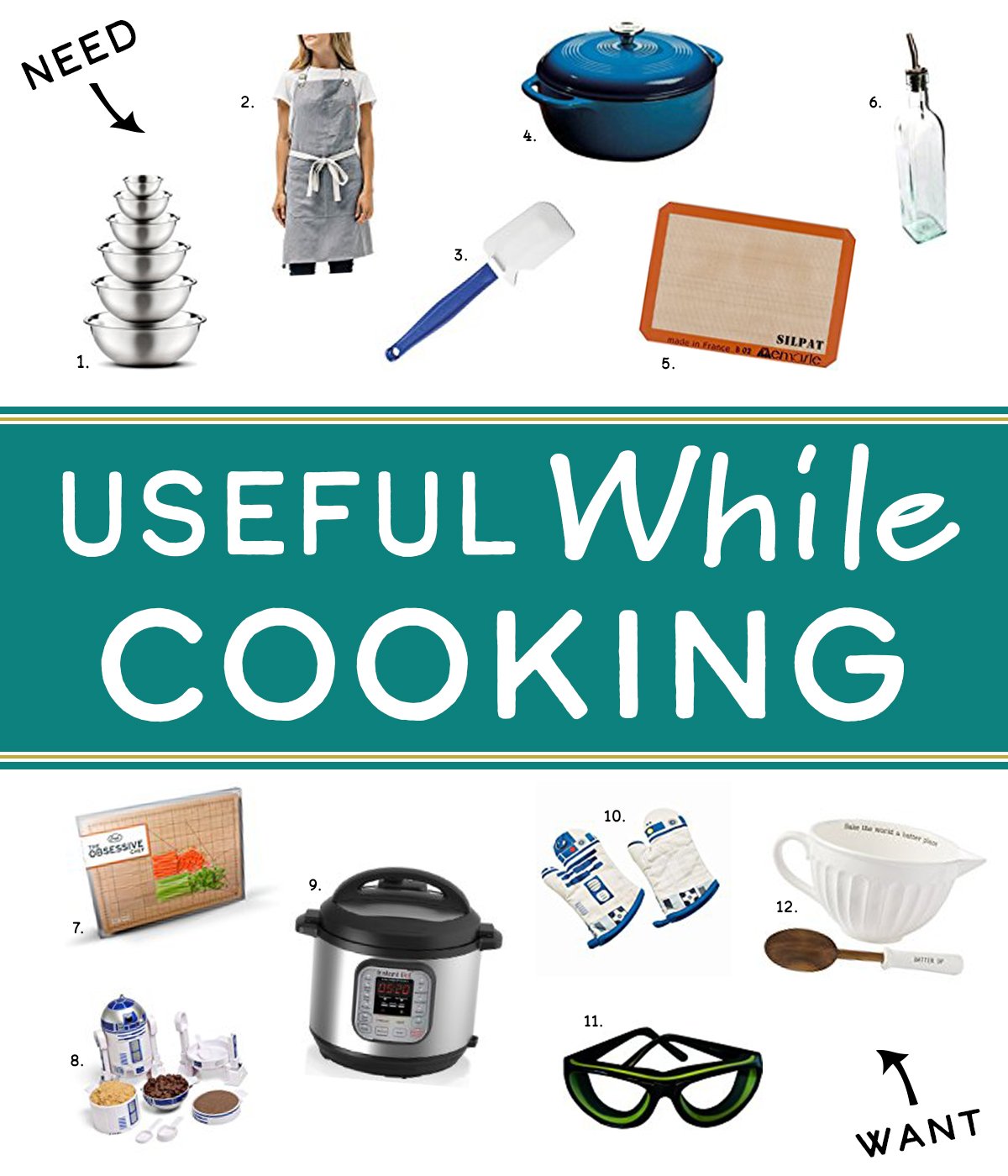 Stainless Steel Mixing Bowls – I use these literally every day. Sometimes multiple at one time. Best part: They don't break.
Unisex Linen Kitchen Apron with Pockets – This WILL be my next apron. You just watch. And the pockets are so very necessary.
Rubbermaid High Heat Spatula – I feel like I just said this, but I use these EVERY day. I have three. Also vital for not scratching your Dutch Oven.
Lodge Enameled Cast Iron Dutch Oven – Perfect for meats, soups, casseroles, braising, baking, and any dinner ever. This is the best Dutch Oven under $100.
SilPat Non-Stick Baking Mat – Easy to clean, non-stick, and makes my cookies look perfect. Oven safe up to 482 degrees F!
Oil & Vinegar Cruet – Home cooks do not know they need this until they have it. Saves time unscrewing that oil bottle every dang time AND looks super classy.
The Obsessive Chef Cutting Board – Help your home chef get that perfect dice, brunoise, allumette, or julienne. Or just aid them in their perfectionist ways. Either way.
R2-D2 Measuring Cup Set – Detachable utility arms turn into nested measuring spoons! I'm pretty sure this is the coolest thing in the entire gift guide.
6-Quart Instant Pot – I don't have one of these but it's at the TOP of my wish list. Is my family reading this?
R2-D2 Oven Mitts – Forget home cooks. All Star Wars fans needs these to handle their hot items.
Onion Goggles – The other day, I chopped 14 onions while wearing my swimming goggles, and I didn't shed a single tear, except they kept fogging up. So yeah, I would use these.
Cake Mixing Bowl Set – You're right, any bowls would probably work. But these are so adorable, and there's a pour spout on the bowl. WANT.
---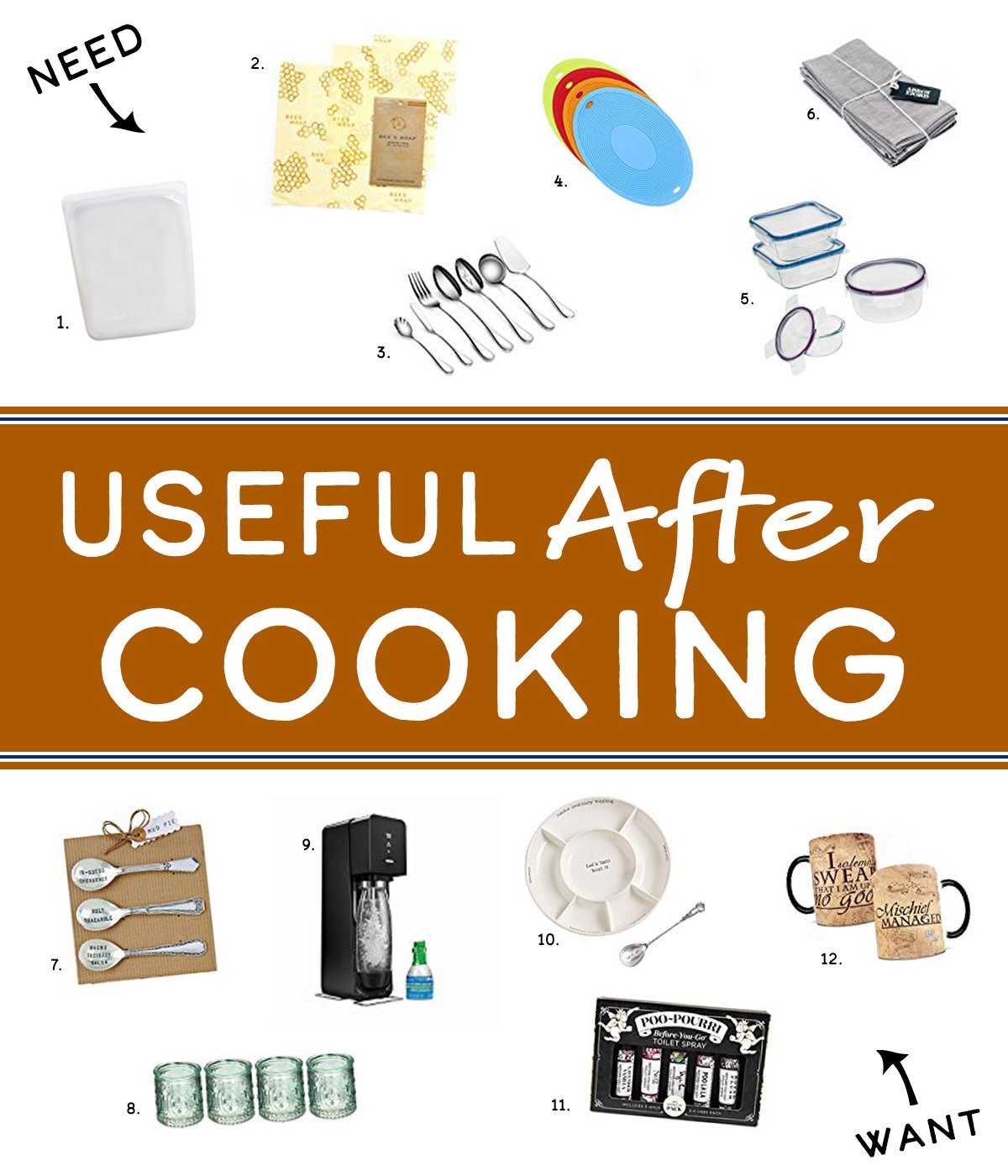 Stasher Reusable Silicone Food Bag – Mine are constantly in use. Dishwasher safe FTW. They also come in cool colors. Stop using so many plastic baggies!
Bee's Wrap Reusable Food Wrap – These organic cotton food wraps can replace the plastic wrap your fave home cook probably uses all the time.
7 Piece Silver Hostess Serving Set – The other day, I realized we don't have a pie server spoon thing. Whatttt – am I even a real home cook?
Silicone Trivet Mats – Useful for just about any hot handled item, and oh so easy to clean. If your home cook ever hosts, they need places to set hot dishes.
Snapware 8-Piece Glass Food Storage Set – Home cooks need places to store leftovers. And these locking lids are all the rage. Still the same Pyrex, but with better lids.
Linen Dinner Napkins – When serving a fancy dinner, paper towels simply will not do. Help your home cook class it up with these linen napkins that go with any decor!
Salsa Silver Spoon Set – So yeah, your home cook doesn't necessarily need these, but they will totally love the cuteness you're gifting! Plus, maybe they'll make you some guac.
Vintage Blue Glass Tealight Holder Set – My non-existent dining table NEEDS these (okay, wants these). They'll bring a little pizzazz to any table.
SodaStream Sparkling Water Maker – This device has drastically reduced our aluminum can and plastic bottle usage. I just figured out how to make homemade La Croix. Never going back.
Taco Bar Condiment Serving Platter – First of all, everyone loves tacos. Second of all, I've personally hosted a taco bar and I am positive this plate would have saved me 7 bowls.
Poo-Pourri Toilet Spray Gift Set – Close friends swear by this stuff. If you have people over for food, they will most likely use the restroom. Make it a little more pleasant!
HP Magical Marauder's Map Heat Reveal Coffee Mug – Every HP lover I know (a lot of them) would absolutely adore this gift. Perfect for an evening of mischief, I MEAN tea.
---
That's it for this year's Holiday Gift Guide for the Home Cook! Happy Holidays!!

Disclaimer:
 Project Meal Plan is a participant in the Amazon Services LLC Associates Program, an affiliate advertising program designed to provide a means for us to earn fees by linking to Amazon.com and affiliated sites. For more information, please see our
Full Disclosure & Privacy Policy
.